A little help for Zorg Effects
Boutique effects pedals made in France.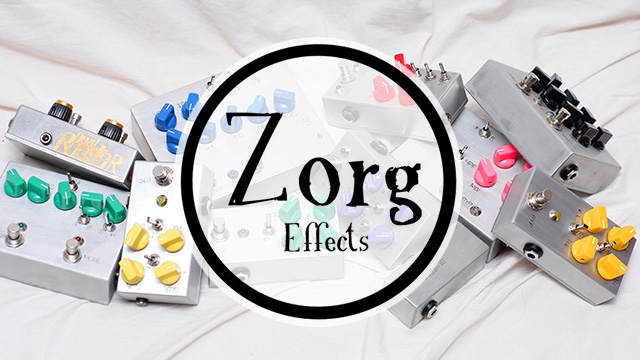 About the project
New goal: 5000€!!!
3,600€, is done. So, let's go for € 5,000. With € 5,000, I could:

- Make PCBs for a deluxe version the jour de FET. The equivalent of the Jour de FET, but with a midrange adjustment and the possibility to switch from crunch to lead via a 2nd footswitch.
- Make PCBs for the Oppressor compressor, after a bit of rework.
- Make an Eurorack module inspired from the Love Philter.
- Source more components!
To achieve this goal, I need you to spread the word!! Don't hesitate to forward this news, share my facebook posts on the topic, retweet my tweets, or share youtube videos!

Also, the project is still on Hello play, and you can subscribe, listen to music, collect points and allocate them to the project of your choice, the bank will pay!
About Zorg Effects:
Zorg Effects handcrafts boutique effects pedals in Toulouse, France.
Nine pedals - encased in small aluminium boxes and hand-brushed with handmade serigraphs and colour buttons - are currently available. The effects allow you to add distortion, amplify, filter, generate octaves or destroy the signal of an electric guitar, bass, keyboard or any other instrument with an electric signal.
Zorg Effects aims to build high-quality effects and make them available at a reasonable price. Our participatory and educational approach means the DIY community can use our schematics without restrictions through open hardware and detailed explanations of the schematics of each effect.
Three different formats are available on Zorg's website :
Fully mounted pedals.

Full DIY kits, including one electronic card (PCB), requisite components and the pre-drilled box.

Single electronic cards (PCBs).
The 8 pedals in question are pictured below (Click on each one to open the full description):
Check Zorg Effects' YouTube channel for videos of the pedals in action:

Zorg Effects on Facebook:

Zorg Effects on Twitter:

FYI these are the kits levels of difficulty:
Bluffer: Very easy.
Zorgverdrive Mosfet, Glue Fuzz, Glorious Basstar: Intermediate.
Zorgverdrive Deluxe: Intermediate+ (Lot of wiring because of both switches)
Jour de FET: Intermediate++ (You have to bias the Jfet with an oscilloscope)
Love Philter: Hard- (Lot of wiring)
Zorgtaver: Hard (Complexe card, lot of wiring)
MetalFest: Hard+ (Complexe card, JFet bias, Lot of wiring)
I'll provide the schematics and complete mounting instructions. (See bluffer page for example)
From intermediate level it's requiered to know  how to read the schematic and have the knowledge and hardware means to find potentials mouting errors.
What are the funds for?
Zorg Effects is moving into an industrialisation phase, with the aim of producing small batches of 5 to 10 pedals within a short amount of time.
This involves subcontracting the production of around 50 electronic cards (PCBs) for each of the eight prototypes, representing an expenditure of around 1850€. Any leftover funds (excluding collection costs) will go towards pedal components and/or manufacturing electronic cards for future prototypes.
New target: € 3,600 !!!

With € 1,100 more, I'll be able to buy enough components to produce 10 units of each pedals.
About the project owner
Zorg Effects is the brainchild of Gabriel, a guitarist with 20 years' experience and electronic engineer whose passion for music, electronics and weird sounds led him to create his own pedals. He spent 10 years working in embedded computing for the aerospace and automotive industries and has played in several funk, prog rock, jazz, free and improvised music bands, including Soulmate, the Sound Painting Orchestra of Toulouse and Electric Mist.
For any question, feel free to ask using the Ulule mail.