Zone Rouge adventure - 4L Trophy 2018
Jean-Jacques and David need you !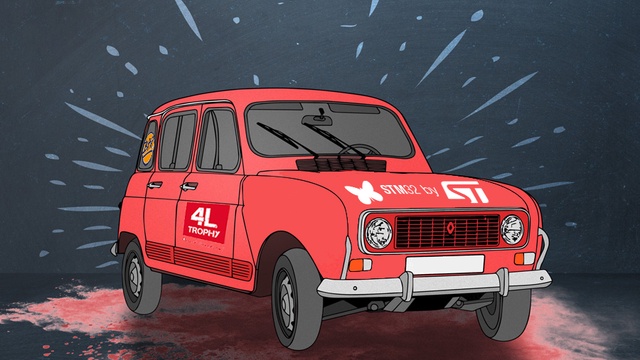 About the project
The 4L Trophy is a student race which is executed each year since 1996. During 10 days, more than 1000 crew will travel 6000 km in the Sahara desert and Atlas mountains. The final step will arrived in Marrakech. No matter about speed, this race is an orientation one.
Basicaly, it's an humanitarian and solidary adventure. The main objective being to lead education and alimentary stuff to local population in partnership with French Red Cross and Enfants du Désert (desert child).
During this journey, we will cross Spain and Morocco. It will allow us to access to unique landscapes, immense and desert. Indeed, after crossing Spain all together, the race will begin in Algeciras and will consist of 6 steps in order to reach Marrakech 6 days later.
A big part of the registration fee will be offered to the association "Desert Children" in order to create schools. The partnership between this humanitarian association and the 4L Trophy has enabled, in 20 years, the creation of 15 schools in the Moroccan desert.
A full day during the raid will be given to the realization of activities with children of the desert, with the delivery of material brought and many games.
What are the funds for?
A journey like this requires significant funds. That's why we are contacting you today.
Budget needed to launch the adventure
Registration fee: 3290 €
Car: 2500 €
Car's preparation: 1000 €
Petrol + toll: 1000 €
Required material: 500 €
Insurance: 250 €
Total budget : € 8,540.
In exchange of your participation, we are committed to placing your brand's sticker on our car (size and location depending on the value of the participation). For any information, do not hesitate to contact us directly.
Our epic trip is supported by :
Why do we ask for only 2,500 € while the estimated global budget is more than 8,000 €?
Several reasons :
For the moment, we do not have enough money to pay the registration fees that we have to pay in early December. A pot of 8000 € would force us to campaign longer and don't allowed us to pay our registration fees
The confidentiality of our existing partnerships.
The opportunity to be supported in kind. In fact, except for registration fees and gasoline, all other expenses can come from various participations such as assistance with the car preparation, the loan of a vehicle, donation of automotive material, partnership with insurances company.
Your advantages
In addition to our eternal gratitude, your participation in our project will allow you to:
Gain visibility in the Provence region. Indeed, we commit to drive our 4L as soon as we buy it. Your logo will be visible every day in the region.

Create content for your social networks. If you wish to, we will send you daily photo taken during our adventure to highlight your products in a unique environment. What to amaze your subscribers.

To touch students. The 4L Trophy being the biggest European student event.

To participate in school building and support education in a disadvantaged region of the world.
About the project owner
Jean-Jacques FAGOT
PhD student in microelectronics and nanotechnology at the University of Aix-Marseile, I am doing my thesis at STMicroelectronics and the Marseille IM2NP laboratory. Passionate from father to son by motorsports and adventure, the 4L Trophy is an opportunity for me to combine an humanitarian action to my passion.
With my team-mate David, we are a reckless, ambitious and tight-knit team, full of diverse and varied projects, including the 4L raid.
The crossing of the sumptuous landscapes of Africa (such as the dunes of Merzouga or Mount Atlas) to meet the children of the desert, promises to be emotionally rich and an essential experience for us.
Moreover, our thirst for adventure and our insatiable ambition push us to aim for victory. The winners crew will be automatically register for the Argentina Trophy, another 4L raid taking place in Argentina.
This is just the beginning…
David VOGE
I am looking for adventure since a young age, I have always flourished through travels. After visiting many different countries, I posed my luggage in Ottawa (Canada) to satisfy my thirst of discovery and also study Communication at the University of Ottawa.
This race will allow me to finally set foot in Africa, to discover new landscapes, but also, and for the first time, to integrate a humanitarian aspect to my approach - it has always seemed to me essential to reconcile utility and pleasure!
Me and my friend Jean-Jacques are forming a unique crew, as strong as sensitive - by our wish to win this race, but also byour desire to not come back unchanged, be upset and touched by the culture of these desert peoples.
We are sharing the same desire to give and receive. So, this experience seems perfect as a first step towards this idea of ​​sharing.