Zombies Run
A short film about... zombies
About the project
Zombie Run is a horror short film of about 10 minutes.

Hordes of zombies.
A man and a woman running through an abandoned factory to escape.
From the underground car-park to the higher floors, they run through halls, climb stairs, tacking between the offices.
But the zombies are everywhere. No place is safe. There's no exit.
Will the couple survive?
I want to make this short film to tackle a genre that pleases me greatly : horror and, more particularly, the "undead".
And I want to talk about my own experience of "Work", which often looked like a dehumanized world to me : permanent fear of bosses, rare friendships or doomed to disappear for departure or transfer, dismissal despite the good service, continuous pressure leading to resignation or suicide...
By linking these 2 wills, I wrote a particularly dark and pessimistic script, which allows me to discuss topics that interest me much.
It is not a simple tale of zombies trying to eat their victims. I deliberately chose this story to takes place in a disused factory, a "dead workplace" to use all its symbolism.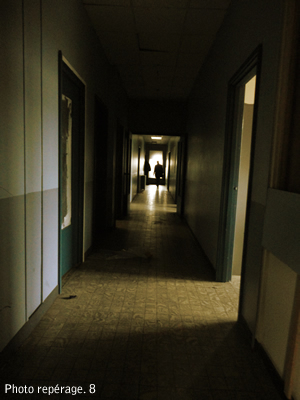 What are the funds for?
The money you'll offer will be deposited in the account of the Association "Ch'tis Films", producer of the film.
The budget for this 10 minutes short film is about 6,000 €. We have collected some of this money by ourselves (savings, personal money, family) and should receive funding from CRRAV (Aid Association for audiovisual production in the North of France) for equipment rental.

We still have to find € 2,500 which will allow us to finance:

- Creation of special effects (makeup and prosthetics by Artéïde)

- Logistics (no electricity or running water, no toilets on the location. It's gonna be fun!)

- Meals for the team during the shooting.

- Registration to Horror festivals
About the project owner
The Association : Ch'tis Films
"Ch'tis Films" was founded in 2001 in Lille (North of France). It started with corporate films, and then short films, always keeping in mind an artistic quality.
In 2010, the association has almost disappeared. It is reborn (from the dead...) with the desire to create new ambitious and offset projects.
The director : Emily Tibbatts.
I studied filmmaking but ended working as a web designer. At 34, I return to my "first love" with this film.
I have not shot movies since college, I confess. And this short film is very ambitious. Maybe too ambitious. But it is often said that your first film must be really ingrained in your heart, your minds and your guts. And it's a zombie movie, not other, which motivates me that much!  :)
FAQ
If you still have an unanswered question, feel free to ask the project owner directly.