Z-GOAT : First Bleat
THE SHORT FILM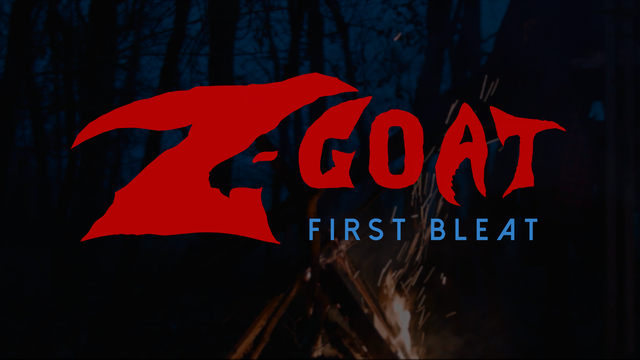 About the project
The year is 2078.
Resources are scarce and the world is slowly dying.

Because things always get worse, a new threat has arrived on Earth. It may look like a normal goat from very far but don't be fooled. It's actually a mutant creature coming straight from the Z Dimension. Survivors call it Z-GOAT and the legend says it preys on scavengers.

Run if you can. Crawl if you must. Z-GOAT will tear you apart anyway!
From now on, it's Zurvival of the Fittest!
+
Making a feature film can be daunting. It will take a lot of energy, budget and time to achieve that goal. However, this short film called First Bleat will serve as an introduction to the universe of our feature film story. It's a standalone story. The First Bleat scenes won't be in the final movie, but all the themes and atmosphere will already show up. The hunt, the family, the cosmic goat and survival. We all know what's lurking in the woods. Here is a small clue : it's in the title and it's not cute at all.

Let's meet the characters...
Darwina is the main character of First Bleat. She's a young huntress and scavenger, taking care of her father. Since her mother died, she had to learn how to survive by herself. She'll be played by Océane Weyer. It's her first main role but has experience in voice dubbing - she's also an avid cosplayer!
The Father suffers from PTSD and drowns his sorrow in alcohol. He loves his daughter but can't hunt anymore.
He will be played by Hugues Hausman, a Belgian actor with an extensive filmography (feature films, TV and short films)
imdb.com/name/nm0369589




Back in January, we did some location scouting while preparing the short.
Here is a short mood reel of the place and its cinematic potential.
What are the funds for?
In the true tradition of movie creatures such as Alien or Razorback, we're going full practical on this one. This means we need a starting budget for the raw materials. Keep in mind, this first project is a teaser for what's to come. However, the creature can evolve the more budget we get.
3500 : SFX Materials
we're making a mutant goat, after all
1500 : Cinematography Budget – Lighting kit / Fast Lens / Dolly Slider
we're shooting mostly at night
500 : Costumes / Props
500 : Catering / Travelling Fees
666 : Ulule fees

Because we have ambition, we also set a stretch goal:
We can make the short even better, with less limitations. A goat can dream, right ?

CONCEPT ART / POSTERS / ETC. will be posted here and on the Facebook page
Z-GOAT : First Bleat on Facebook

Beware, more exclusive stuff will be sent only to our goatfunders!

About the project owner
Thanks to our different film backgrounds, we met each other on various sets or during festivals. We became friends, then started watching a lot of B-Movies together... and I mean A LOT. It became a weekly ritual, an obsession! In one year, we already had seen at least 200 flicks. From the unbearably bad to the hidden gems, including a lot of very obscure ones, we couldn't stop there. Most of them had one thing in common : a true passion for filmmaking. That's when and why we decided it was time to get working on our own movie beast. The Z-Team is currently crafting the feature film's story. Now, let's meet them!

The Squid Lab is a Brussels-based SFX and costume design workshop. They will give life to Z-GOAT. With 15 years of experience in special effects, they collaborated on Moon Walkers (Antoine Bardou Jacquet), Alleluia (Fabrice du Welz), A l'Intérieur (Alexandre Bustillo & Julien Maury), Lucky Luke (James Huth) and many more.
You can check out their work here www.squidlab.be
Recently, they worked with Oriane de Nève on the mind-shattering MANDY (Panos Cosmatos).
Erwan Simon
imdb.com/name/nm1819572
Daphnée Beaulieux
imdb.com/name/nm4162921

Bertrand Leplae is a prolific actor from many short films, such as Cruel Is The Night (Alan Deprez) and J'te l'avais dit (Quentin Dubois). He also played a main role in Mad In Belgium (Hugues Hausman) a feature film, well, made in Belgium.
On set, Bertrand will be directing the goat and actors. This project is the perfect opportunity to make good use of his long acting experience, as a director this time. Speaking of which, Bertrand met the co-director Julien Jauniaux in a traveling circus. I mean on a film set. Bertrand will also play in the feature film of Z-GOAT.

Julien Jauniaux, editor by trade, also writes and directs his own stuff. He made An Eldritch Place - a Lovecraftian tribute to 80's cinema. The short film was selected in 20 festivals, including The Overlook Film Festival, The Boston Underground, FrightFest in London, The H.P. Lovecraft Film Festival, Razor Reel, and more.
Julien wrote First Bleat after spending six months in the mountains studying the mysteries of the elusive Shub-Niggurath Goat. On set, he will operate his trusty Black Magic Pocket, taking care of the cinematography side of it.


Z-GOAT is an international project! We'll team up with Timothy Fife. He is a electronic music film composer from Portsmouth, New Hampshire in the US. He has composed for nearly 30 films and has worked on films by Paul Schrader, Hershell Gordon Lewis as well as with companies like Troma. He is also an artist on Death Waltz, Polytechnic Youth, Spun Out of Control and Burning Witches Records.

One reviewer stated on his music; "a nifty slice of bliss bathed head shrooming dream machina kosmische which given the right settings and surroundings might well induce moments of astral gliding elation or at very worst a mild case of swirling eyeballs and temporary mild melting drama."
imdb.com/name/nm4585847

Official Website timothyfife.com
WHEN WILL IT BE AVAILABLE ?
The same year we shoot it, in 2018.
In the following months, depending of the post-production work.
WILL IT BE LOVECRAFTIAN ?
Cosmic horror : check...
and I'm sure we can find a tentacle somewhere.
WHAT IS THE MEANING OF LIFE ?
Praise Z-GOAT and maybe it won't murder you.
ARE YOU HIGH ?
Yes. High on life and goat cheese.
Praise the Z-Goat!