Youdhood?
You'd hood? You Should!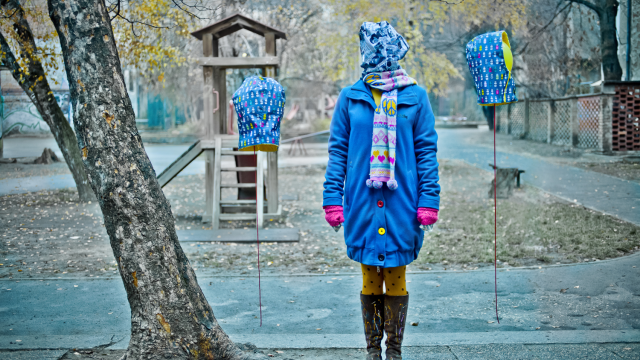 About the project
Youdhood? is a warm colorful hood which you can also wear around the neck with the hood down.
These hoods are seriously snug and look great with just a jumper and also may be additional accessory to your everyday clothing.
The outside is covered in a colorful waterproof vinyl and the inside is lined with a fluffy minky fabric.

One size, fits all.
The idea was born in my head two years ago.
I reused a beautiful but not usable hoodie and cut off its hood.
That day the "Youdhood?" was born :)
"Youdhood? Rebirth" Coffee mug design
After I wore it the whole autmn-winter-spring season, I realized just how practical this hood really is.
It can be excellently combined with sweater or regular T-shirt.
Transformed into a scarf, Youdhood? is a very nice and warm accessorize too.
Inside is furred with fluffy minky fabric to keep your head warm and external fabric is waterproof vinyl.
What are the funds for?
To create one Youdhood? I need a fabric that I order from California.
I would like to make my first Youdhood? collection of five different material designs.
Warm minky fabric is expensive (shipping), so I need yr help - to create four (4) Youdhood?, I need 80 $.
My goal is to make one colection of 5 different types of fabric and designs.
Youdhood? packing
Your contributions will enable me to launch the production, to finance necessary developments, constitute a first stock.
Youdhood? Logo Coffee mug Design
All Youdhood? items are made with love and care from Croatia. <3

Thank you for stopping by ♥
Deli.
About the project owner
Hy PPL!
I'm Deli and I'm dreaming about Youdhood? every night :)
I love colours and DIY projects, playing piano, dance Tribal Fusion, photography, Adobe Photoshop, Illustrator and Longboard.
I love to change things / objects or change their purpose, to see them in a different light, color, form, meaning ... which is also reflected on myself.
That way I'm learning a lot about myself and I try to hold a "condition" of change. :)
 
<3 my blog - https://delysidelliseburton.wordpress.com/
<3 feel free to LIKE my FB Page - https://www.facebook.com/youdhood
FAQ
If you still have an unanswered question, feel free to ask the project owner directly.