YO!
Un jeu de cartes sur les Trans Musicales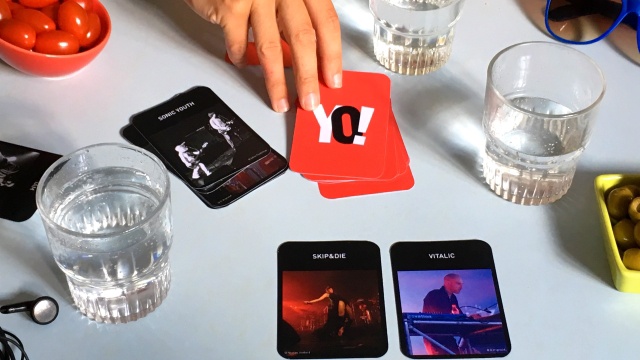 About the project
Avec le soutien enthousiaste de l'Association des Trans Musicales.
Faites appel à vos connaissances musicales pour être le premier à finaliser votre prog'. Comme le directeur artistique historique des Trans, Jean-Louis Brossard, lancez votre festival en tonnant «YO!»
(re)Découvrez 50 artistes parmi les plus célèbres ayant joué aux Trans Musicales de Rennes depuis 1979.
Un jeu pour développer votre culture musicale : 5 minutes pour en apprendre les règles, 10 minutes environ par partie.
De 2 p'tits joueurs à 8 mauvais perdants
Contenu : 50 cartes artistes, 50 cartes aléas, 1 livret de règles
Suivez le projet sur Facebook : https://www.facebook.com/yojeudestrans
What are the funds for?
Le financement servira avant tout à rémunérer la graphiste et les photographes, ainsi qu'à couvrir les frais de fabrication (made in France). Si on atteint les 8000€ de financement, j'opterai pour un boîtier dit « cloche », plus élégant et collector que l'étui carton basique.
About the project owner
Amateur de musique et de jeux, je cherche à prolonger et partager le plaisir des Trans Musicales toute l'année.
FAQ
If you still have an unanswered question, feel free to ask the project owner directly.