Women Rock'in Pamirs
Training Pamiri women to become moutain guides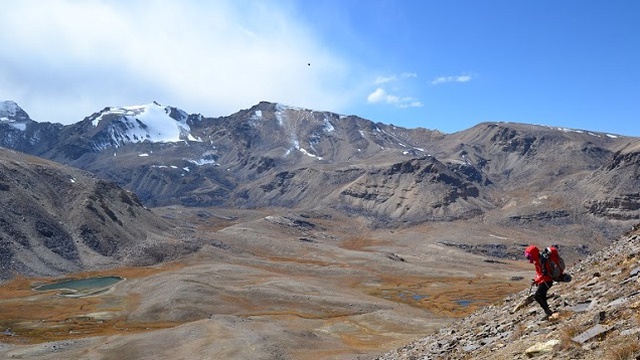 About the project
WOMEN ROCK'IN PAMIRS... What's that???
Pamiri women training session to become mountain guides
A 2 week practical and theoretical training session for Pamiri women to gain professional skills in mountain trekking - Planned on August, 15-28th 2016

Purpose :
 Professional training for women to answer the growing demand of female guides
Women will have new work opportunities in a secluded and economically poor region.

Objectives of the program:
 Women gain confidence in their ability to work in a mountainous environment.
 They are able to safely guide groups of clients on mountain itineraries for several days.
They join the pool of guides that PECTA offers to international tour operators and individual tourists.
​
Participants:
5 Pamiri women from 19 to 22 years old and 3 French female companions
This project is happening in collaboration with PECTA (Pamir Eco-Cultural Tourism Association) who is gathering all main tour operators in the Pamirs.
What are the funds for?
Once upon a time...
It all started in summer 2015 when Furough started to accompany Christine, who is preparing a trekking guidebook, to scout itineraries in southern Pamirs. After 2 months of trekking, the organization where she volunteered, PECTA, who is gathering all main tour operators in the pamirs, asked Christine to organize a training session for Pamiri women. So here we are!
Winter 2016 : Christine is looking for a moutain leader to join the project. She meets Claire, moutain leader in a French mountain range, the Vercors. Audrey also joins the team.
Spring 2016 : friends and moutain lovers helped us to collect second hand equipment for the pamiri girls that we'll train : fleece jackets, hiking shoes, backpacks, tents... Thanks a lot to all of you!!!
Summer 2016 : let's try and help us in Ulule to finish equipping the girls with hiking gear and with covering the costs of the training.
Why?
We hope that by equipping them with the right gear, girls will be able to get trained and to work without having difficulties due to bad or inexistant equipment. We want to provide them good quality moutain equipment: rain jackets (Gore-Tex type), down jackets, tents, fuel stoves, mountain sunglasses... They will be able, once well equipped and trained, to work with clients and let them discover their wonderful Pamirs moutains!!!
Ulule crowfunding will allow us :
To buy the mountain equipment that we were not given: 2 pairs of mountain boots, 1 down jacket, 3 fuel stoves, 5 compasses, 4 survival blankets, 1 backpack of 55L, 5 pairs of sunglasses - 1600 euros
Airplane transport for the moutain equipment from France to Tadjikistan - 420 euros
Transport, trek permits and food expenses during the practical part of the training - 1360 euros
Trainers accomodation during the theorical time of the training - 280 euros
gifts for Ulule donators  - 400 euros
French women trainers take on their own flight tickets, as well as transportation to Khorog and food expenses during the training session. This is a voluntary project, so the trainers will not receive any financial compensation for their work.
15-28 August, 2016 : WOMEN ROCK'IN PAMIRS in Khorog, Pamirs, Tadjikistan, Central Asia
Fall 2016 : training evaluation, sending gifts to all the Ulule donators, and preparation of WOMEN ROCK'IN PAMIRS the 2nd!!!
About the project owner
Claire will be in charge of collecting the ULULE campaign funds and of buying the equipment. We will be able to provide you with evidence of our expenditures and the financial evaluation of the project.
More informations on our Facebook page
Mail contact: [email protected]