WOMANHATTAN
New York in love
About the project
New York is the scope of my film experiments in the last twenty years. WOMANHATTAN is a hybrid documentary.
It is the synthesis of my formal research, insights, memories of my love transcended by my cinematic and technological obsessions.
NEW YORK: CITY SYMPHONY ROMANCE
For 20 years (1993-2013), I got used to go with my girlfriends in New York, and try to fix on film these love memories ... I want to share this cinematic experience and bring the viewer in a past incredibly present, embody the presence of my friends and dive into the heart of New York, these urban landscapes of the past 20 years.

WOMANHATTAN is a mix between various formats such as documentaries, autofiction, video art and musical movie ; it's a film about all the love stories I have lived and filmed for over 20 years at my many trips to New York. This film is the visual expression of my introspection, combining my thoughts thru my personal archives starting from my childhood to my current work in video DSLR. They are also a dialogue with Manon T. camera operator and editor who accompanied me to New York in April 2013.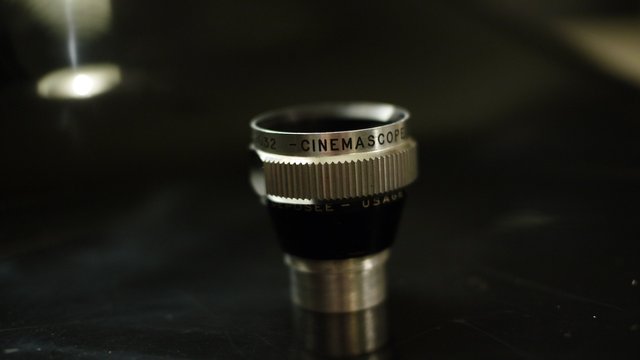 New York in cinemascope (2013)

MOVIE CONCEPT :
WOMANHATTAN tells these loves stories that have been crystallized in my emblematic New York places. A love life that has evolved in parallel with my artistic quest and technological obsessions, from the Konica to the "cinemascope video DSLR", via the Super 8 and the analog video. 
This intimate New Yorker adventure evolves, from first loves to paternity, from the Manhattan of the 80's to the post 9/11. It's also the common desire of leaving a trace, fixing the present, in our argentic then digital memories, sublimate love to make it eternal.
CECILE WITH A KONICA POP CIRCA 1992

MARION WITH A SANKIO SUPER 8 CAMERA CIRCA 1996

CHRISTINE WITH A MINI DV CAMCORDER CIRCA 2001

SARAH WITH A VIDEO DSLR + CINE LENS CIRCA 2010

​    
MANON WITH A CINEMASCOPE VIDEO DSLR CIRCA 2013
"Manon grabs the "DSLR Cinemascope camera", she films the landscape and comes at me, I'm embarrassed, unaccustomed to find myself on the other side of the camera. This is the first time a woman shoots me during a stay in New York. I can not stay in front of the camera and I laugh at myself. Symbolic reversal of  situation. Perhaps the beginning of a new era for me? Finally it may be a woman who must shoot me ...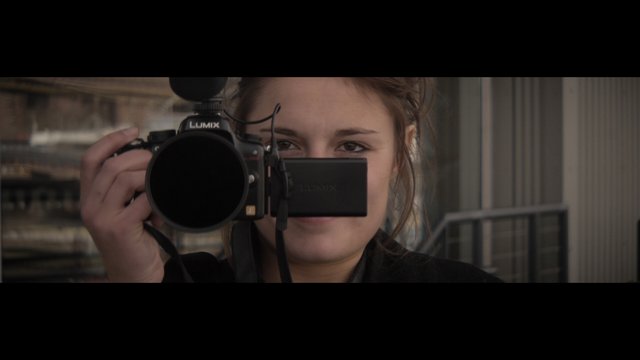 …I feel as immersed in a setting abyss, the metaphor of  « the biter bit » somehow. The phrase "making movies to myself" – french expression which means imagining things- made ​​me smile then. I realize that the reality is quite different, but until now it was mixed in my fiction, in my imagination. I look at Manon T. shooting me. And there is a doubt over me, a technical anxiety: "Is she trying to use the right video format? "
What are the funds for?
At the final, it will be a 60 minutes film on HD support and will be completed in 2014.
We hope to circulate as much as possible in festivals, TV channels and make a DVD edition of the film. Funding participate in the filming, editing of the archives of 20 years, achieving this plural love story, my visual, narrative and sensory researches.
Your support will help to fund:
Writing of the voice over

Post-production (archive transfer, film editing) of the film.

Creating a dvd movie (english subtitled)

Promote it (Send it in film festival, tv, etc...)
But to give its highest form in this work and offer the best visibility, we need a financial boost.
So thank you for your support and / or forward the message.
And for those who would be reluctant to payments on the web, you can support the project by check or wire transfer.
Here is a facebook link to follow the news of the film and keep you informed of the progress of the film with photos, videos and texts:
https://www.facebook.com/pages/Womanhattan/308092392578172
I just spent 15 days in New York last April. And this is the first time I am as a single. I decided to return to the scene of my memories. Manon T. camerawoman is my witness. it cames out of this shoot dozens of hours of rushs. Being filmed is also new. These contemporary moments will do a echo to my archives, and this stay in Manhattan in 2013 has reserved many surprises!
I used a video DSLR and cinemascope lens to give the entire cinematic dimension to this city ....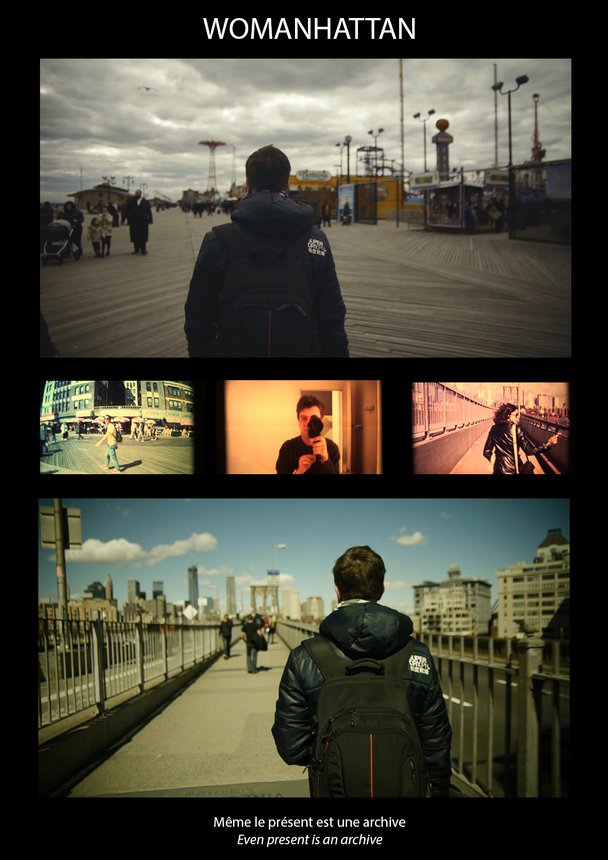 I work with Novanima productions that helps me to find partners for my film. We are looking for a TV channel to broadcast the film and other partners to participate in this cinematic adventure ... We rely heavily on community Ulule to help us fund the project
WOMANHATTAN is all this, but it can become much more thanks to your help and support.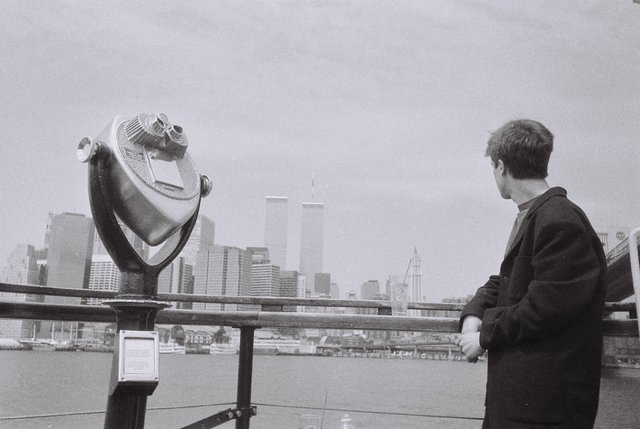 You are welcome!
About the project owner
SEB FARGES
Videographer, I regularly publishes on the internet movies and my blog:
It was visited by far more than 6 million users in France and abroad.
I put my online personal films. I share on this website my visual impressions of my town Bordeaux and New York, my thoughts on the latest technological developments in cameras & video DSLR and movie lenses.
I accompany somehow 21 years this passage of the analogue to the digital revolution 2.0.
Womanhattan received the support of the Aquitaine Region and joined the writing workshop Archidoc (Archive and documentation) of the famous french cinema school La Fémis.

NOVANIMA is a leading film and television production designed to produce
documentary films created and is hosted by Marc FAYE working in this sector since
twelve years. Novanima highlights the original treatments of its films by allowing all
genres. Novanima is a member of the European Documentary Network (EDN), the AFCA (French Association of Cinema Animation ), Procirep Angoa, of APC2A (Association of Producers in Aquitaine) and accompanies his films on various television channels, festivals and film markets in France and abroad.
You may already know us, because we have used Ulule for a previous project,
see the diversity of our productions:
Benjamin Rabier:
http://fr.ulule.com/benjamin-rabier/
La montagne au goût de sel :
http://fr.ulule.com/montagne-sel/
Extract from the script WOMANHATTAN, 1st sequence with Cécile in 1992:
           I've just spent all the morning to gather everything that relates to my past love and my various trips to New York. The floor of my living room is littered with memories. A red Konica camera is placed in the middle of this patchwork. I flips through an album where you can see all my first pictures of New York.
It was in 1992, I had got my A-Level diploma the year before, and now I was studying Fine Arts at the University. It was a difficult period for me, these studies were a logical continuation of my high school years, but I could not express myself fully through the graphic arts. It was also the end of my first love story, I borrowed a friend a VHS camcorder to capture those last moments. New York running through my head for a long time. I felt an overwhelming desire to go, and by this way forget this finished love, and run away from this life of a student who is trying to find himself.
Flipping this album, I discovered 16 photos rescued of my first trip to New York. That was in 1992, in August. After this first student heartbreak, I met Cécile R. One of these story in nightclub that usually does not foreshadow the future. We nevertheless remained a year and a half together. And with Cécile R. I could realize my American dream. New York had always remained at the level of fantasy. With her, I walked into my new reality, a life of travel, a life where I decided to cross the Atlantic Ocean for real.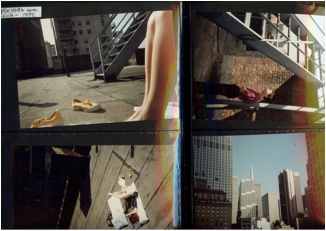 These 16 photos were there in front of me. I used the camera that my father gave me when I was 16, a red Konica Pop.
This photo camera triggered everything in me, the desire to fix the moment, to capture all my first love. It was now witnessed my first trip.
10 photos. 10 photos rather mundane. The first 4 photos were taken from the roof of the hotel "Washington Jefferson Hotel" located in the "Hell's Kitchen" neighborhood, near the 8th Avenue. I would often come back in this hotel with Marion L. and also Christine V. I do not think there are now hotels like this in Manhattan. The price of the room defied competition.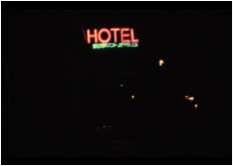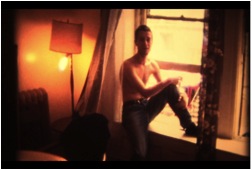 It was one of those seedy hotels, old world, where the wallpaper had not changed since the 60s, where the kitchen appliances were more than half a century.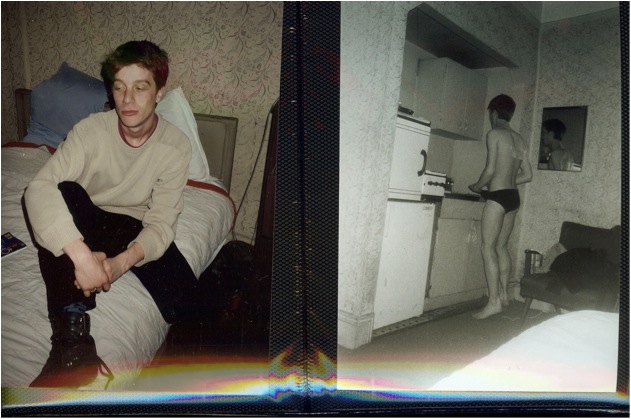 A roof terrace typically associated with the american city. A roof where logically it is forbidden to go and where you must block the exit door so as not to get stuck. A roof covered with tar, and at the top of this 6-storey building, a breathtaking view of the skyscrapers of Midtown.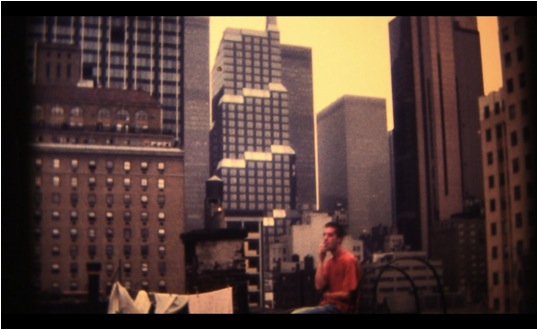 I came back so many times on the roof afterwards, which is both a perfect panorama for filming, but also a refuge in this bustling and noisy city. I always felt like I was on the top of a mountain but without so much oxygen.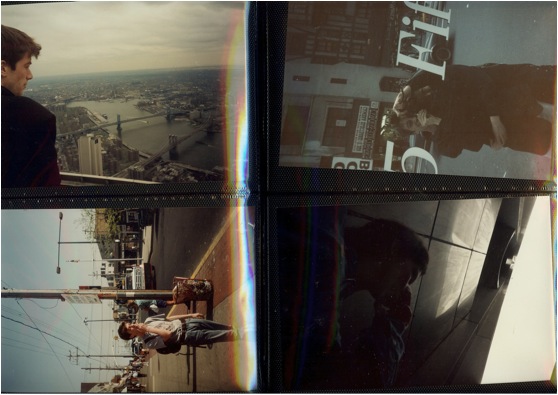 The last four photos from this trip. Here, I look at the Brooklyn Bridge from the top of the Twin Towers. This bridge is for me a very strong symbol of my first trip to New York. I remember our arrival on the island of Manhattan. Arriving from the airport, we decided, Cécile R. and me to get off at the last stop in Brooklyn subway, just before the bridge. At my first arrival, we went on this island by walking, luggage in hand. When you are 20, and that you walk gradually to Manhattan, the muffled sound of the city surrounds us at the arrival, then at that moment you live a very strong experience. The Brooklyn Bridge was for me the first strong symbol of this city. I will cross it several times thereafter with my girlfriends, but this first trip in 1992 will surely be the strongest of all. Despite the fact that I filmed this walk with different formats as Super 8, HDV and camcorders, I did not have a video camera in 1992 during the first trip, but the memory of crossing is engraved in my head, pictures to come will attempt to show that what I have experienced at this point.
And that's when I spot a photo that I had forgotten, but I do not know why, a stronger emotion came over me. This is a self portrait done in the reflection of a window, where we can't really distinguish us, Cécile R. and me. The picture is rather poor quality, underexposed.
Then I feel the desire to try to rework to better perceive this image of the past. I take it from the album to scan it and try to revive it through photo software. This is the only picture where we are together. We seems to be so happy in this reflection of the 5th Avenue, behind we notice the number 47 upside down. I would like to come back to that same spot to see how the city could change in 20 years. I crop the photo to better see the faces of the youth.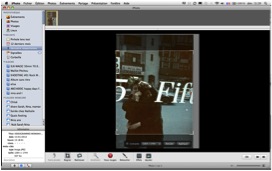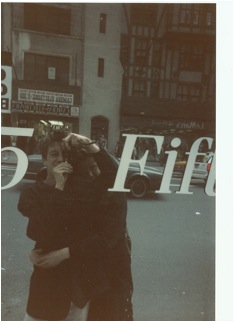 This closeup overwhelms me, the horns of the city over me. An ambivalent feeling comes to me. I am not nostalgic for that time, but I look at our faces and we guess love in the eyes of Cécile R. Mine are hidden by the camera.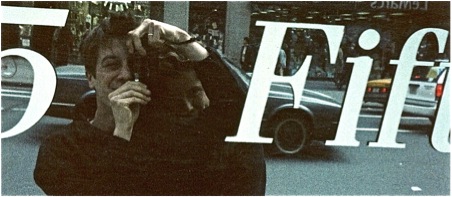 20 years come to pass since this evidence of the past, and now I understand my thought: I miss New York.
BROOKLYN BRIDGE MEMORIES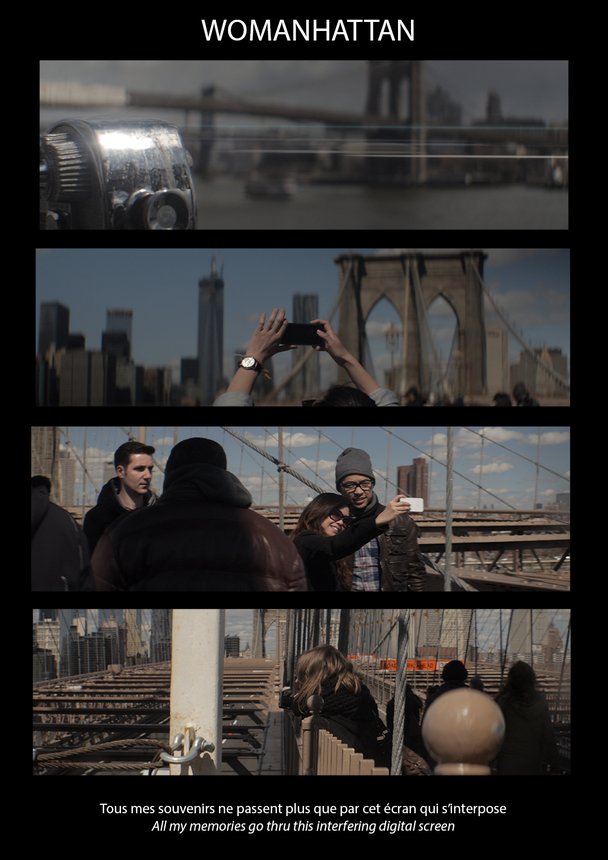 "The perspective of the bridge is breathtaking. Planks of wood from the promenade are worn by the winds of the East River. We guess the emptiness between the interstices overlooking the river. Cars cross the bridge in Dolby surround on both sides of our footpath. I grab my camera camcorder, open the screen and watch the bridge I just shoot. My contemporary vision is in Cinemascope with a depth field set to infinity. I am seized with vertigo. Do my memories live only through my filmed archives? From my many crossings of the Brooklyn Bridge in 1992 with Cécile R., Marion L. 1996, Christine V. in 2000 and 2002, and Sarah B. in 2010, only the first crossing with Cécile R. in 1992 had not been filmed. I was wondering if the strength of this memory was not just the fact that it was my first trip to New York, but also the fact of not being able to fix this moment of my life, and only my memory had witnessed : no roll film, no tape, or memory card were there to testify. This emptiness reminds me the lack of pictures from my childhood. This is why, since 20 years, I feel this irresistible urge to capture my life. "