Wings of Desire - Learning to fly
A book by Håvve Fjell and Helene Fjell
About the project
Wings of Desire is a Body Suspension Team based in Oslo, Norway. This year is our 10th anniversary and we want to celebrate the milestone by publishing a book.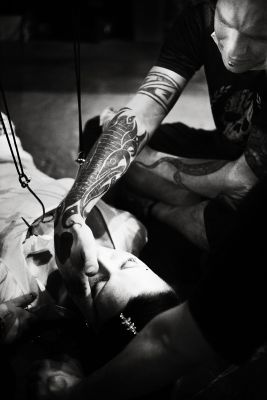 The book has been a long term project; planned since the very beginning of the Norwegian chapter in suspension history. Helene, our photographer, has been present since Håvve first came out as a Fakir in 1991 and has followed his work for more than two decades. As our official photographer, most of the body suspensions facilitated by Wings of Desire (WoD) can be found in her archives.
Helene's photographs show more than the beauty of suspended bodies, they also capture the emotion of the moment. There are also a multitude of stories belonging to the people depicted. To give a slight impression of their various feelings and experiences, we have included selected quotes from people who have been suspended by Wings of Desire. 
The foreword is written by Håvve's first mentor, Allen Falkner. The history and philosophy behind WoD practice is put into words by the Norwegian suspension pioneer and creator of WoD, Håvve.
Instead of choosing a publisher, we have decided to publish this book ourselves. We know that we have the experience and ability to make this book a striking visual and emotional testimony—as well as an historical aritifact of a decade's worth of continous improvement of equipment and technique. What we need is your help to make it happen!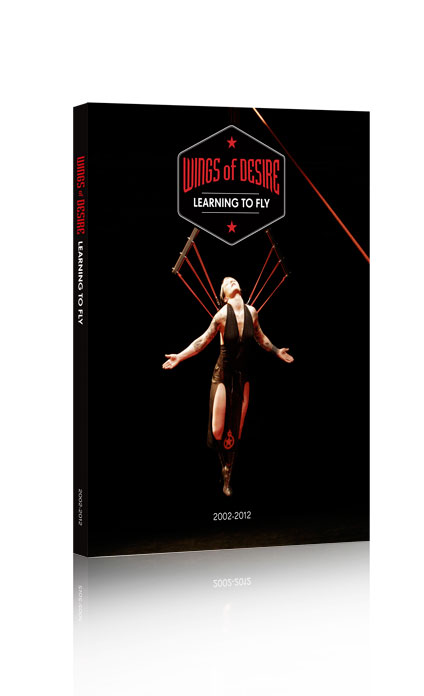 What are the funds for?
We have set up two budgets. One sum for the money that we have to pay for production, printing, binding, shipping, marketing and VAT. The other for the things we would like to pay for, like the graphic design, photo editing, travel costs, handling orders and a little something to put in our own pockets for the effort of putting this together. That is, if we sell all the copies.
Our first run is 1000 copies. By selling 500 books at 370,-NOK (Norwegian Kroner) a pop, we will cover our most important expences, and reach our goal of raising 185.000,-NOK.
The next 100 copies should enable us to give our designers Trine + Kim design studio a decent fee for their contribution. They are currently contributing their time and skill to the project for free to help it get off the ground.
Then, the next 200 copies should give us room to remunerate our amazing secretary June Ailin Bonsaksen for the work that she has put into the book, she's invaluable to us! They would also cover travel costs to promote the book further at relavant events such as the APP conferance and various suspension conventions, as well as giving a small fee to those who will handle all the orders and shipment.
With the help of our good friend Stephan Strestik and Wildcat Germany, we can keep shipping costs low on the pre-ordered books. They will be shipped from Wildcat HQ in Gronau and will save you the additional shipping cost that will be added to orders placed after the campaign period.
As you understand, we have done what we can to keep the cost as low as possible. We, Helene and Håvve, do not expect to earn much for ourselves, but when we sell the last 200 copies we will split the profit three ways; one bit for each of us and one part stays in PS Media for our next book project.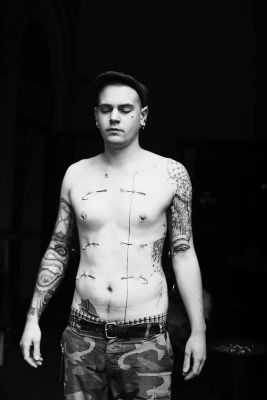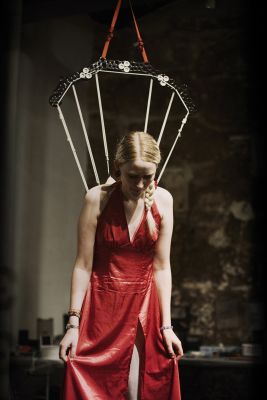 About the project owner
Helene Fjell is more than a photographer. When she looks through the lens of her camera, she sees beyond the motif and captures more than the image. She has an extraordinary way of displaying the emotions and the spirits of both people and surroundings in her photography.
Håvve Fjell had his debut as a Fakir in 1991, he founded Pain Solution in 1993, and Wings of Desire in 2002. His work as a sideshow performer and suspension facilitator goes beyond entertainment and sensationalism. There is a philosophy and seriousness behind his work that makes Pain Solution and Wings of Desire stand out.
Helene and Håvve are siblings, and for nearly two decades they have worked together on several projects. In 2003, they launched their first book: "Ten Years of Pain" published by Hertervig Forlag. Now, for this book, they have established their own publisher: PS Media. Future plans include numerous more DIY publications.
Håvve says, "We have chosen to work on our own terms and create what we find important, and not worry to much about making lots of money. At best we get by with what we earn from our art, each in our own way. We do not feel poor because we live rich lives, and the lack of money only becomes an issue when we need to produce something. In this case: `Wings of Desire –Learning to Fly´."