Winter Goulash 2020
Winter Edition of Goulash Disko Festival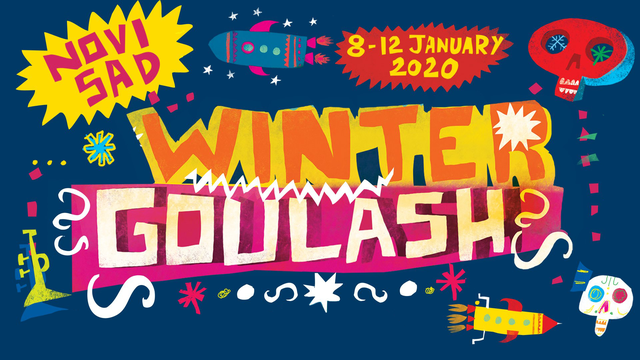 About the project
HEY GOULASH!
The summer sun might have gone away, but the Goulash spirit hasn't. Winter is coming though, so let me ask you, what better way to get over the coldness of winter than bringing the family together for a little bash?
You've heard right, we're getting the fam together for our first Winter Goulash! Mark your calendars for 8-12th January 2020 and make plans to come to Serbia, as we're bringing the family to Novi Sad!
As you read this the Goulash space pirates are already deep in space looking for the best artists and performers, while looting the shiniest shinies, the loudest subwooferss and the trippiest lights from around the universe. While we are grabbing princes and princesses from their hideouts, we need your help to make our winter Goulash hideout as special as we can!
What are the funds for?
We're landing the Goulash spaceship in Novi Sad and it's going to be full of Goulash aliens, loaded with the usual madness, that will turn an old factory into a space gypsy pirate nest like you've never seen before. We are bringing all the right ingredients along, including the massive Saso Mange sound system, our family of artists, djs, performers, acrobats and the trusty volunteers. On top we're creating 2 space pirate kitchens, 2 separate workshop spaces for kids and adults, plenty of decorations with all the crews and a whole lot of extra spices to put together the tastiest Goulash in space. There's going to be concets, performances, acrobats, side gigs, workshops filling the program throuought the day and night, and even an after party or 2 to keep us warm through the days and nights of the winter, filling us up with the energy we all need to start the year 2020 proper!
We're looking to make it more than just a party this time. We will have a kindergarten for our little aliens along with workshops for kids and adults throughout the event in various spaces we have been lucky enough to be offered to work with, to have families entertained as well as many of our family are now raising new Goulash fans.
We've sent out messages to all of our family and the responses have been more than wonderful. We're bringing the biggest talents of the family together and adding new family members quickly as the vibe we have brought together in these past few years has made ripples in the Force. Lovey dovey tickly smily ripples :)
We are working hard on bringing our favorites from past summers back like Miret, Jinx in Dub, Hugo Kand, Waggles, Kurup, Birdzzie, Cigarra, Jakare, the Taka Tuka family and many many more. There are beautiful new people joining that we will be happy to include in our intergalatic family. The majority of the funds collected will be spent on travel and accomodation expenses to bring us all together. We also have some pirate arrangements with some really special potential headliners if we can get this project over the Crowdfund goal line.
We're not doing just set performances though. We're much more cunning than that, we're space pirates! We're talking about organizing multiple jam sessions with our artists and working on some once in a Goulash collaborative performances. With your help we'll be able to bring all the musicians we've envisioned and create some beautiful memories together.

There will be multiple stages and various crew takeovers of stages and spaces in the venue to make this a little carnival of the best Goulash Disko has to offer with our crazy little family. Dance and movement, voice and singing, yoga, and more, done to the selection of the greatest music our brothers and sisters have created and found. We're working together to make it a proper gypsy space pirate carnival. Yarrrrr!
Novi Sad is easy to get to, no ferry this time, we know you all love the ride as much as we do. The airports to look for are Nikola Tesla airport near Belgrade, from which there's easy access to Novi Sad by bus, train, road, shared ride options or a simple hitchhike or Budapest which is a bit further away (about 3 hour drive) but the flight options are cheaper and plentier.
Other close airports are Timișoara, Nis and Zagreb, but there should be plenty of cheap flights available to Belgrade and trains and buses from all the nearby cities. We'll post some of the flight, bus, train and rideshare options from Goulash cities to help get you there easily.
There are plenty of various accommodation options in town, most easily accessible via Airbnb, Booking and others. We will try to arrange special deals with local hostels which we will post on our Facebook page. As this is a city, even though small, there are also alternative options like Couchsurfing readily available. A quick search on Airbnb threw out 71 options for 4 bed flats for under 10eur/person a night which should give you plenty of money left over to spend on fun things.

4 bed Airbnb examples within walking distance to all involved venues.
If you get a place somewhere in the below marked area you should be fine. Taxi's and other forms of public transport are very cheap in Novi sad, where you can expect a regular ride to cost about 2-3eur. A regular meal will cost you between 5-10 eur a person while good streetfood costs around 2-3 eur. Drink prices will be so low we're afraid to tell.
The tickets to Winter Goulash 2020 will be limited and offered only in pre-sale, as we would like to keep this a family affair. The first round of funding will be limited to 500 entries, but we have setup the crowdfund in multiple steps. If we reach the minimum goal, we will hold the party and start the Winter Goulash tradition. But if we go all the way and sell out the available entries, the venue can be adapted to allow for a bigger capacity. Doing that would require a considerable investment of both time and money, so we ask all of you that can afford to do so, to get your ticket soon. Without the adaptation, we can safely and comfortably fit 750 people in the location. We will publish extended crowdfunding goals after the first 2 weeks of the campaign, and if we can reach those before 15th December, we will be able to increase the capacity to 1000+ on the main venue with an adaptation of the space and add on a second venue, a fully party equipped townhouse. If we break far beyond that into Goulash space we'll be bringing headliners like you cannot imagine and adding a 3rd stage to the mix.
The options are endless when you put the Goulash family together. What could possibly go wrong?

First round of 500 tickets will be released on Ulule through the crowdfund in Early Bird to Regular options, ranging from 50-100€. The early bird options are available in 10€ increments, 50 tickets each. If the crowdfund goal is reached, additional 250 tickets will be released at regular prices.
10 Group tickets for 5 people are also available for 375€ for a 5-pack. If the first crowdfunding goal is succesfull, another 50 group tickets will be released at 450€. Group tickets will not be available after the crowdfunding campaign.
Ex-Yu citizens will be able to get a limited amount of discounted tickets from local ambasadors in Ljubljana, Zagreb, Novi Sad and Belgrade. To be eligible for en EX-Yu ticket, you should hold a valid ID card from any of the following countries: Croatia, Serbia, Bosnia and Herzegovina, Montenegro, Slovenia, Kosovo, or Macedonia.
Local ambassadors will be announced some time after the start of the crowdfund. The local tickets will be available at 50€ for the first 250 tickets and 75€ for the second contingent of 250 tickets if the crowdfund goal is succesful and if spaces are still available.
If you are not from one of the ex-yu countries, but you feel like you should qualify for a discounted ticket due to your financial situation, get in touch at wintergoulash[@]gmail.com, explain your situation and we'll look to get you in for less, but only if spaces are still available.
About the project owner
Goulash Disko started as a Balkan Beats clubnight, 8 years ago in Dublin, where Yves and Iva, the original Goulash family, mom and dad if you will, lived at the time. It has since grown to a regular yearly Goulash family gathering every second weekend of September in Komiza, on Vis island. The family has grown a lot and includes people from all across the globe who are now getting to many to mention all. We are thankful for all that you bring to the family and look to meet you in Serbia to warm our hearts, feet and souls together.
Together we have forged a lot of unforgetable musical and other memories that keep us warm through long winter nights. If you need a bit of a push check out the sets on our SoundCloud to give you an idea of what we like to dance to.

Like everyone else we can barely make it through regular life between these events, so once again, thanks for the help so far and we hope to bring us all together again as soon as possible!
If you have any other questions or want to participate in the event in any way, please feel free to get in touch at wintergoulash[@]gmail.com