Will and Raph Chronicles - Volume 2
Welcome to the incredible adventures of a gay couple with a quite ordinary life.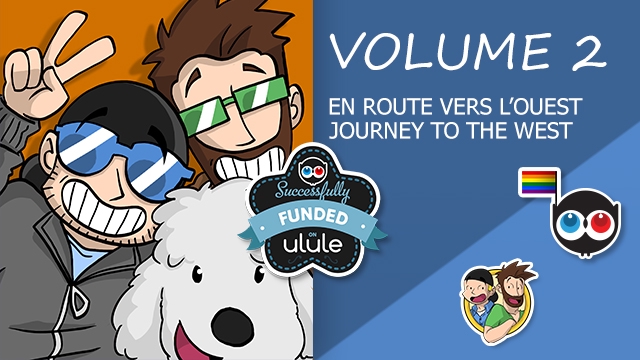 About the project
- !!CAMPAIGN FINISHED!! -
Following the success of our first campaign, we decided to embark on the creation of our second comic book! The next adventures of Will and Raph! Woot! Woot! :D
You didn't get the chance to order your copy of our book?
You can get your own copy by following this link: https://willraphcomics.com/en/store/
- Will and Raph Chronicles -
Imagine living in a world where no one judges you according to your sex, gender, age, ethnicity or sexual orientation. Where everyone has the right to an ordinary life. Where it is possible to love who you want without the fear of judgment.
A world where you can be yourself! Our heroes are trying to live their ordinary lives just like anyone else.
It's Will, a young happy and geeky artist, and Raph, a timid technology enthusiast, who is also geeky.
Here is where to find us if you want more of us!
Will Raph ComicsFacebookTumblrTapasWebToons
- What's the story? -
The comic strips are inspired by anecdotes from the first years of our relationship. It's also inspired from stories from our friends and from our families. It includes a lot of funny stuff, but also some struggles.
After the events of the first book, Will and Raph focus on their families and their friends and take the opportunity to make their first big trip. They decide to travel West to attend an Indian wedding in Calgary and visit their friend Connor in Vancouver.
They say if a couple can survive a long trip together without getting on each other's nerves, it means that it is meant to last. Will this also be the case for Will and Raph?
- Cool! But now what? -
We might sound like a broken record, but it is very important for us that our readers know what we want to show with our comic strip. It's that whatever the sex, gender, age, ethnicity or sexual orientation, we all are entitled to an ordinary life.
Gay characters are often depicted in a negative way in the media. For example, they are more then often the main character's ''gay best friend'', or they are hypersexualized. We couldn't find characters to identified to, so we thought we could create comics ourselves. Comics that would show what we would like to read.
A fabulously ordinary couple.
- Who is it for? -
It's for you! You! You! You too! And especially you! Whether you are young or old, gay or straight, man, woman or whomever, we all want to live a life we chosed. Whether it's ordinary or less ordinary, the important thing is to be confortable living it.
The adventures of our heroes could happen to anyone.
We want to show it's possible to experience insignificant moments, sad or really awkward, but always with a touch of humor, whoever you are.
- Now what? -
Our first book allowed us to meet many different people. That's our ultimate goal and that's what pushed us to do this second book. (And also, because we have a lot of fun sharing our stories and drawing them).
We want to reach even more people and for that we need your help.
- Will and Raph + Ulule -
Our second book focuses on our fourth year. That's about a hundred episodes + thirty exclusive pages that you will not see anywhere else!
Just like our first book, we want to give you more for your money.
This time, for this book's exclusive story, we wanted to focus on our straight friends. We were curious and asked them some questions about homosexuality. And their answers have been interesting and tasty.
- How to help? -
Tell people about us, buy our books, share our stories, write us and tell us about your own anecdotes! Even the smallest gesture can have a big impact!
With the first book, we teamed up with GRIS Montreal. This time, unfortunately, we don't have a partner. Maybe for the third book? We take suggestions!
However, here is a list of available services in the region of Montreal that you can depend on!
GRIS-Montréal
A non-profit organization whose mission is to debunk myths about homosexuality and bisexuality through the live testimonies of our volunteers.
Interligne
A first response centre that provides help and information to those concerned with sexual orientation and gender diversity.
- About Volume 1 -
Our first book was a huge success and you can order a copy with our second book by selecting the Dynamic Duo perk.
We decided to get all of our first three years of comic strips together and make a full book out of it! That's more than 180 pages!
With your help and Ulule, we made this dream a reality: a paper version of four years of hard work!
Also, our first book contains 15 pages of an exclusive story called "What if?", an alternate reality where our heroes never met! What will become of them?
What are the funds for?
35% = Printing
17% = Shipping cost
8% = Ulule
10% = Perks
4% = Advertisment
54% = Artists and graphic designers
- $3 000 -
For our campaign to succeed, we need $3000.
With this money, we will be able to print at least one hundred books!
- Stretch goals -
100%
REACHED!
The book!
150%
REACHED!
A Will and Raph bookmark, new exclusive stickers for people who donated $30 and up!
200%
All that is included in the 150%!
TO BE ANNOUNCED
We want to find something shinny and cool to go with your book!
300%
A booklet containing illustrations, drafts and rejected ideas from Will and Raph.
About the project owner
Mikhaël Bois (aka Raphaël) on your left and Guillaume Morin (aka William) on your right.
- Guillaume Morin -
Guillaume is a writer and artist who works as an animation department manager in a feature animation company.
He writes Will and Raph comic strips with Mikhaël, and draws all the pretty pictures. His 2D animation diploma came handy for this book. A Daydreamer who does his own schedule...
- Mikhaël Bois -
Mikhaël is a web developper, a gadget maniac, a scifi lover, likes outdoors activities and pranking Guillaume.
With no drawing skills, he takes care of the different online platforms where you can read their adventures.
❤ Guillaume and Mikhaël ❤
Guillaume and Mikhaël have been together for almost 10 years. They're building a life in the big city of Montreal and for now, they like it there. =P
(It's weird to talk about us in the third person!)