WELLDUNN — STACKING RINGS
✦ ✦ ✦ 200% of our goal reached - Discover our new gold rings ✦ ✦ ✦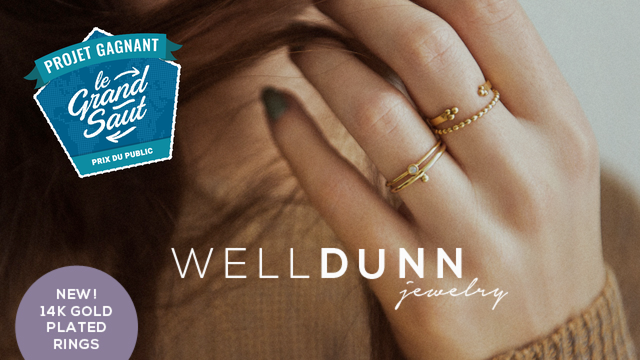 About the project
wellDunn is adding sterling silver
fine stackable rings to its product line!

Distribute them, combine them or stack them on your fingers
... as you like, as you please!

Bali or Paris? Early bird or night owl? Minimalistic or bohemian?
Sometimes we'd like to be everywhere and everything at once.
With the stark abundance of choices, why be bound to only one? We're living in a time when opposite aesthetics are not only coexistent, but simultaneously downright fashionable.
Pursuing a constant quest for renewal, wellDunn is a jewelry label that escapes constraints and flows through various styles. Combining minimalism with the bohemian spirit, these stacking rings ready your hands for all occasions!


Perlu : thin beaded ring 1.5 mm
Boulay : smooth rounded ring 1.8 mm set with delicate bead
Peak : thin beaded ring

1.5 mm

with "V" shaped tip
Grape : open flat ring 2 mm adorned with three beads at the ends
Mounia : smooth rounded ring

1.8 mm

joint d'une pierre de Lune ovale
Dainty : delicate ring 1 mm set with the rainbow highlights of a delicate Welo opal
Troie : flat ring 2 mm adorned with granulations and set with a triangular moonstone
wellDunn presents seven models of stackable rings designed to form harmonious arrangements:
Over twenty different combinations are offered, ranging from a simple ring to multiple trios of detailed rings set with semi-precious stones.
You can select the size and type of ring (knuckle or regular) for each of your rings.
*Refer to our sizing guide below.
wellDunn proudly supports a local and ethical production,
observant of rigorous concern for quality.
No need to select size when ordering on Ulule. Each buyer will receive an email in the days following the purchase to select for each ring ordered the desired size and type (knuckle ring or regular).

We offer worldwide shipping. Shipping is free across Canada. We charge a flat rate of 5$ for USA shipments and 10$ for international shipments.

Rings will be sent via regular mail; a tracking number will not be provided. To add a tracking number and/or postal insurance to your shipment, please contact us before ordering.

The target for order delivery is mid-March 2018. Note: the delivery date may vary depending on the order volume achieved.

If there is an issue with size or model, exchanges can be honored within 7 days following delivery. The customer must pay for all shipping expenses on the exchange of products.
What are the funds for?
One month to launch production of wellDunn's stacking rings!
The main objective of the campaign is to produce the first stock of rings.
It is always wide to validate business ideas with clients before investing time and money. For this reason, the second objective is to confirm the demand before developing new models of rings.
Thank you in advance for your support!
About the project owner
We're Julien and Dominique, the happy couple behind wellDunn jewelry!
wellDunn conceives and handcrafts jewelry in Montreal since 2011.
Born from a desire for adventure and a touch of naiveté, the label founded by designer Dominique Dunn offers jewelry to those who dare, just enough. Inspired by the modern bohemian lifestyle, the jewelry is renown for their unique design and their fine craftsmanship.
Infused with contrasting universes, each collection suits both the urban trendsetter and the modern hippie. Lead by a genuine passion for beauty and aesthetics, the label seeks to make your accessories your best allies, day and night.
Just like a good luck charm, jewelry makes you feel pretty and confident. It makes your entire wardrobe shine, without discrimination.
Make it a symbol of self-affirmation; an amulet for the woman you choose to be.
Dream; be the girl who decided to go for it.

◆ ◆ ◆ What is done with passion is always well done ◆ ◆ ◆

1. Promote handmade production & local labor #MADEINCANADA
2. Support indie boutiques around the globe #SHOPLOCAL
3. Empower women & women entrepreneurship #GIRLBOSS