Good Morning Warm-ups !
Dernier jour !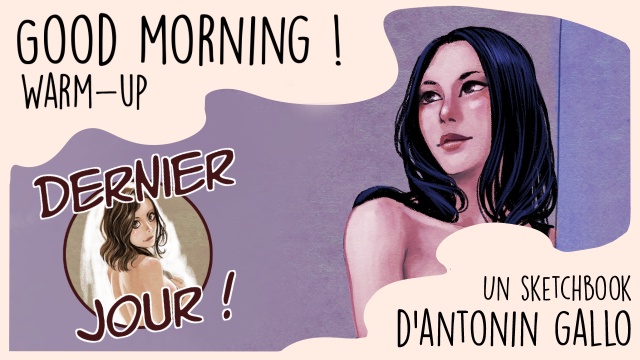 About the project


Merci à tous ! Donc on passe à la suite ci dessous :
(1) 2 sous-bocks
(2) 2 cartes postales
(3) le sketchbook passe de 150mm * 210mm à 165mm * 240mm
(4) 50/50
Waaa la jolie mise en page ! / Oooh what a beautiful layout !
Waaa l'espace dédicace, ça serait quand même dommage qu'il reste vierge ♥
(ooooh the blank page for the dedication sketch)
What are the funds for?
(Waaaa on dirait presque un vrai !)
Sauf que le livre n'est bien sûr pas encore imprimé (et la couverture n'est pas définitive). Le financement servira à l'impression des 500 livres de 100 pages, en format A5 et couverture souple et de tous les autres goodies si on dépasse le premier objectif.
Rien n'interdit donc si l'objectif est dépassé, de voir plus grand ( 165*240mm), plus gros (120 pages), plus dur (couverture cartonnée) et plus beau (dos cousu). Des expositions à Paris et Lyon, en partenariat avec la galerie 3L1C (avec qui j'expose régulièrement), sont aussi envisageables afin de rencontrer les participants lors des vernissages, ainsi que plein de cochonneries comme des cartes postales, des sous-bock, des ex-libris ou des posters.
English : The crowdfunding will serve to print 500 sketchbooks (5,83 x 8,27 inches, 100 pages et soft cover) and other goodies. We can imagine bigger, larger, harder and more beautiful sketchbooks if the strechgoal is achevied and exceeded.
(Yeah, we call this pie chart a "camembert" in France)
10 euro, limited to 5 pledges (early birds) : sketchbook, free worldwide shipping.
15 euro : sketchbook, free worldwide shipping.
40 euro : sketchbook dedicated with a sketch, free worldwide shipping.
60 euro : An original sketch from  this album + the 40 euro's pledge.
150 euro : a digital color commission A4 (8,27 x 11,69 inches), entire character or portrait, look-alike morning warm-up  + the 60 euro's pledge.
180 euro : a fine art print, numbered and signed from this galerie (carefully packaged) + the 60 euro's pledge.
200 euro : a watercolor illustration + the 60 euro's pledge.
(2) Les oeuvres de la galerie 3L1C
(3) 
About the project owner
Antonin Gallo (utilisant aussi le pseudo Monsieur To) est illustrateur et auteur de bande dessinée. Il travaille essentiellement pour des entreprises, expose et parle de lui à la 3e personne quand il doit se présenter.
Il a publié plusieurs bandes dessinées pour petits et grands et travaillé pour des petits et gros clients. 
Fort d'une communauté de fans qui a plus que doublé depuis le début des Morning Warm-ups, je compte sur ce réseau enthousiaste et prompte à partager pour démarrer en trombe et arriver rapidement au premier objectif.
English : Antonin Gallo (also known as Monsieur To) is a French illustrator and comics author who works essentially for enterprises. He doesn't speak English very well but won't apologize because he's a froggy.
L'auteur : 
Attendez non c'est pas la bonne, mincemincemince.
Hop :
C'est quand même un autre standing.