Road to the red zone - Special Edition
The Type R brand celebrated in a highly collectable limited edition set!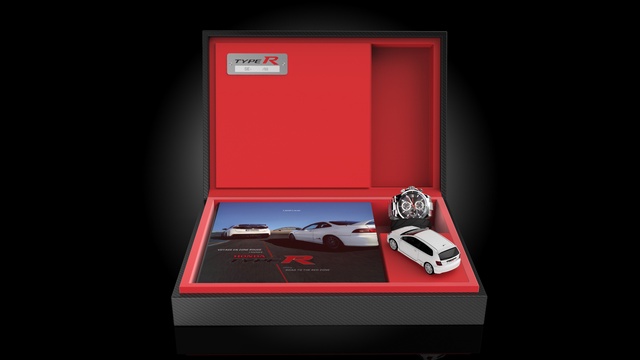 About the project
Exactly 2 years ago, we launched a crowdfunding campaign on Ulule for our book dedicated to the Type R brand: Road to the red Zone. 
With 500 pre-orders required, the goal was high but we managed to get 557!
The book was printed in June 2017 with 2090 units produced. Today, almost 1500 of these books have been sold. According to our sales predictions, it should be out of stock at the beginning of 2018.
It's still possible to pre-order it here on our new dedicated website:
In order to celebrate this success, for the 2nd anniversary of the project, we have decided to relaunch an old idea: a collector edition set. Our specifications are simple:
- Make the best quality box possible
- Prestigious additional content
So here's what's inside:
1) Road to the red zone: the book. It tells the story of the Type R brand; cars made for those passionate about the thrill of driving. We begin in a small village at the foot of Mt Fuji to retrace the life of a little boy that didn't think like the others, and who created - a few years later – a true giant of the automotive industry: The Honda Motor Company. Through his exceptional success story, we'll discover the advent of the sportiest Honda cars; from the first NSX to the 2017 Civic Type R. It will be possible to choose a dust cover for the book too.
You'll receive an email to select your own dust cover :
 2) A 1/43 Type R diecast model (Ebbro or Hi-Story). You'll have a choice amongst a lot of available models. The first pre-orders will have the widest choice possible, however, we'll do our best to accomodate everyone. You'll be contacted after your pre-order to choose your cover and your diecast model.
3) The last official Honda watch (latest collection, only 500 units made).
4) The box. Designed by our designer Yannick Bourgoing, the box is hand made by the prestigious printer Escourbiac. It's a 100 % French and fully artisanal. This is a very high quality product. We've selected the very best materials to conceive it. Outside, it will be possible to choose your preferred colours combo: Carbon / aluminium, Carbon / red, Carbon / white or full carbon. It's even possible to choose your own colour to go with the carbon, without additionnal fees. Again, you'll do your choice after your order.
Of course, each box has its own sequential number plaque.
I'll present you in the next couple of days the first model. We spent days to design it !
What are the funds for?
The financial operation is quite simple. We need 20 pre-orders to make this a reality. Under this quantity, the price of the box is simply too expensive. On the other side, I cannot guarantee the production of more than 50 boxes (watches and diecast models availability). There will be no other versions of this special box, and for your information, we don't take any profit on this operation.
It would be our ultimate pleasure to see this happen for real. This would be the best way for us to end this incredible adventure. If I haven't at least 20 preorders at the end of the campaign, everyone will be refunded.
To be as honest as we can, let us show you how the costs are divided:
About the project owner
Lionel Lucas, 34 years old.
In addition to my daily career as a civil engineer, I've also been a blogger the French website Caradisiac since 2006.
With regards Type R's, I think I loved them from the moment I knew they existed.
When Honda stopped selling the Type R in Europe in 2010, I had the thought to begin writing this book, and to celebrate the planned return of the Type R brand to Europe, I started this project 3 years ago.
I have to honest and say that this book provides a certain element of therapy for me. After many years of driving iconic cars such as Peugeot Rallye's, Clio Cups and Civic Type R's, I almost lost my licence, and realising that I had paid out more than €2500 euros in fines, I took a moment of reflection...
I must admit that my behaviour during this period changed. I believe that we can take pleasure in driving on the road whilst being completely responsible. There is a time for everything.
For me it is a matter of balance, self control and responsibility.
The sheer thrill of driving is something that we must relish in those exceptional moments, and through the reading of this book, I really hope I can share this philosophy with you.
This collector edition is the final step of this crazy story. I've been able to meet extremely interesting people and travel a lot. And this is not over. We're already working on the next chapter of Road to the red Zone, it will be another Ulule adventure!
Below, let me introduce you the team of the project:
Of course, this wouldn't have been possible with the help of the first 557 Ulule supports. Thanks to everyone for your support, this success is yours as much as it is ours.
Today, it's possible to see all the steps of this adventure here:
https://www.facebook.com/groups/390728351118928/
And of course, our dedicated webpage :