A dance floor for Voetvolk Atelier Rubigny
Help us creating a shelter for artistic creation and contemplation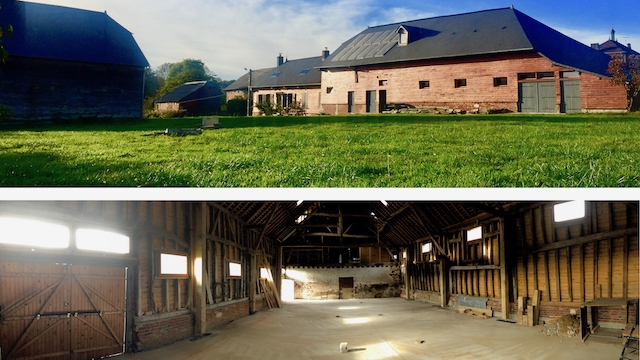 About the project
Voetvolk, the dance company of Lisbeth Gruwez and Maarten Van Cauwenberghe, is transforming a fabulous farm in northern France into a sensational shelter for artistic residencies and workshops. 'Voetvolk Atelier Rubigny', as this shelter is called, will be a place for artistic creation and contemplation, far from the madding crowd.
We hope this will be the view artists can wake up with!
In 2017, we (Lisbeth and Maarten) came across this wonderful farm in Rubigny, a small village in northern France (somewhere in between Charleroi and Reims). It was love at first sight... This was a place where we could work on new performances and ideas, but, also, where we could organize workshops and residencies for other artists and everyone who's interested.
We bought the farm and we are working on it, as we want to turn it into a top-notch creation space. In this timelapse video you can see how we isolated the floor in the central shed (soon to be creation studio):
Isolating the shed.
What are the funds for?
We launch this crowd-funding campaign to finance a 10x16 meter dance floor in the central shed / studio of Voetvolk Atelier Rubigny (the one you can see in the video above). Imagine how many beautiful works of art from different performers will flourish on that floor...
We hope that this artistic shelter will enable artists to work on their projects in the best circumstances, and of course: a good dance floor is the foundation of that!
We've been working in the field of contemporary dance for almost 20 years now, of which 12 years with our own company, and we've experienced that it's essential to have space to create...
About the project owner
Voetvolk (Dutch for 'infantry') is a Belgian contemporary dance and performance company, founded in 2007 by dancer/choreographer Lisbeth Gruwez and musician/composer Maarten Van Cauwenberghe, who got to know each other in the laboratory of Jan Fabre.
Their work is an ongoing conversation between corporal and auditive movement: Gruwez and Van Cauwenberghe direct each other in order to achieve an organic symbiosis within a fixed frame. This brings in the element of performance that identifies every production: the connection between the aural and the visual/physical is always (a)live.
So far, the company has produced 10 shows that have traveled around the world, from Singapore to Vancouver. Their work has been selected for Festivals of Avignon, Julidans, Tanz im August, Dance Umbrella and the Venice Biennale, amongst others.
Portrait of Lisbeth Gruwez.