Vesta
Be immersed in the daily life of a teenage girl living in a refugee camp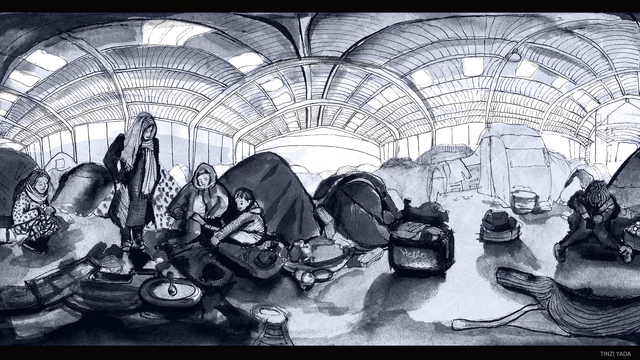 About the project
BACKGROUND STORY
Hi I'm Wendy Montellano and I created Vesta as an virtual animated experience of the real life lived by refugees in the camps on the border between Europe and the United Kingdom. In 2015 there was an influx of more refugees stranding in the camps of Dunkirk and Calais. This became their last point before they could enter their final destination: England. Both camps where dismantled and destroyed. But that doesn't mean that the refugees disappeared.
It's 2020 and there are still families, unaccompanied minors, men and woman who are arriving at the crossing border from the mainland of Europe to the UK.
STORY OF THE MOVIE
Our main character is a Kurdish teenage girl Rosie. She's thirteen and fled her country in the middle east, together with her mom and her younger brother. We follow her daily routine in the camp but also her daydreams and memories of her homeland. This way we reconnect with how she grew up and discover what she loves and the things she misses in the deserted place she lives now. We get to know her and follow her journey and that of her family. And it's the dream to reunite with her whole family in a safe and happy home that keeps her warm during cold nights.
The overall feeling of the movie is the feeling of home and the lack of it when you are a refugee. And the fact that we want all the same in our search for a happy home.
STYLE
The film will consist of illustrations and animations in VR and spatial sound. Because the viewer is immersed in virtual reality, he/her will be able to actually experience rather than just feel what happens.
THE CREW
Wim Forceville is a pioneer in immersive media in Belgium and I feel privileged to be able to work with him on this film. He's in charge of the production.
The illustrations in the crowdfund as in the movie will be done by Tinzi Fonteyne. We met each other in the refugee camps as volunteers for vzw Humain. So next to be an extraordinary illustrator, she does this project from the heart.
And I'm Wendy Montellano, the writer and director of the movie. I wanted to make an experience about this topic because it's a personal story for me. (more about me later).
For the research we collaborate with vzw Humain, an NGO that supports and fights for human rights in and outside Belgium.
PERSONAL APPROACH
I myself left my homeland Bolivia as a child because my father was a political refugee. This is why I know precisely how it is feels to leave and to miss your original home. And I was so lucky to have been accepted extremely well by the community in Belgium. And still: it wasn't easy.
This is my drive to make this movie. To open up the eyes of people, to make them see that newcomers don't leave their home for no reason. I want to humanize newcomers, because I think it's sad to see how people are labeled as 'refugees' and not as just humans. And I want to show that everyone is the same, in the sense that in the end everyone wants the same thing: a safe home with our loved ones.
Be real: would you like to be welcome in a country as we welcome them nowadays? I don't think so. Nobody wants to be in that situation and that is why I chose VR. The viewer can step in the shoes of this teenager girl and her situation.
MOODBOARD
This are some pictures taken over the years in and around Dunkirk by members of vzw Humain.
The illustrations are from Tinzi. And the short movies are by Wim Forceville and me.
What are the funds for?
With the funds of this crowdfund we will be able to developpe our illustrations and animations in 3D. So that would be very very helpfull :)
And we are extreemly thankfull for having received funds from the Flemish Audiovisual Funds for the script. We will also apply for production funding... and hope for the best.
About the project owner
ABOUT ME
I'm Wendy and studied at RITSC Brussels and took my masters in audiovisual arts. Since then I worked in television as a director, reporter and writer.
In parallel I'm an active member of Humain vzw, an NGO that supports the human rights of minority groups and refugees in Belgium. Since 2015 I have regularly helped at the refugee camps of Dunkirk and Calais. So I understands at firsthand how dire their situation is.
Please check also their website!
https://patricklegein3.wixsite.com/website-3