Velo badge
Make your bike more fun, more visible and safer!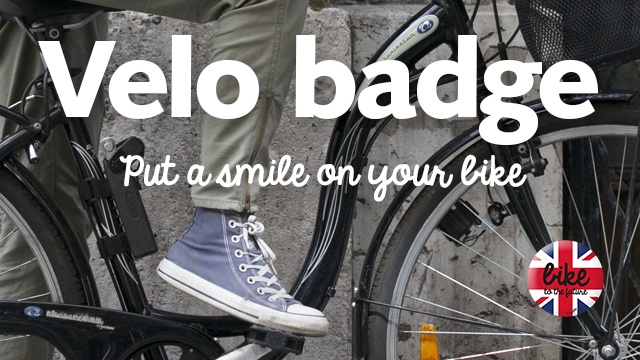 About the project

We are two sisters who share the same desire to bring humour, colours and awareness in our everyday life. Keen observers and actively involved, amused and bemused at times, practical and confident about the future, we feel that more than ever, it is important to give a new impetus, full of joy and optimism, to the world that we are shaping every day.
That's what our brand be Ooopsss  is all about! 
The bicycle is a simple way to move forward. A source of pleasure, well-being and a symbol of soft mobility, the bike has made an amazing comeback in our urban and rural areas. It has become part of our daily life, we look after it and tend to develop a special relationship with it. Imagine how nice it would be, if we could give it a personal touch.
Velo badge: more fun, more visibility, greater safety
The Velo badge is vintage yet trendy.  It artfully blends modern design and fun messages with the traditional bicycle plates used by our grandparents.
Why is the Velo badge so special?
• It makes your bike unique
• It increases your visibility on the road
• It creates social bonds withing the cycling community
• It also develops bonds with other groups (car drivers, pedestrians, bikers) by making them aware, with a touch of humour, of the difficulties that cyclists sometimes face
• It helps share the public space in a friendly manner
• It promotes the benefits of cycling

The Velo badge is a 10 cm badge made of enameled metal that can be fixed anywhere on your bike, regardless of the size and diameter of the tubes. Manufactured by a French company, the badge boasts an adjustable mounting device designed specifically for bicycles. It is a reliable and safe system, easy to assemble.
The Velo badge collection currently features 20 different models. Other designs are already on the drawing board and we're currently working on 3 series:
- Classic
- Travel
- Fluo
What are the funds for?

France, with around 26 million bicycles of all types, is a booming market with an increasingly high production of normal bikes and e-bikes. Not to mention the many velo-friendly countries like the Netherlands, Germany, Japan etc.
Look around... the cyclist's profile has changed in the past decade as cycling is attracting more young people, men and women, from all walks of life.
From our first discussions with the market players and the bicycle users, we believe that the Velo badge has a strong potential for development.
Our sales strategy :
Specialised cycling shops
Design and accessory retailers
be Ooopsss retail website
Cities, regions and associations actively involved in the promotion of cycling
be Ooopsss has received a positive welcome and the feedback about the Velo badge is most encouraging. We've reached the point where we need to launch the production of the first thousand units.  We need the Ulule community's help to finance the first production and develop our communication tools towards distributors, retailers, associations, local authorities, the press and the public.  
Our goal is € 9,820
In addition to the Velo badge, be Ooopsss has designed a collection of small objects with eco-funny messages, that we will be happy to send you as reward, once our goal has been reached. 
​
Join the Velo badge adventure! It started well... and thanks to you, we can take it to a further level. Stay tuned... we will keep you informed of our progress all along. We hope you enjoy the ride!
Because we greatly appreciate your gesture, we have decided to offer you, depending on your level of contribution, some of the be Ooopsss products.
A massive thanks to those who have shown us continuous support and encouragement all the way (spouses, family, and friends). You've been amazing... we couldn't have made it without you!
About the project owner
Catherine and Emmanuelle, 2 sisters who have created the be Ooopsss collection and designed the Velo badge. We're trying to make life more eco-friendly and both of us like playing with words. For months, we have tested and experimented dozens of devices before coming up with the current model. It's been an amazing time with lots of moments of hard work and laughter. 
Ooopsss refers to those frequent situations when we forget to do something or make a blunder. be Ooopsss reminds us that nothing is perfect and everything is possible. The small bee, the symbol of the brand, illustrates the role that each individual can play within a group, a country or in the world.
In addition to the Velo badges, be Ooopsss displays a collection of eco-funny accessories (magnets, badges and other items).
be Ooopsss is a brand created by the Design Agency Purdey & Peel, founded by Emmanuelle.

Follow us on Facebook : https://www.facebook.com/velobadgebeooopsss/