Projet "VAUDOU" / "VOODOO" project
Acquisition d'un fétiche Bizango pour l'équipe d'anthropologie médicale / Acquisition of a Bizango Fetish for the Medical Anthropology Team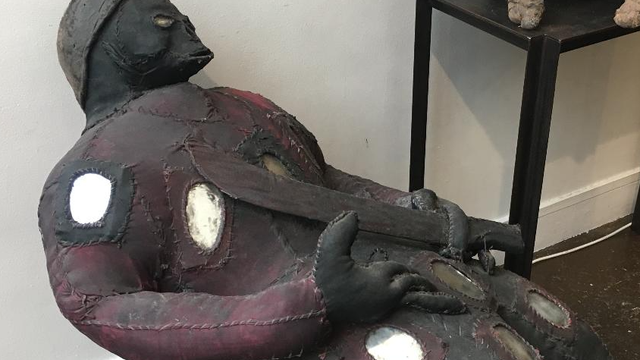 About the project
Notre équipe de recherche (Université de Versailles-Saint-Quentin-en-Yvelines) est spécialisée dans l'étude des rituels autour de la maladie et de la mort. Dans ce contexte, elle collecte et analyse des artefacts en rapport avec ces cérémonies, pour les sauvegarder et les comprendre, principalement dans les mondes Caraïbes et d'Afrique sub-saharienne.
Un fétiche très bien documenté, issu de la société secrète vaudou haïtienne "Bizango" est actuellement en vente. Il n'en existe qu'un autre exemplaire, conservé au Musée du Quai Branly (Paris). Cet objet sacré est particulièrement important en raison de sa rareté et de son intérêt anthropologique (des restes humains y sont intégrés : crâne, ossements, cheveux, etc.).
Cette campagne a pour but de collecter les fonds visant à acquérir cet objet pour qu'il rejoigne la collection de l'équipe, et soit accessible aux chercheurs dans le respect de son caractère rituel, en lien avec nos collègues haïtiens.
...
Our research team at the University of Versailles-Saint-Quentin-en-Yvelines specializes in the study of sickness and death rituals. To further our research, the team collects and analyzes artifacts related to these ceremonies, to preserve as well as understand them. Our research interests include mainly, but are not limited to, Caribbean and Sub-Saharan African rituals and fetishes.
A fetish from the Haitian voodoo secret society "Bizango" is currently on sale. There is only one other copy, preserved at the Musée du Quai Branly (Paris). This sacred object is particularly important because of its rarity and its anthropological interest (human remains are integrated into it like, skull, bones, hair, etc.). An in-depth study of the object will not only benefit the larger scientific community but might also bring to light many elements yet unknown in the study of voodoo and its related anthropology. 

This campaign aims to raise funds to acquire this object that will expand the collection of the team, and will be accessible to researchers in respect of its ritual character. We also aim to work closely with our Haitian colleagues.
What are the funds for?
Le financement servira in extenso à l'acquisition de cet objet, à sa restauration et à son analyse scientifique.
...
The funding will be used in extenso for the acquisition of this object, its restoration and its scientific analysis.
About the project owner
Philippe CHARLIER : médecin légiste et anthropologue de 40 ans, je dirige l'équipe d'anthropologie médicale à l'Université de Versailles Saint-Quentin-en-Yvelines. Très investi dans le partage des connaissances et la diffusion du savoir, je partage mon temps entre médecin hospitalier (Nanterre), recherche universitaire et collecte/analyse d'objets anthropologiques. Souhaitant volontairement "faire sortir la Science du laboratoire", j'ai présenté pendant 2 ans une série de documentaires sur ARTE ("Enquêtes d'ailleurs") autour de l'anthropologie, et je co-présente depuis la rentrée le Magazine de la Santé sur France 5.
...
Philippe CHARLIER: 40-year-old forensic pathologist and anthropologist leads the team of medical anthropology at the University of Versailles Saint-Quentin-en-Yvelines. My team and I have worked on the fake relics of Joan of Arc, remains of Diane de Poitiers, Agnes Sorel, Richard I of England "the Lionheart" , and more. Just recently, we have worked on the facial reconstruction of Maria Magdalene from her supposed skull.

Particularly invested in the sharing and the dissemination of knowledge, I share my time between practicing medicine (Hospital Nanterre), university research and collection / analysis of anthropological objects. Wishing "to bring science out of the laboratory", I presented for two years a series of TV-documentaries on ARTE ("Surveys elsewhere") about anthropology, and I co-present the TV show "Le Magazine de la Santé" on France 5.