V e r s u s
On the road to the Japan Expo!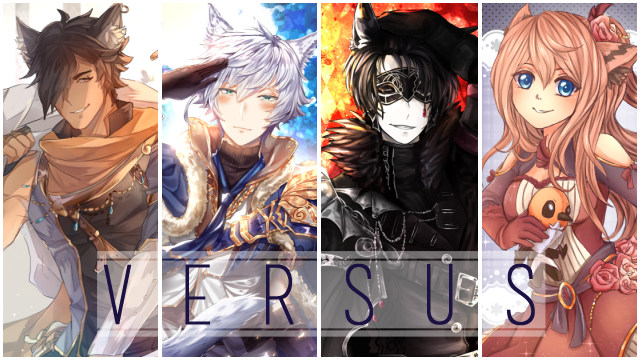 About the project
- V e r s u s - is a group including four young hobbyist artist (Laulaubi, Raquelloli, SallyNyan and Wanini) you will be able to find our booth at the Japan Expo 2017, in Paris Villepinte! We will be exhibiting in the "young creator" section!
You will find tons of different goodies from our and your favorite fandoms:
Fire Emblem
Fate / Universe
Ace attorney 
Bat Familly 
Pokemon
Overwatch
And even more, in addition to personal project we really wanna share with you !
It's the first time we take a booth in a convention, in that case, we have to start from scratch and buy everything, this is the reason why we choosed to do an Ulule, this is gonna help us to pay for the printing, production of our goodies. 
Among them, there will be:
Charms/Keychains
Stickers 
Pins
Postcards
Prints
Original drawings
You will also be able to order a personalized commission when you visit us at our booth!
The reason behind the high cost of production and printing, is that, in addition to all the goodies we offer, you will also be able to purchase two special article:
An Artbook about Valentyne's stories, a fantasy universe created by Raquelloli and Wanini,
A Pokemon Fanbook with a few dozens of pages illustrated by SallyNyan.
 
This two project being apart from the other goodies, they will get 5 levels on the ulule: those special levels will only gather unique and special goodies about the universe of the Artbook or Fanbook. If you want to ask any questions about it, don't hesitate, ask us anything, here or on the facebook page !
We'd like to give a bonus to each person who help us with this project (more than the additional goodies): you will be able to purchase every articles at lower prices during this crowdfunding! If we manage to reach our goal during this, we will add more exclusive level for all the people who participated!
Don't forget!
The counterparts offers a lot of articles, so we won't be able to include the shipping cost in the final price (we don't know yet how much they gonna weight), so if you don't get your purchased article directly at our booth during the Japan expo, you will also have to pay the shipping fees for your package.
But you will be able to choose your delivery method - chronopost or bubble wrap in an envelope-like you want!
What are the funds for?
Your help will allow us to pay for the following things:
The booth at Japan Expo
A badge maker- it's vital
Ink and quality paper, essential for printing, postcard and stickers
Business cards, you will be able to get them for free at our booth
Every thing poster/postcard that can't be printed by ourselves
The material for wrapping, packaging (everything has to look good hehe)
Being able to buy a lot of food during the Japan Expo without having to sell our house or donate our organs
Ulule's fee

 
(Aren't these things pretty ? ///)
About the project owner
We will inform you later of another platform where you will be able to see all our products we are going to sell on the booth. But for now, you can see the progress of all goodies on the group page: 
     ~ Laulaubi ~ 
      ~ Wanini ~      
        ~ RaquelLoli ~ 
        ~ Sallynyan ~ 
One Thank you for reading, plus our eternal appreciation for participating, and a thousand of kisses to you for sharing our project! We hope we will meet all of you during the convention!!
FAQ
If you still have an unanswered question, feel free to ask the project owner directly.