She could be a sister, a daughter, …
a tale to raise awareness about consent, sexism and violence against women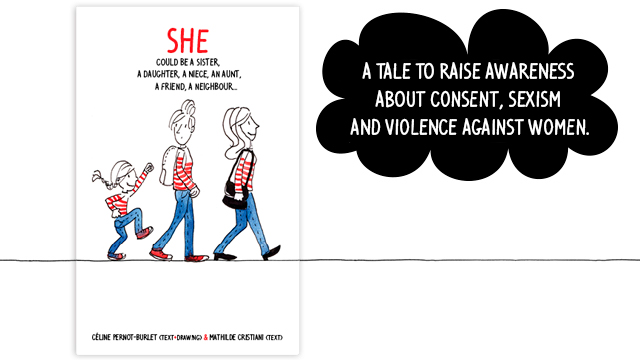 About the project
It all started with indignation. That of Céline, who felt how urgent it was to speak up for a devastating issue: that of violence against women. For that issue, she was ready to get her paintbrushes moving, but couldn't find the right words.
Then, there was an encounter. That of Mathilde, who writes about others and is much concerned about the gender, stereotype, and gender inequality issues, but wasn't thinking of putting down words about them.
In October 2019, they decided to take advantage of the #Inktober challenge to tell a story with the words of the list, day after day, on social media.
Out of words from the realm of fairy tales, such as "legend" and "enchanted", a tale was born, inspired by life situations, that we can way too often read and hear about.
After receiving many poignant accounts in reaction to the tale, they now feel the need to turn this initiative into a book, that can be used as educational material.
What are the funds for?
The financing will mainly be used to print and send the book to the contributors.
7% of the collected funds will be sent to Women Safe, a French association that's taking action everyday for the safety of women and children subjected to violence or witnessing them, wherever they take place.
Women Safe welcomes and takes care of women and children subjected to violence.
This is also a training and information center about violence.
From March 2020, a digital educational kit will be made available to teachers and associations. It will make it easier for them to address the topics of consent, harassment, sexism and violence against women with children, teenagers and young adults.
We'll be able to distribute more largely the educational kit to schools and associations. Because we have a conviction: education and instruction are crucial to make a tangible change.
About the project owner
Céline and Mathilde are working in the same team, in a big company. They are intrapreneurs, entrepreneurs, slashers and help projects with a positive impact. Socially committed, they have their heart set on raising awareness about the great challenges of today and tomorrow. Women's rights is one of their concerns.
Céline has loved drawing since a very young age. Creative, she's a graphic facilitator and uses drawings to explain complex concepts. She's helping those who want to make a change by putting their ideas into pictures or by training them so they learn how to do it.
Mathilde loves words. Storyteller, she's putting change makers in the spotlight in articles and podcasts and offers trainings to teach them how to tell their stories and take action. In her third life, she's also created her own company of handcrafted, hemp-made accessories for young children.