A theatre project "Au féminin"
young Senegalese girls take the stage to expose their way of facing the world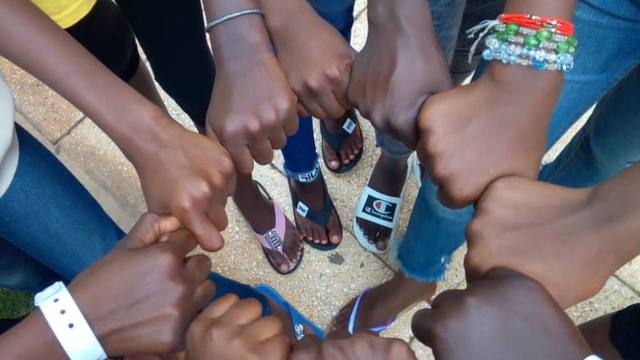 About the project
Think politics like everyday gestures, use the theater to speak out, revalue the thinking of Senegalese feminists ...

CONTEXT AND SPECIFIC CULTURAL ENVIRONMENT - SENEGAL
This project is a project with several hands and especially several voices. We want to give voice to young girls so that they say, they express themselves, they share with us their realities, their joys and their dreams, their feelings, concerns, worries and daily topics. in connection with their lives as Senegalese women, so that we can then formulate them together and translate them into a play.

"Speak to say aloud, say to denounce, denounce to stop, shout to evacuate what we, women, have not say for too long. Against whom, why and for whom do we speak out? These are questions we keep asking ourselves in this predominantly patriarchal society where customary culture does not take into account the evolution and emancipation of women. The world is moving and we want to move with it. The norms of Senegalese society increasingly suffocate us and prevent us from existing as a simple human person.

This docile submission of the female gender called for by unjustified societal laws is no longer relevant to us. These obsolete laws erected by men and without women have locked us too long into a logic of blind acceptance. It is difficult, almost impossible, to give our opinion, to see and even to come to think of things differently. This is a brake on the development of women in general and this obviously does not help us see the value of our existence, our possible independence as well as our intellectual capacities. Society wants to give the image of a being assisted, of a vulnerable subject relegated to the background, of a person inferior to men whose only functions would be to have children, stay at home, take care of chores. being housewives, and take care of her man. And we are of course convinced that no life can and should not be summed up in these terms.

So the problem is there. We need to talk about it loud and clear, to say that we don't agree. "
AN INTIMATE, PERSONAL AND SINGULAR PROJECT
The particular and complex context of Senegalese society explains the need for Fatou Diop to question the basis and the very essence of her existence. For her, solving a problem requires upstream work, studying its root and foundation in order to be able to attack it. She advocates words and action to make herself heard and is inspired by her difficult life, which still today faces severe reluctance against her profession and her freedom. She prefers to say NO to a society where getting married and then having children is the law of life and the destiny of any woman, and wants to concentrate and devote herself to the theater to play and lead feminist workshops. Lover of theater and passionate about pedagogy, she has professionalized and now has extensive experience: instructor of the Educational Communities of Senegal, she regularly supervises summer camps and theater competitions ... she has also animated a theater workshop with the children of "Côté Cour" in Mali. The theater company she currently directs is made up of three quarters of girls who meet regularly to talk about issues that concern them. She knows this group of young girls well, whom she saw growing up (she initiated Echo-Scène with them, created the Kpargui theatrical troupe and then the Etoiles du Saloum company): full of life, very receptive, overflowing with love. and desire for the theater, it is very pleasant to work with them and the idea of ​​carrying out a participatory project in connection with their experiences as women, already motivates them a lot.
Abdou Sambou (Petit) also has a great educational experience with young people. He knows how to talk to them, listen to them and they trust him. It is important for him to take part in this feminist experience because his curiosity, his open-mindedness, his great listening skills as a theater professional, animator but also as a representative of the male gender will be a definite asset in the process of job. Feminist themes must also be those of men. There has to be a general awareness in society for things to change. It is essential that men also want to understand, listen and take hold of these questions and these feminist demands ... it is necessary that the man-woman relationship evolves and this will only happen if men change and also move lines. The dialogue that could emerge from this meeting between the young girls and Abdou, open, sensitive and attentive, will surely be very inspiring, constructive and productive; we hope in this way to encourage dialogue, and to deepen our positions and demands.

In addition to her work as a set designer, Anne-laure Jullian de la Fuente is very involved in the cause of women. She seeks, through her passion for the theater, to find and offer a space and a means of expression and dialogue to give women a voice again, to defend their rights and to redefine a better society. It is important to rediscover her space as a woman, her intimate space, her body, but also her space in the world, to reclaim public space. The spatial play, the space and the interaction between the bodies, the movements, the glances allow to say a lot ... It will be a question of trying to build scenarios of physical spatiality as a tangible support of gesturality and corporality expressive in action; the subject and artistic identity will also find their place here, thanks to a work in the scenographic space which is just as essential for speaking, expressing and communicating ...

The three defend with energy and conviction the freedom and the capacity of women to change the world and work daily to ensure that they have a wider voice. The central place of theater and art in their lives and the desire to work together in an innovative intercultural dynamic, a true artistic, intellectual and human exchange, gave them the desire to work together in the form of collective artistic approach to make heard, transmit, and ask questions and actions on feminism in Senegalese society.
A MEANS OF EXPRESSION, A STRUGGLE TOOL
This project to create a play around feminism in Senegal is a means of action to give voice, courage and strength to all Senegalese women and girls who find themselves in this situation of suffering and silence. Theater is a universal and essential tool for communication, awakening and awareness. By its representation but also by its practice, it is possible to deal with various societal themes to reach the different layers of the population.
In this project, the three artists from different cultures want, through collective work, to create a real dynamic of exchange using their common discipline: theater. Thanks to their working tool, they want to talk about respect and freedom, to succeed together in a strong creative performance that speaks to all women, which initiates a discussion, and opens the way / voice: a feminine piece for women and by women, a work that will not be a refusal or rejection of customs and traditions but a call for reflection, to question the role and expectations of women in society, an invitation to debate and the opportunity to young girls to share their vision of the world, and perhaps also unfortunately, of the violence they have witnessed or victims ...

INNOVATION AND ARTISTIC ORIGINALITY
The objective is not only to put on a play but to offer a process of work, of reflection, a participatory process which allows to transmit but also to live a message of freedom, hope and fighting force.
It is no longer "the others" who must tell the story of women, they must be put back in the center, they must be listened to.
They have a different outlook on society, we have to make the story more complex, make it visible, make people more complex, and get out of binary societies ...
The idea is to invite a dozen young girls who, identifying or recognizing themselves in the issues raised by feminism, want to participate in experiments and theater exercises to share a time and a privileged space for dialogue and of confidence.
The aim is to provide a new possibility to express oneself, to feel strong and united; sorority and hope are essential words in the project.
The project not only seeks to speak and make women speak in society in order to give them visibility, but also to think sustainably, to lift taboos in a constructive and relevant way. Through this original working format, the creative process is intended to be constructive and instructive.
We hope here to initiate a process of awareness, to open a door for other young girls and for the women of tomorrow ... We hope to run the play in a second time in different cities of the country, organize other awareness workshops, push the exercise and the debate ... and make people want to do theater.

Thanks to these funds, we will be able to realize our desire to work together, in an interdisciplinary and intercultural way, federate their energy and partnership to initiate a long-term research process towards other collaborators. -future productions.

PROVISIONAL TIMETABLE
The workshops will be organized around different workshops and special moments of discussion. We would like the young girls to participate in some way, both in the dramaturgy and in the directing of the project. We envision a collective artistic process divided into several stages:
- 1. a first time devoted to research during which Fatou, Petit and Anne-Laure will prepare from their respective locations the documentation and references necessary for the following stages: readings, information, discussions, experiences, writings ... Detailed programming, documents of work, themes, guidelines and calendar of workshops, ...
- 2. a second phase of workshops in Kaolack: three weeks of work and meetings with young girls to work in the form of workshops and improvisations around concerns, subjects that touch and affect them ... The objective here will be to bring out the themes that concern them and to free the floor, to create a space of trust, to give them a chance to express themselves, to decide on the subjects they want to talk about ... The work will be essentially directed to help guide and orient research, while gradually building the future dramaturgy.
- 3. a third time devoted to an intensive writing residency for three (Fatou, Petit and Anne-laure) based on the discussions and remarks that emerged from the workshop
- 4. a fourth stage of creation in Kaolack with the young girls who will want to participate in the show: directing work, creation of the scenography ...
- 5. a presentation of the project in Kaolack. This final theatrical performance will be the culmination of research, discussions and intimate sharing, but also the starting point for other workshops and special moments of discussion for young women from other regions of the country. We are also already invited to present the work during the Beneen Yoon 2021 festival in Ziguinchor.
We hope that by showing our work in the country we can reach an audience large enough to defuse a small change.
What are the funds for?
We have several local partners who support us by providing us with their premises - libraries, workspaces, rehearsal rooms, theater stages, etc. - by giving us access to an internet connection, or by inviting us to participate in their performances and at their festival.
Our first objective of 4,500 euros (minimum!) will allow us to:

- ensure one meal per day for the participants during the workshop, residence, creation and participation time in the festival ...
- help young girls in their daily transport to participate in workshops and creation weeks
- pay the travel and accommodations expenses of the whole team for the final performance at the Beneen Yoon festival in Casamance
If we can reach 150%, 200%, we will be able to:
- finance the scenography and costumes
- finance travel for Fatou, Petit and Anne-Laure
- finance housing for us in different workplaces
Thank you very much in advance :-)
About the project owner
Fatou Diop is president of the Etoiles du Saloum Theater Company and director of the Kay Retane Festival in Kaolack. An instructor in Educational Communities, she has worked for several years for respect children's rights and practice teaching them values ​​and respect for their duties. After the baccalaureate, she continued her studies at the Faculty of Letters and Human Sciences at the University Cheikh Anta Diop in English option, then branched out to studies in International Business and obtained a BTS at the Professional and Commercial Training Center (CFPC) in Delafosse. But since her heart beats only for the stage, she enrolled in the National School of Arts in the Cultural Animator section, and graduated with a thesis entitled "Theater forum, popular intervention tool".
Very committed to the feminist cause, most of her shows revolve around women. She indexes and shouts loudly what the majority wants to keep silent: the danger of a free and emancipated woman in a patriarchal society. Fatou is also an actress for the Bametaré company of the NGO Aprofes / Association for the Promotion of Senegalese Women, which works to improve the living and working conditions of women in rural and urban areas. With Aprofes and its partners, she participates in training workshops on leadership, on violence against women, on the facilitation of talks, on parity, on the empowerment of women, and can thus carry out her activities of awareness and guidance through forum or popular theater.
Fatou, who lives and works with love and passion, is now learning about dramaturgy, writing and directing.
https://www.youtube.com/watch?v=Hk1Ed45EWX4&t=8s
Abdou Sambou alias Petit, is an important Senegalese actor on the Casamance theatrical scene. A passionate artist since his earliest childhood, he grew up and trained with the Noumec theater troupe based in Ziguinchor, of which he is part as an actor and with which he works mainly with the tools of forum theater. He has attended numerous training courses: clown theater techniques, gesticulated lectures, lively reading and staging at the Alliance Française. He regularly participates in various festivals and, this year, presented with the Noumec Trio branch, the piece "Disputes et Discutes" (directed by Annie Rousset) at the MASA 2020 festival in Abidjan. Very committed, he works as a volunteer and uses the theater to support children in their school and family education: he is notably a director in a theater school in Oussouye (Spanish association BAOLAR) and at SOS Children's Village in Ziguinchor.
For Abdou, the theater is a passion but also a style of life: he interprets many roles in various successful pieces, he sublimates his comrades by his playing, his creativity and his generosity and he knows how to fascinate his audience by his gifts as a percussionist and storyteller.
https://www.youtube.com/watch?v=IdIuodkSA6A
Anne-Laure Jullian de la Fuente is a Franco-Chilean architect-set designer graduated from the Paris-Belleville School of Architecture, the theater faculty of the Universidad Catolica of Santiago de Chile as well as the Technische Universität de Berlin _ Master of Arts.
Motivated by the desire to travel and the curiosity to work abroad, her professional background gave her the opportunity to acquire an international experience very rich in human experiences and cultural learning: architect 1 year in Brussels, 4 years in Mozambique, 2 years in Guadeloupe, 1 year in Vietnam then 2 years in the Ministry of Culture in Santiago de Chile.
Passionate about theater and contemporary dance, she specializes and devotes herself definitively to scenography in 2014. Since then, she has participated in the conceptualization, the projection as well as the realization, the construction and the production of various pieces. of theater, dance and circus between Chile, France and Germany. Always very attracted to Africa, it is following her many trips to the continent, Mauritania, Mozambique, Tanzania, Malawi, South Africa, Namibia and particularly after her experience in Senegal, that she confirms her interest and willingness to work and confront common themes with artists from the continent.
Today she continues to educate herself on issues of gender and sexual violence and is actively involved on a daily basis to enhance the thinking of feminists. Proud to be a woman, sisterhood is about stepping out of her comfort zone to be in solidarity with the struggles of other women.
www.atelierzoo.com