A KILN FOR A POTTER
give me a hand to help me get settled !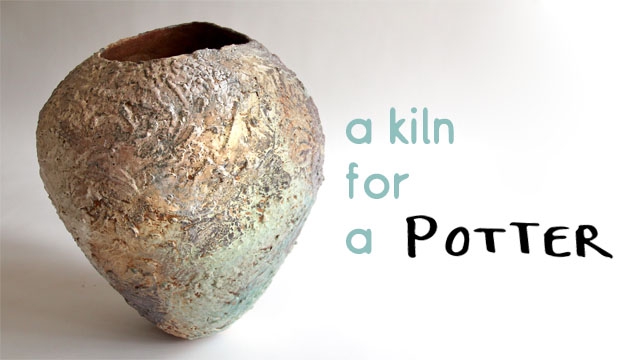 About the project
I have just qualified after studying ceramics and I am now settling down in Drôme Provençale to start my business. My project is to mix profession and passion to make a living with the pottery I make.
I have realized that whilst it's really difficult to make a living out of ceramics, it is possible with a lot of hard work, self dicipline and motivation. It is a job that enables me to be free to express myself and make my own decisions whilst excerising my passion to create with a natural material I've fallen in love with. I take great satisfaction from doing a job which requires a great deal of knowledge and skill but also offers endless possibilities, life long learning and progression. However, ceramics requires a great deal of patience and perseverance. Like most jobs there are the difficult days. Every potter experiences mishaps and has to overcome occasional dissapointment. For me this is part of pottery and contributes to the overall feeling of satisfaction when I create something I can feel proud of. I like the challenge.
I produce two types of work: practical objects and decorative unique pieces such as big jars or stoneware plaques.
My creations are inspired by natural elements and particularly by the alteration of textures and colours through time.
The Drôme is the ideal region to start my business! This area is rich with different crafts which seem to be thoroughly appreciated by those who live and visit the area. People here are enthusiastic and interested in handmade goods and the arts in general. It is therefore a very attractive place to start my professional journey in ceramics.

I have found a studio in Pont-de-Barret, a village that sits at the bottom of gorgeous mountains and is crossed by two rivers. It is an inspiring place for creativity !
The studio is located at the Quai, an old factory where silk used to be made. Today, this building is a creative space shared between artists and craftsmen. It's an association of diverse, creative talent that organises cultural and artistic events. It is a dynamic and enriching space and I feel fortunate to be a part of it.
In mid-october 2019, I picked up the keys of my new studio and I am now really close to being able to start my activity but I could really do with some help.
As is often the case when starting a business, the most difficult challenge is to get up and running, particularly given the expense of overheads. The kiln is by far the biggest cost as well as being the most essential tool in ceramics. I am therefore asking for your help in order to get a gas kiln.
What are the funds for?
The money recorded during this crownfunding will allow me to finance my kiln and its transport.
As part of my work I am required to fire my pots at 1280°C using a gas kiln! Once the clay is fired, the pieces become ceramics. No kiln means no ceramic!

Why gas?

During the firing, a kiln with a combustible such as gas, allows me to reduce the oxygen in the kiln's atmosphere forcing the flame to take oxygen from the clay and the glazes. This transforms certain elements and the appearance of my pots. I like this firing technic because it gives more rusticity to the pots and adds specials effects to my ceramics.
I have chosen a reliable second-hand gas kiln. Because chance would have it, my installation has been perfectly timed with the retirement of the potterJean-Claude Signoretwho put his kiln up for sale just when I need one.
The kiln is in really good condition. The size is big enough to fire my big pieces and I will be really happy to give it a second life!

3000€ for the kiln
400€ for transportation
400€ extra to help for the installation (gas, shelter, slab...)
6,67% of comission
With your help, everyone's a winner! I can pay for Jean Claude's kiln and start my new adventure, he is happy to retire having given his kiln a new lease of life in a good new home and you don't leave empty handed either: in return for your generosity, some handmade ceramics fired in my new kiln will be sent to you.
Jean Claude is helping me out and has kindly given me the opportunity to pay in three seperate installments so I could get the kiln earlier. I will then be able to start work on your orders as soon as the gas tank has been installed.
If we reach my target of 4000€ that would be awesome! Mission accomplished!
However, if by any chance we pass that, the extra money would be put to good use and would help towards further costs of setting myself up.
Every little bit helps and all donations would be hugely appreciated.
All the pictures shown are examples, the size and colours can vary.
About the project owner
Julia Gilles
26 years old
ceramicist
from the South France
I guess I fell into the world of clay when I was a kid. The daughter of a potter, I quickly started getting my hands covered in clay. Foremost it is a hobby and a passion I love, working with my hands and fulfilling my desire to create.

Aged 21, I started getting into pottery more seriously and began to study ceramics to take things to the next level. I started to understand that clay is able to offer so many possibilities. With help and a lot of patience from my mum she taught me the basics of throwing.
In 2017 I obtained a Diplôme des Métiers d'Artoption céramique (2 years diploma) in Lycée Léonard de Vinci in Antibes (south of France - 06). I followed this up by practicing my pottery skills at a ceramic residency and shared workshop called RAJAC. I was a member and president of RAJAC for one year from 2017 – 2018.
More recently, in october 2019, I got a qualification at Maison de la Céramique du Pays de Dieulefit, this most recent experience has deepened my knowledge and has helped me to find my own way of expression. It has given me the confidence to settle down.
In November 2019, I grabbed the keys of my first studio !
In January 2020, I created my business.
So, are you ready to help me realize my dream ?
We can do it !
Thank you for taking the time to read my crowdfunding page and for all of your help. I really appreciate it