A kiln for a wheel
Acquisition of a gaz-kiln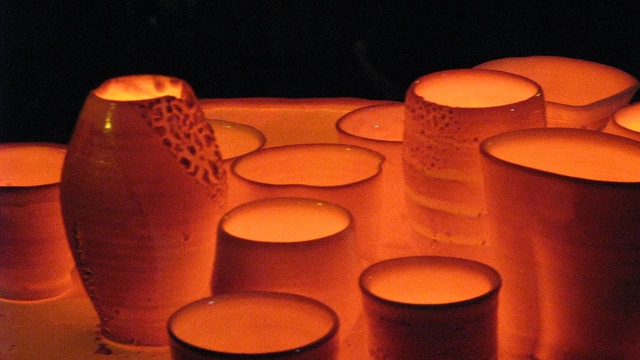 About the project
In 1967, I came to Earth.
In 1982, the Earth came to me.
In 1999, I founded the organisation 'Potters without Borders' which fostered ceramic projects overseas (Nepal and Morocco).
In 2018, I plan to expand the project locally, here in Belgium.
Years of experience and a new, warm and equipped studio mean it's time for you to discover your passion for earth. The Belgian project proposes to open the studio to people ready to create in an environment of a shared love of ceramics.
The studio will propose follow activities:
courses
Internship
Exhibitions
open doors

Just one crucial piece is needed to begin: a pottery kiln.
So, I am launching a CROWDFUNDING campaign for the purchase and installation of the kiln at an estimated cost of 5745€. In return for your support in the purchase of the kiln, I'm offering an individual ceramic piece fired in 'our' kiln hopefully in the spring of 2018.
Your support, no matter how small, is invaluable. May I please ask you to share this request with everyone around you? One never knows who might be willing to support a local, durable, hand-crafted artistic project like this one! Thank you in advance.
The Studio
What are the funds for?
Acquisition of the high temperature kiln
Installation of a gaz-tank
Connection tank to kiln

About the project owner
From the moment I first laid my hands on 'earth', an infinite and marvellous world beckoned. The four elements of the world are present in Ceramics. The first element, earth, swollen with water, is malleable; supple. Dried by air, it becomes fragile. It transforms, changing its beauty. Touched by fire, it becomes solid and lasting and renewed.
Ceramics is a study in patience, but one in which all your senses are awakened - a return to the earth. The possibilites are endless - a magic tree with its trunk - the earth - and its four main branches: shaping the earth in diverse ways (turning, slab, coil, sculpture); decoration (slips, oxides, drawing, inlay); glazing (colours, textures, beads, thickness) and firing (reduction, oxidation, temperatures, raku)...
As you can read in my simple ceramics CV, I have been a 'potter' for 35 years undertaking different studies in different academies, getting practical experience and training and exhibiting. In the creation of 'Potters without Borders', I was able to share my passion by providing support for young people at risk overseas. I really wish to develop the project here at home.
A ceramicist continues an ancient tradition and, in our standardised world, creates unique, enduring and often personal objects. I need to keep this tradition alive. The kiln is the last piece needed to make this a reality.
Qualifications
1989 - 1991: Academy 'De Toverdoos', Ghent (https://www.vrijeacademiegent.be/)
1991: Internship Uzes, France
1992 - 1993 :Ghent Academy (http://www.academiegent.be/)
1993 - 1998: Traineeship, Anima Roos (http://www.animaroos.be/)
1996 - 1998: Ceramics Diploma 'Vormingsinstituut voor KMO'  Bruges (https://www.syntrawest.be/)
1991 - 2016: Apprenticeship Paul Van Gompel (http://www.pottenbakkerij-thoveke.net/)
2008 - 2010 :Community Creative Centre, Hannut
2011 - 2015: Jodoigne Academy with Danièle Collart (http://www.culturejodoigne.be/academie)
2015: Traineeship 'Moulds & Casts' (figures & busts) Anna..Keiller, Hastings, UK (http://annakeiller.com/)
Exhibitions
2000 - 2017 : Private exhibitions, Ghent & Hannut
2010-2012 : BELGIAN DESIGNER ROOMS 20102012, THE WHITE HOTEL, Brussels
2010 : Beelden Buiten "van het gemeentelijk project "KunstRouteKoksijde 2010", Koksijde
2011 :Artists Circle, Wanze
2016 : Artists Circle  La Hulpe
Non Profit Organisation: Potters without Borders
Nepal Project
In 1998, I received a Tour Operator's contract for India and Nepal. During my free time there,I visited many NGOs and local projects. One of these projects in particular - Shangrilla Home - caught my attention.This NGO, initiated by Inge Bracke, took in street children and offered them accommodation, schooling, study support and activities, etc.
One night, Inge and I asked the question 'Can we offer them a professional future?' because the children were regularly rejected in their search for work and had no access to anything other than jobs no-one else wanted to do. Together we drafted a proposal for a pottery studio.
It was then that I launched 'Potters without Borders' and immediately brought in my friend Paul Van Gompel, a potter of more than 40 years, who had experience in setting up pottery studios in Africa. We organised numerous events to finance the studio and then we left for Nepal. There we looked for a suitable place, hired a Nepalese potter, built a kiln, constructed and installed the fittings, found premises and a dormitory, etc.
The project grew and we hired two volunteers to maintain the growth of the studio with sideline activities such as cooking courses and traineeships in sustainable tourism. Since 2000, the studio has been entirely self-sufficient and continues to train students. They can also follow studies in IT, English and maths.
http://www.shangrilahome.org/index.php/fr/menugokharna
Maroc project
Following on from the success of the project in Nepal, we established a pottery studio for deaf children in Safi, in Morocco (in association with Doctor Bensouda and his institute 'Society for Deaf & Mute Children, Southern Morocco')
Production
Torsos
Molding on person
Everyday objects
Sculptures
Expositions
FAQ
If you still have an unanswered question, feel free to ask the project owner directly.