Angel
A film by Koen Mortier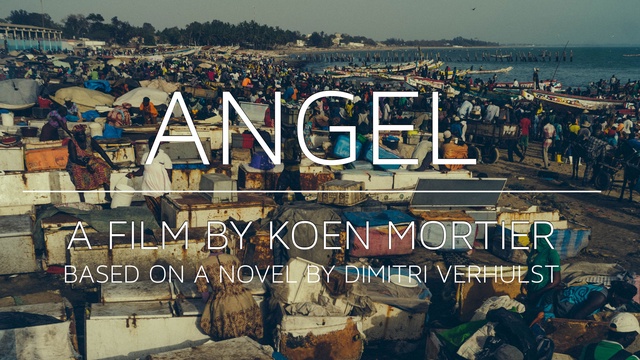 About the project
'Two lost souls are having a stormy romance: Thierry, a sportsman who's career is hanging by a thread, and Fatou, a young prositute whos only hope is to survive.' 
THE STORY
"ANGEL" portrays the last 24 hours of the life of a world-renowned, but deprecated sportsman, Thierry.
During a holiday in Senegal, he meets the prostitute Fatou who quickly falls in love with him. In each other they find dignity and hope to free themselves from their troublesome situations. But more important than understanding and self-reflection, they mostly find love again. Neither has ever felt like what they feel for each other; It seems the beginning of an almost all-consuming love. Until Thierry, under the influence of a stimulant, suddenly starts feeling sick and begins to behave strangely. First annoying, then arrogant and at the end almost psychotic. During his death struggle he begs Fatou to stay with him, after which he curses her and commands her to leave him alone. Fatou goes home, but not before promising him that she's coming back to share her life with him. The next morning, however, Fatou hears the news that Thierry has passed away. She is arrested and locked up for some time despite her innocence. To move on, she has to go back to the room where it all began.

Fatou is the character that tells the story. Nevertheless is Thierry, our cyclist, the central figure in the film. Both characters are looking for love, understanding and respect. But most of all they're looking for themself; they try to figure out how they've reached this poin in their life and especially how to move on from here on out. The story is about hope and dispair and the torments that people carry with them in their search for a better life.
The film is based on the book "Monologue of Someone Accustomed to Talking to Herself" by Dimitri Verhulst. Koen Mortier wants to show the worlds, dreams and fears of both the cyclist and the prostitute. In a way, they have an almost parallel life: both having to give the best of themselves and their bodies to delight fans or customers. 

The title 'Angel' refers to the two main characters who are both in a way fallen angels. But in their hearts they are pure.

INTENTION
I wish to open the story of the film up to the a more global world of athletes. There are hundreds of athletes such sporters being swept off their feet, be it cyclists or soccer players. One day they're being praised and glorified, the day after they're being mocked and this is exactly the story I wanted to tell. 
In the film I want to portray show two worlds, where hope and despair run parallel and therefore I chose for a certain balance between the characters, with showing both their dreams and as well as fears. 

ARENA
Most of the film is set in Senegal. A street of black tar cuts a small sandy village in half. On the one side are all the small and  desolated houses of the inhabitants. The poverty is so present when you're walking on the beautiful sandy roads that connect the wasteland and the decayed houses like vains in a body. On the other side of the road you can see the tourism flourishing, with its tropical plants and flowers. The two worlds are not only in total contrast with each other, they also emphasize the acerb sides of tourism. 

STYLE

There is only one Flemish Director of Photography who 'paints' his images and that's Nicolas Karakatsanis.

During our first location visit in Senegal Nicolas made multiple pictures that really set the tone and atmosphere for the film. It's almost magical to see how he changes a normal everyday image into a painting. Like no one else he knows how to find the right colors and frames to turn an ordinary image into something of a poetic feeling. 

You can look at some of his work here.
You can follow all the updated on the Facebook page: Un Ange de Koen Mortier
What are the funds for?
We want to shoot 'Un Ange' on film. Shooting on film stock will bring together the most beautiful of two worlds: the fierce colours (which most digital carriers can't handle) become so rich and saturated on film that the choice to shoot on film became quite clear. And the texture of the image, the feel of 35mm film, the light flashing and the intensity of the colours are all elements that will make this cinema experience richer.

But shooting on film also means a bigger cost and we hope to cover this through crowdfunding. Additional costs include purchase of 35mm film rolls, daily transports from the rolls to the lab in Brussels, where everything will be developed and transferred to a digital carrier. With a target of €12 000, we hope to achieve the additional funding we still need to carry out this extra cost.

Each euro that exceeds our target amount, we will donate to a Belgian Association without profit 'Afractie' and their project Djar Djal. Djar Djal is active in Senegal in the cities of Thies and Mbour. The organisation supports projects that focus on disadvantaged children and kids on the street. In Mbour, Djar Djal wants to start a new project: 'Sport Pour Tous'. The intention is to train disadvantaged children in their football skills through the founding of a football team led by a professional football coach, but also to support them mentally and socially. They will learn how to play together, resolve conflicts, close friendships, set goals,... A football coach is already available, but not yet the financial resources. 

Investing in our project thus contributes to both the film world as well as this social project in Senegal.

Website: www.afractie.be
Facebook: Djar Djal

About the project owner
KOEN MORTIER
After being location hunter and location manager, grip, sound editor, assistant director and many other things in cinema Koen decided that directing was maybe the most easy job to make a living in the film business. At the age of thirty he started making short films of which "A Hard Days Work" won several international prizes.
In 1999 he established CZAR in Brussels with fellow director Joe Vanhoutteghem. In no time the company was one of the most creative in Europe because the emphasis of CZAR is on the directors. They were, and still are, the driving force behind the company.
Koen directed many remarkable commercials and was chosen best commercial director in several countries, for example Belgium for Orange and TNT, Holland for RVS, Italy for Leroy Merlin and Germany for Hornbach. He won numerous international awards. His TNT commercial 'Push To Add Drama' even reeled in more than 50 countries.
Under the alias Lionel Goldstein, he directs absurd films with his friend and fellow director Joe Vanhoutteghem. They were awarded many times for their work and won at least eight Lions at Cannes.
Meanwhile Koen started to direct feature films of which his first, 'Ex Drummer' (2007) premiered at the Rotterdam and the Toronto International Film Festivals. The film won awards at Fantasia Film Festival, Raindance and the Warsaw International Film Festival. His next film '22nd of May' premiered at the Toronto International Film Festival and won awards at the Leeds, Mexico and Baghdad International Film Festivals. He is currently preparing his next feature film 'Angel'.
FAQ
If you still have an unanswered question, feel free to ask the project owner directly.