Ultraskate Miami 2015 - Euro Team
How far will they ride ?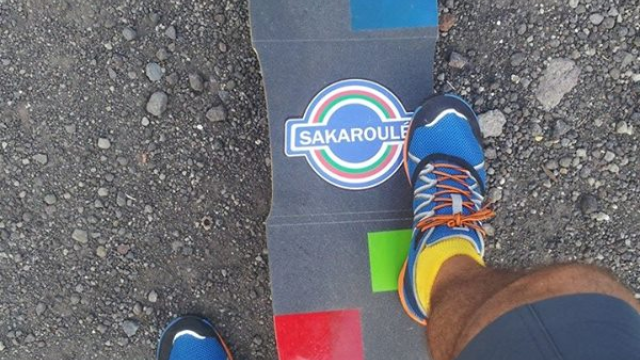 About the project
Our goal : fundraising for a Euro Team to attend the 2015 Miami Ultraskate - the one place for Distance riders.
We will pump, push and paddle to promote new riding techniques.
We also wish to introduce you to a very unique Team, composed of 4 european riders, using several different techniques.
We want you to help us send a team over there : 1, 2, 3, 4 or even 5 riders as parts of a whole mosaïc. 
What are the funds for?
Sending a team fom Europe to Miami calls for:
+ Air fares from Paris to Miami : € 700,
+ Event fares : € 100 per team rider
+ Motel 6 fares: € 400
+ Food & insurance :€ 300
The first step is : reaching a € 1.500 goal in order to send our first team rider to Miami.
Up to € 3.000 we can budget a trip for 2 riders,
At € 4.000 3 is company, considering food & catering benefits on costs.
If your donation reaches € 5.000 € the whole team will attend the Miami Ultraskate.
Above € 5.000 € we will help a charity fund for Psychiatric Youth Unit.
Our financial personal involvement is very similar to your expected help. It relays on blood, sweat & tears for the skating part, coordination unit for the team, and technical parts for the riding gear. You have the more confortable part !
About the project owner
Who's who in the Euro Team ?
Here is a quick portrait of our Team mates, coming from France (Paris, Côte d'Azur, Guadeloupe) and Switzerland (Geneva)
Jérôme aka Bevilacqua, 47, father of 4, skater since 1977, pionneer of Long Distance skate in France, blogmaster of Sakaroule.net since 2007, admin of the french forum Dandystance.org, Long Distance raider in the West Indies (Tour de Marie-Galante, Guadeloupe), Switzerland, (Rhône Rider).
Créateur de confiance : trust crafter.
Samuel, 43, single father, publicist, distance rider from the French Riviera.
Former cyclist & runner he takes his friends & lil' Liloo on the roads of the Côte d'Azur & Italy to practice pumping. 
La French Riviera, c'est "La vie en rose" : sunny all year long, a rider's dream.
He brings us tenacity, good spirit & a keen eye.
Stéphane is from Geneva, Switzerland, rider of the Lake shores since the 70s.
He has traveled the world, and brings us good advice with his experience.
Jack of all trades, tough, and reliable: here is our hairy-chested man in the Team.
François, 30, engineer, is the youngest father in the team.
He has developped a unique carbon paddle, on the basis of record breaking modern prothesis.
He knows how to use it, and will help us clock miles and miles on the Riverdale NASCAR racing ring in Miami.
A Team is composed of four riders - less we forget a fith member in the crew: Fabien,50, in the computer business, is already a grand father ! As a true veteran of ski, snowboard, and other racing sports he is our mentor in the field.
He rides the Loire banks in the Vallée de la Loire, in Tours, heart of the Angevine mellow life style.
He will coach the team to achieve a good score in Miami
Hey Ho ! Let's go !
;-)
FAQ
If you still have an unanswered question, feel free to ask the project owner directly.