TWO BEERS FOR HAITI
THE BOOK
About the project
FINISHED!!
A BIG THANK YOU FOR EVERYONE WHO HAS SUPPORTED THIS PROJECT!!
The book has been printed and will be bound soon! It will be ready to be send end of february!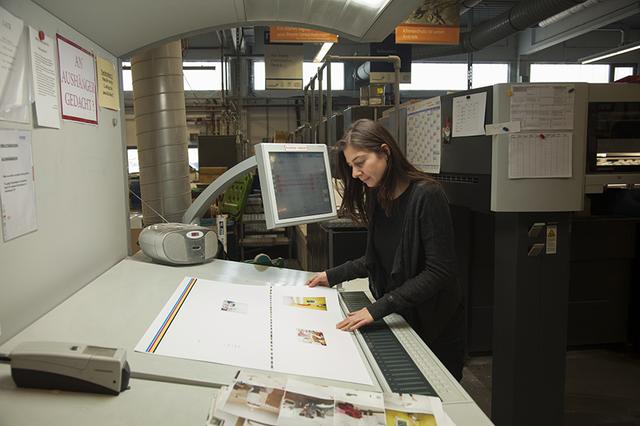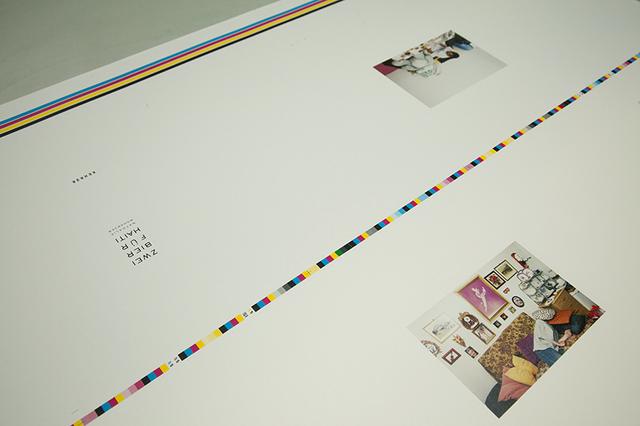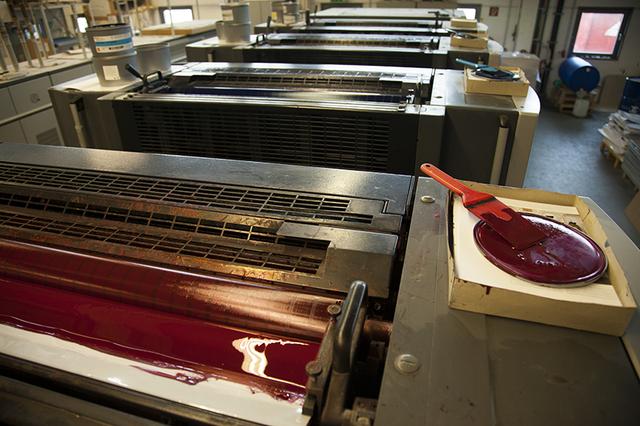 ZWEI BIER FÜR HAITI
When an earthquake shook Haiti in January 2010, Margitta, one of the inhabitants, started a fund-raising campaign among her neighbors in the homeless shelter, which she called "Two Beers for Haiti." The idea was for every resident to drink two beers less a day. She collected a total of 15 euros. That's why series is named Two Beers for Haiti.
Two years later, with the project now complete, I have begun working on a mock-up of a book Together with the Art direktor Gesa Hansen which I believe is the ideal venue for this body of work. From the beginning I imagined this project in book form. With your help, I will make this book physical to come out in february 2013 ! Every cent of your donations will contribute directly to the book. 
The book will also include two amazing texts about my work written by the art Historians and curators Silke Opitz and Emanuele Quinz.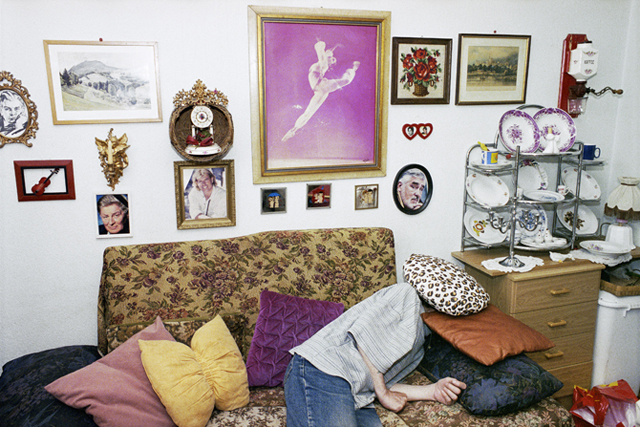 ZWEI BIER FÜR HAITI was photographed in Weimar, germany from 2006 – 2011 on film, Kodak NC 135. The work includes in total 52 Images, fine Art Lightjet-prints, size between 20cm x 13cm and 150cm x 100cm, edition of 10 plus 2 artist proofs for each image.
PRIZES
2011 Honorable Mention of the Levallois Epson Photography Prize, france
2011 Abisag Tüllmann Prize, germany
2012 shortlisted work of the Magnum Expression Award
EXHIBITIONS (extracs) 
2011 Levallois Epson Photography Prize, L' Escale Gallery, Levallois, france
2011 Night of the Year projection, Les Rencontres D`Arles, Arles, france
2011 - 2012 Zwei Bier für Haiti, Museum Kunsthalle, Weimar, germany
2012 Zwei Bier für Haiti, Galerie Coucou, Kassel, germany

PUBLICATIONS (extracs) 
2011 Mouvement magazine, january- february
2011 Der Freitag, journal Nr. 29
2011 Zmala Magazine
2012 Les Cahiers Imaginaire Europèenne magazine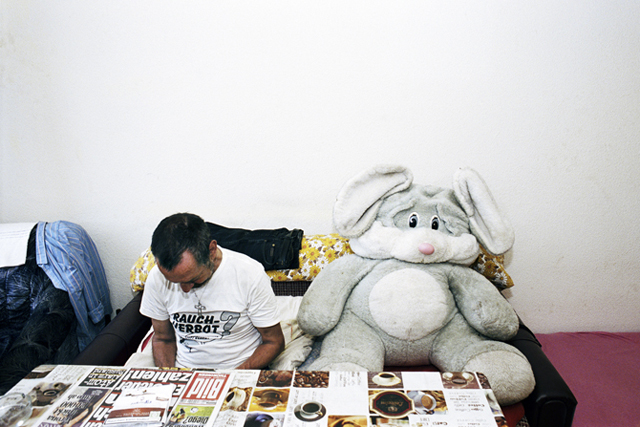 EYES AVERTED
For several months in 2006 and in 2010 Nathalie Mohadjer took photographs in a homeless shelter in Weimar. She spent a great deal of time with the residents, but never tried to hide her identity as an outside visitor. Her photographs hence suggest at once closeness and distance, marked by an ambivalence that is as fascinating as it is touching. This is because these subdued images, scarcely staged and in many cases snapshots capturing a fleeting moment, have such an authentic feel about them. …
 …Mohadjer's choice of motifs is dominated by mostly quiet, almost shy gestures and a few rough, demonstrative poses on the part of the homeless, also encompassing the everyday personal items to be found in a home for those with no home. Supplementary lighting and consistent, at times strict, compositions are the key elements in the artist's photographic strategy. Her formal and aesthetic pictorial language is nothing unusual in the art world. But nowhere else is it applied to the same themes, social conditions and corresponding objects and people that interest Mohadjer. Similarities with the autobiographical works of Gosbert Adler may therefore at first seem astounding, for the very reason that the private, almost intimate quality of his photographs from the 1980s can also be felt in Mohadjer's images – except that the latter depict strangers. Just as the pictures Adler took at home are not classic self-portraits composed as frontal close-ups, half-length portraits or knee shots, the homeless people shown in their daily surroundings in Mohadjer's images are always in the midst of restrained movement or action, that is, they are in the process of doing something. They make small gestures, sometimes symbolically readable and always self-reflexive. On the other hand, Mohadjer's photographs of objects that can/might act as silent witnesses to life in the homeless shelter seem factual, like archival material. The pictures of the identical filled plates and ashtrays, for example, which can by all means stand alone as tableaux or an independent series, are reminiscent in concept and aesthetic of the Becher school, which Wolfgang Kemp aptly described as "deadpan."
This seemingly paradoxical "intimate objectivity" perplexes, making Mohadjer's pictures all the more memorable. Her photographs may also come as a surprise to the viewer because one tends to think of homeless people as being out on the street rather than encountered "at home." Of course, this "home" is really a last stop, which we can learn the most about from those who live (and work) there. But because people eat and drink, celebrate and sleep, fight and love there – all of which can be found in Mohadjer's pictures – this place, this life, at first seems quite familiar to us. Only on second glance does it become evident that the people here are depicted in a non-place, and that these are people who are through with "normal" life and the usual order of things. One doesn't necessarily need to think of Diogenes dwelling in his legendary barrel as an "early bum" or, conversely, to consider every vagrant a budding philosopher, to be well aware that societal values and corresponding standards are relative constructs, meaning that shifts are quite possible.
Nathalie Mohadjer is thus not interested in producing a "true picture" of the people she photographs. Her images fascinate precisely because she fails to get a firm grasp of her subjects, because they elude any clear interpretation and certainly analysis. What remains in the end is perhaps a vague notion of them, an idea that what concerns them ultimately also concerns everyone else, meaning us. The long since obsolete expectation that photography should show us that something is exactly LIKE THIS once again remains unfulfilled. Because it is never just LIKE THIS.
Extract of the essay written by Silke Opitz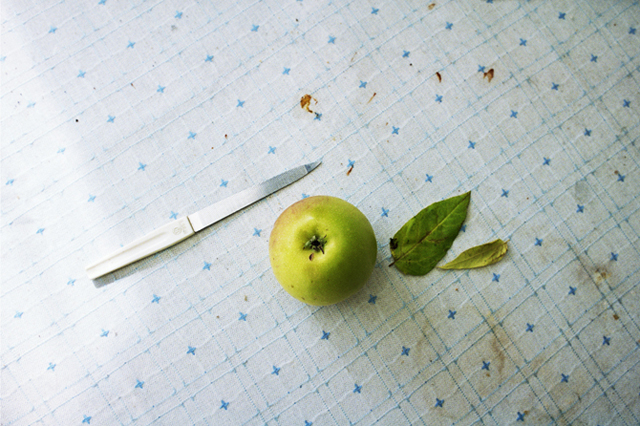 What are the funds for?
The internationally known fine-art publisher Kehrer will produce a limited-edition-book of 1250 copies!  But as usual these days the author has to part fund it. 
That is why I need your funding!
THE REWARDS:
 - A big THANK YOU and the amazing BOOK SIGNED!! 
- 4 beautiful POSTCARDS!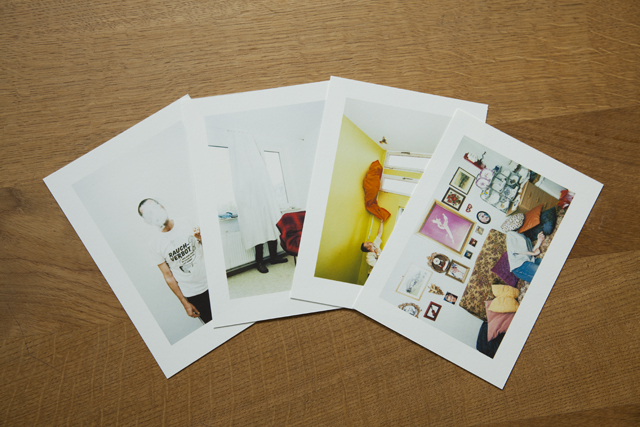 - GALLERY PRINTS
Available in five edition sizes, 13cm x 20cm, 20cm x 30cm ,40cm x 26cm, 60cm x 40cm and 100cm x 60cm. Each Fine art Lightjet print , printed on Canson Rag Paper, is signed and  limited to 10 prints (+ 2 artists proofs) worldwide !! If you fancy another image in a different size then proposed below, you can contact me personally or via the the button below.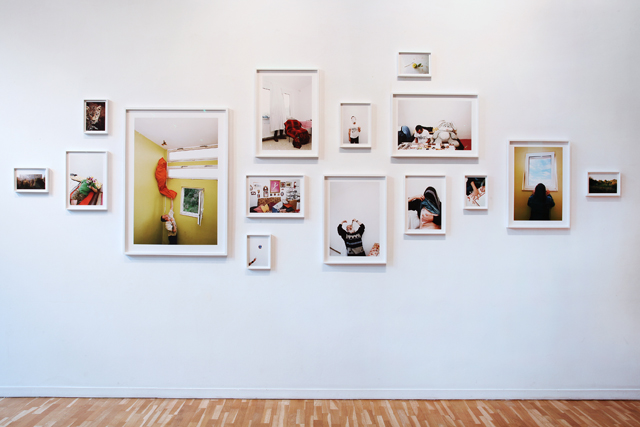 The 13cm x 20cm editioned fine art print: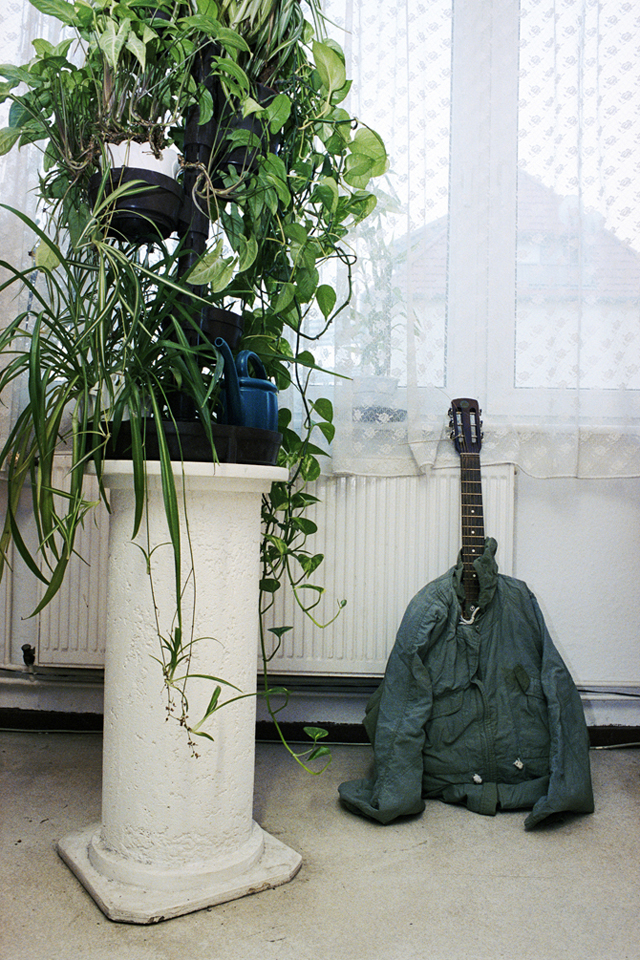 The 30cm x 20cm editioned fine art print: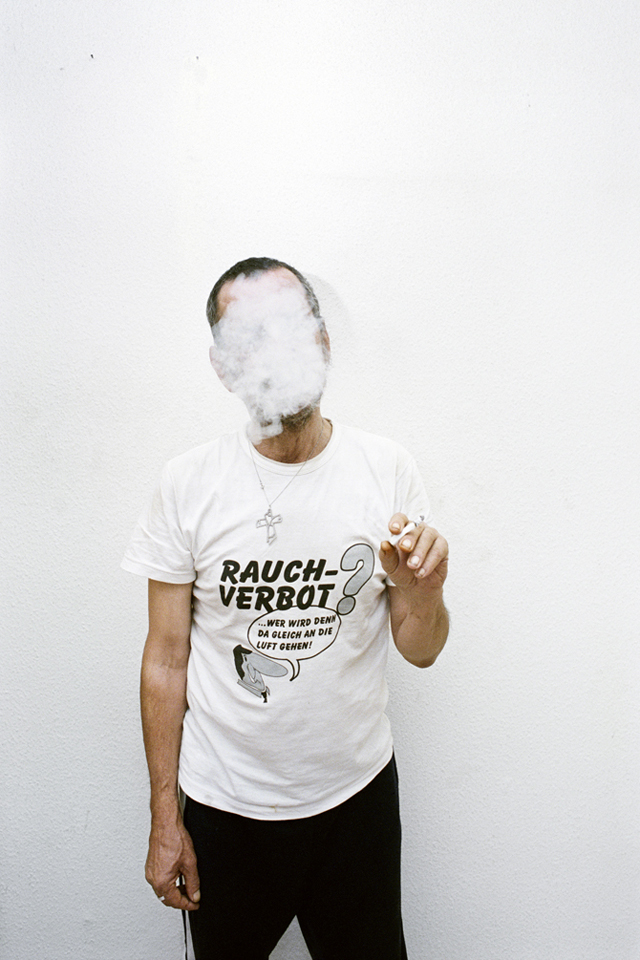 The 40cm x 26cm editioned fine art print: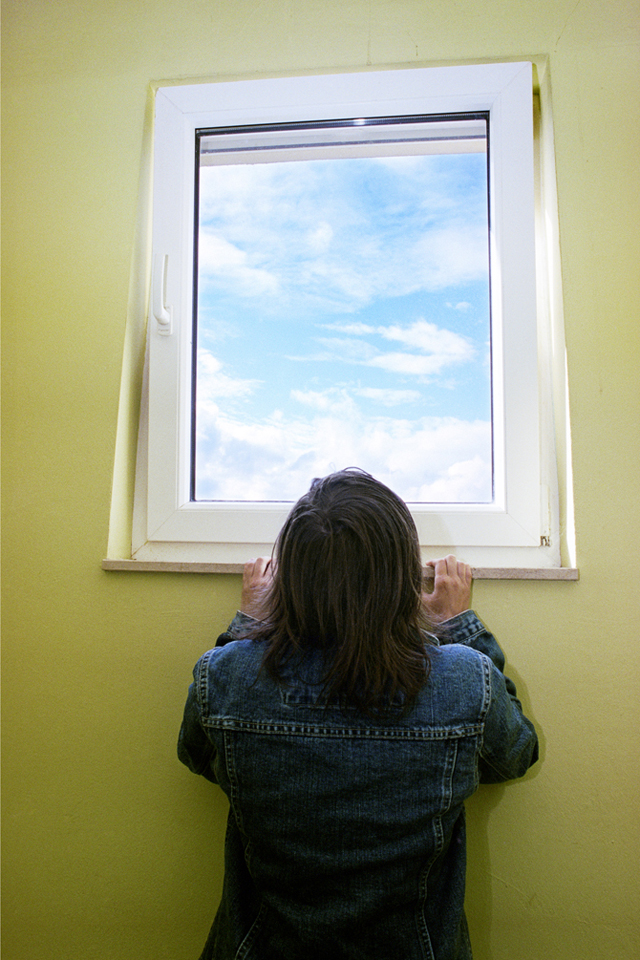 The 60cm x 40cm editioned fine art prints: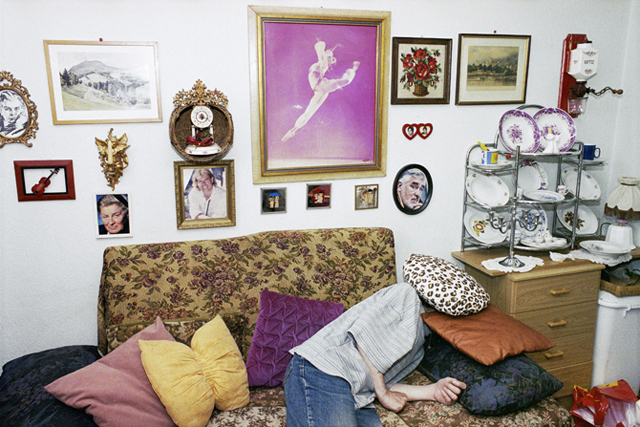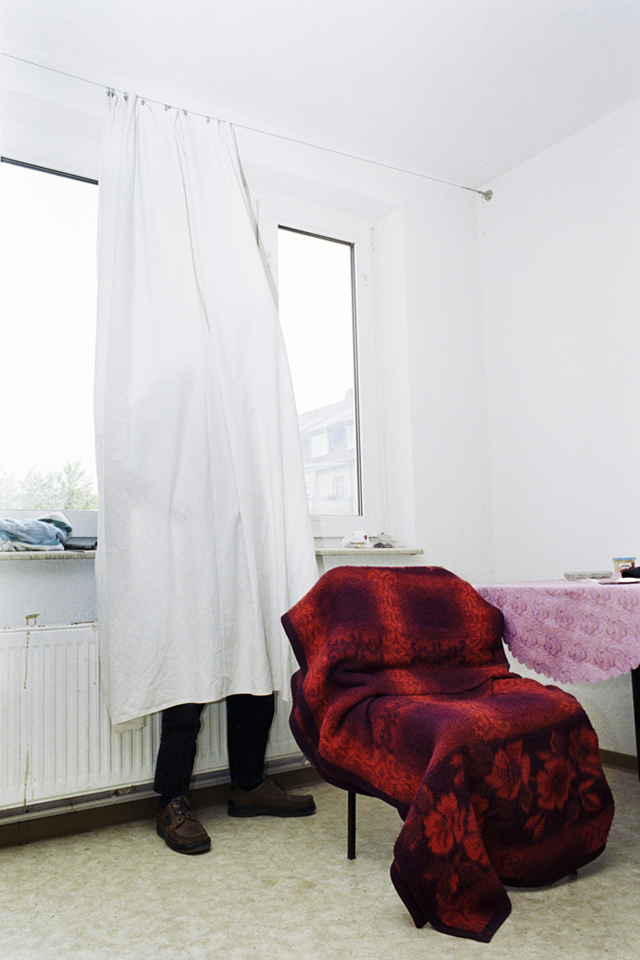 The 100cm x 60cm editioned fine art print: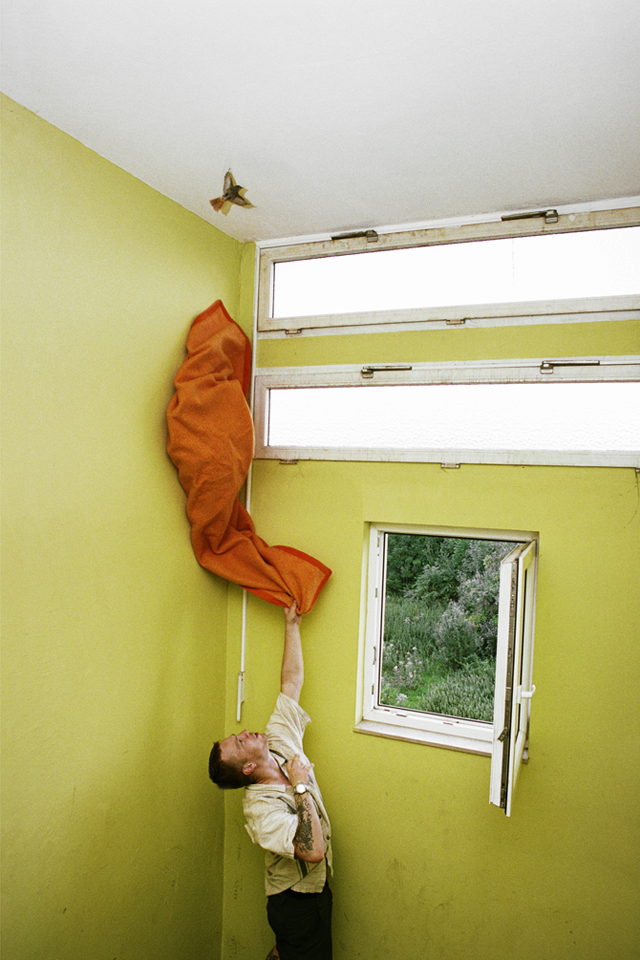 SPREAD THE WORD!
After pledging your support, please help to spread the word about this project by sharing this link with your contacts.
http://www.ulule.com/two-beers-for-haiti 
About the project owner
Nathalie Mohadjer was born in Germany in 1979. She studied arts at the Bauhaus-University, Weimar, germany. Her work has been exhibited at; GDK Gallery of fine Arts, Berlin; European New Year, Amsterdam; Kaunas Foto Festival, Lithuania; La Chambre Gallery, Strasbourg; Goetheinstitut Lyon- Septembre de la Fotografie; Food for your Eyes, Paris; le Bar Floréal Gallery, Paris; Museum Kunsthalle, Weimar; Noordelicht Gallery, Groningen ; Melkweg Gallery, Amsterdam; Photoville Festival, New York; Les rencontres D' Arles; etc.
Her work has been published in Camera Austria, New York Times, Le Monde, Brand Eins, Zeit, der Freitag, Mouvement, Finacial Times, etc.
In 2005 she was a member of the Asia Europe Forum for Young Photographers, Maison Europeenne de la Photographie Paris. In february 2008 Mohadjer received the german DAAD artist scollarship. She was the Lauréat of Visa d' ani, Visa pour l' Image 2009, Perpignan. In 2010 she receives the german VG-Bildkunst scollarship. She won the german Abisag Tüllmann prize 2011, was a special mention of the City of Levallois-Epson Photography Award and a shortlist of the Magnum Expression Award. She lives and works in Paris.
Find her work online at  www.nathaliemohadjer.com
Nathalie is on facebook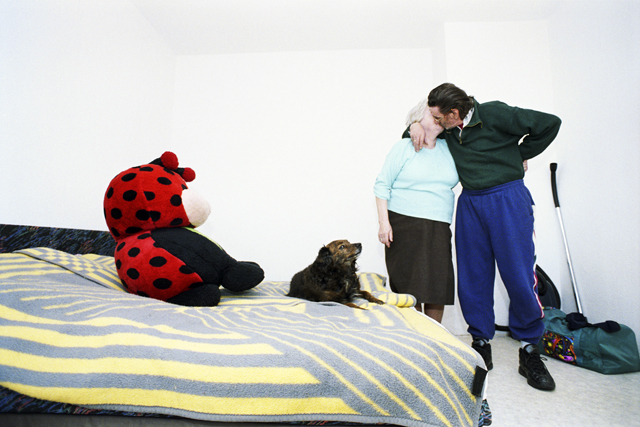 Zwei Bier für Haiti at Heussenstamm Gallery Frankfurt, Germany for the Abisag Tüllmann Prize Exhibition
Abisag Tüllmann Prize
Photographs by Nathalie Mohadjer, Anja Niedringhaus,Frederic Busch and Enrico Fabian
February 19 – Mars 15, 2013
Heussenstamm Gallery
Frankfurt, Germany