The Flat Twins
An illustrated collection by Philippe Gürel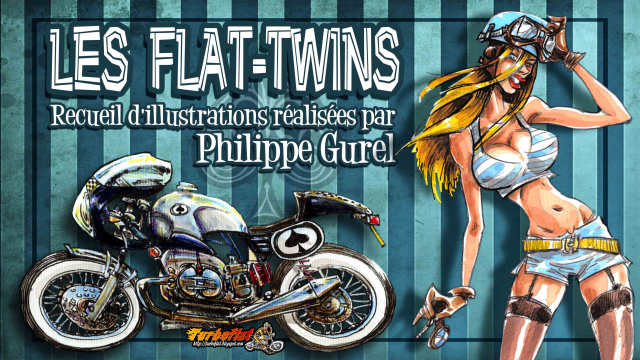 About the project
After having enjoyed the life of an illustrator and motorcycle enthusiast for more than 15 years, I finally made up my mind and decided to gather the huge collection of my work in a series of books dedicated to motorcycles from different countries around the globe.
The first book of this upcoming series will be about german motorcycles, and more particularly about all those beemers I've always been mad about, ever since I've been able to ride a bike!
What you will find in this book:
The all star favourite models of all beemers' fans
A whole bunch of custom classics such as cafe racers, bobbers and scramblers .
Some sneak peek pics of my upcoming comics' project "Turboflat"
A collection of some of my most appreciated commercial works for magazines, bike manufacturers, clubs, parts' suppliers...
Illustrations made in a wide variety of techniques, from watercolour to digital colouring.
And last but not least, some of my most beautiful Pinup girlzz!!
What are the funds for?
The book will be a 52 page, square, 8.5 X 8.5in, full colour, glossy print. The amount of books to be printed will depend on the amount of money gathered thanks to your donations. Hopefully though, I expect to print at least 500 copies of it.
A book jam-packed with Turboflat goodies!
I made the choice of starting with a rather low amount expected, 4000 € , although I'm counting on you guys to make it  grow sky high! Here's how the money will be spent:
The printing cost should be between 3500 for 500 copies and 5000 for 1000 of them.
700 euros for XXX number of screen-printed t-shirts.
1500 euros for hiring a DTP graphic designer who will be in charge of wrapping all the pics up in the best possible way. The cost might be reduced to 500 euros if he only deals with the book cover and back cover design.
250 euros in order for the book to go worldwide, thanks to some English, Spanish, German and Italian translations.
1500 euros for shipping costs. I expect to sell about a third of the books in bookstores and bike related shops. Another third should be sold  during various events, hand to hand. And then, the rest, including the ones that will be bought by you through Ulule, will be sent by mail, with various shipping costs (i.e. 10€ for EU delivery, 20 for US delivery)
Once all those costs are covered, the rest will be used for printing some extra books. If I manage to make some money out of those books, that money will be used to pay the rent, but, most importantly, to launch the next book of my motorcycle series!
Bear in mind that this book is the first of many other fine looking books to come!
About the project owner
After graduating from two major graphic design schools, l'EESI in Angoulême and GOBELINS, in Paris, I decided two combine my two passions, motorcycles and drawing, to become a motorcycle cartoonist.
I work regularly for many different companies such as Continental, Panda Moto, Mombaerts, CS concept, Héritage Import, L'Alternative, just to name a few. My work is published in some really good magazines like Box'R mag, Desmo Mag, Café-Racer Magazine, Moto Magazine, RAD magazine, Youngtimers moto...
I was involved in two published books presenting collective collections of illustrations:
"Motorcycle Graphics" by Gary Inman, Graffito
"FFM, 100 ans de Passion", by Baudouin Deville , Paquet
I was also asked to design the official poster for 2014's edition of "Toutes en Moto".
FAQ
If you still have an unanswered question, feel free to ask the project owner directly.