An organic, fair-trade, designer t-shirt
French designed organic print! Individually numbered, totally limited edition of 50!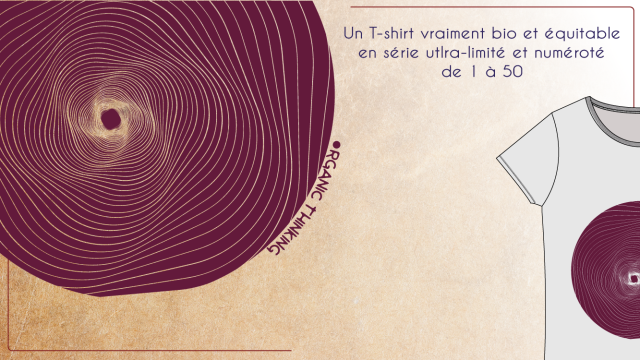 About the project
I have a dream and I'm making it come true! 
Create and distribute truly organic clothes with style. And when I say trulyorganic its not just words! 
I've made all my choices in order to respect humans AND nature. 
This label already exists, you can have a look at it on www.dupatron.fr (its in French... 'cause I'm French but you can look at the pictures!)
The first collection has just been released and is now on sale. 
So today I wanted to spend some quality time (and share it!) making a new design. Simple and easy to wear. 
Its based on a white t-shirt, slightly fitted, with a nice burned red design, inspired by pictures of wood veins and also a development from this one. Some people also say that it was entirely related to my girlfriend's pregnancy.... (might be!) 
Sizing is unisex, men should consider ordering a size bigger than usual

It is slightly fitted and looks even better than in the vectorised pictures!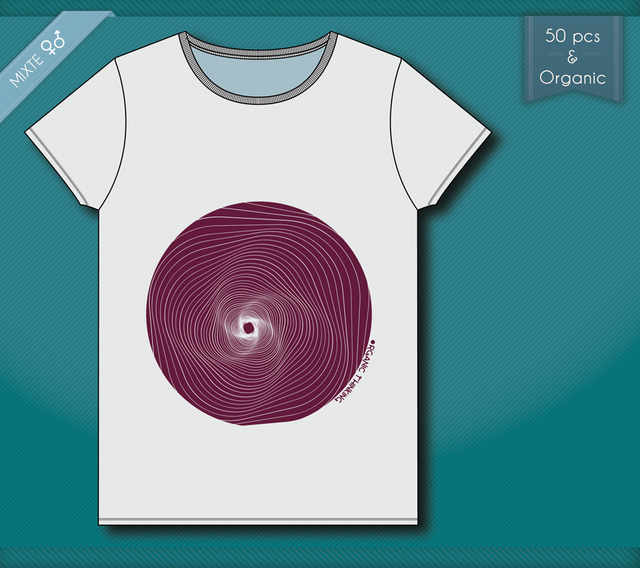 Why is the idea so special? 
Well, there's so much to say about ethical thinking. Look at: les engagements ecologiques et humans ici (its in French; I am going to translate it as soon as possible.) 
I think total respect for humans and the environment is just common sense. But, believe me, these standards/beliefs are not widely shared and we need all the good labels there are. 
My clothes are printed in France in the best lab I have ever seen (really). The materials used are fully organic and of an extremely high quality. 
These are the labels. I work with Earthpositive, a member of the Fair Wear Foundation.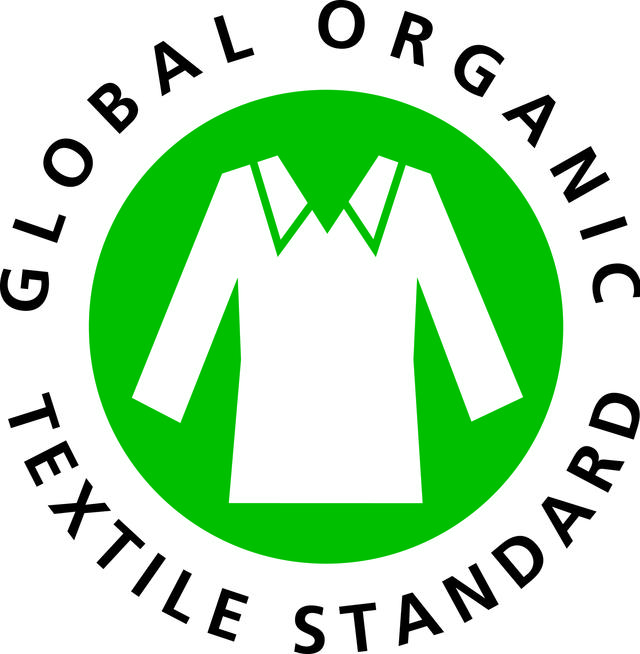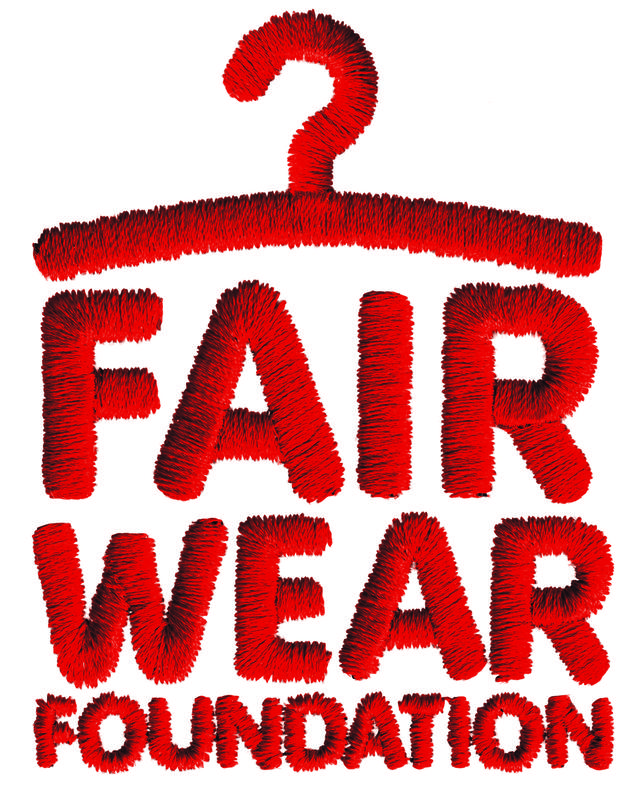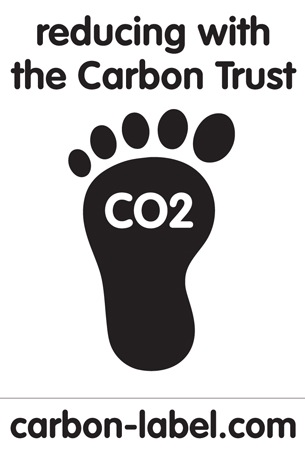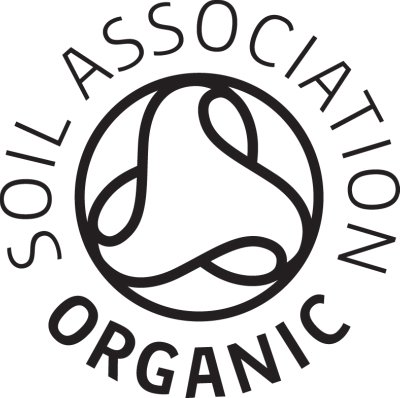 Follow these links for more details on the labels:
GOTS and the Soil Association : organic cotton and respect for workers.
Fair Wear fondation : dedicated to improving labour conditions in the garment industry to provide fair working conditions with no child labour in safe and hygenic work places, payment of a living wage, freedom of association, no excessive working hours,.... this is a really good one!)
Cabon label : 90% reduction of the carbon impact of t-shirt production.
The price:
 Why this price? Because of all the above. Production which respects both workers and the environment still costs a little more... but looked at from a broader perspective I believe the cost is much less than that of conventional production.
 This is a production run of just 50 worldwide. You're unlikely to find another in your neighbourhood!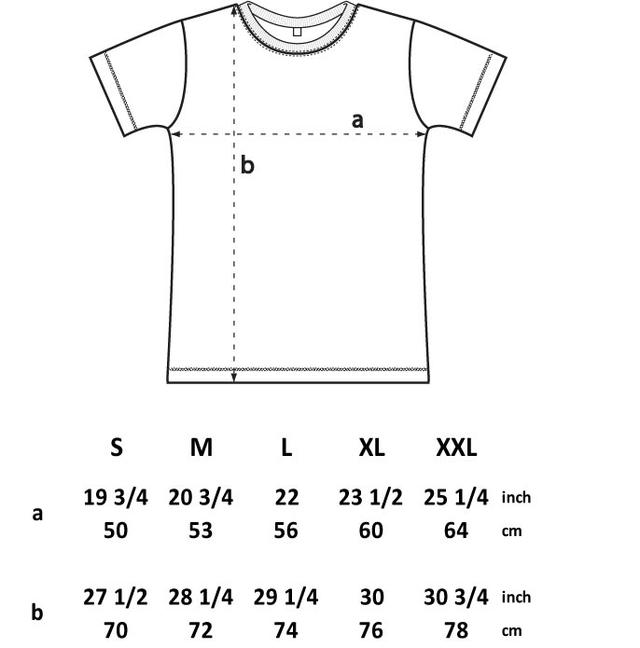 About the project owner
Me.... 
Well its hard to know what to say... 
I grew up in a French and English family in France. 
I started my adult life on the road trying alternative ways of living, then I had a major life change when I studied fashion in Bordeaux after which I worked for some clothes brands, travelling widely for them in Asia. 
Then I had enough of that and decided it was time to start my own label to reflect my ethics and beliefs. 
I've now been doing this for a year, alone in my spare room workshop. It is currently full of my first t-shirt delivery. 
Meanwhile, I cut my hair! No pics yet! 
I live with an actress, we have just had a baby girl... so its another big turning point in our lives and a great motivation to create a proper alternative that respects both the environment and those who live in it. 
Thats all for now. Thanks for reading this and I hope you'll share it with your friends.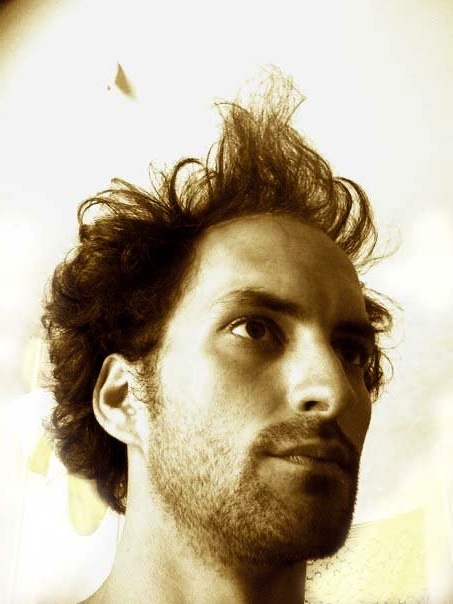 FAQ
If you still have an unanswered question, feel free to ask the project owner directly.