Tschai: Planet of Adventure RPG
Jack Vance's classic, powered by the apocalypse , and more !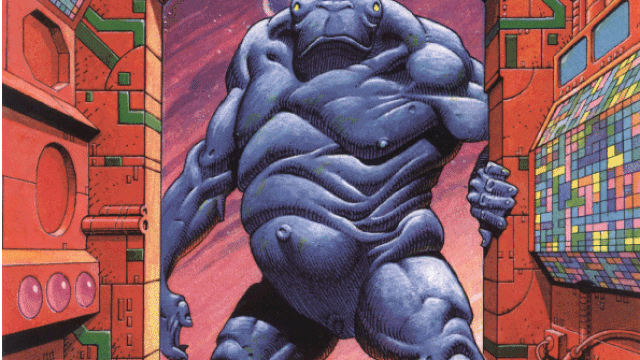 About the project
Who has not dreamed of discovering distant planets and contacting alien species? Who wouldn't venture into the distant land, to join diverse human civilisations? Jack Vance wrote a series of space-opera novels to explore these topics, all set on the strange planet of Tschai.
Tschai map, work in progress
The Planet of Adventure series, written in the late sixties, explores the science-fantasy adventures of an earthman, Adam Reith stranded on an alien planet. He travels the planet in search of his spacecraft, encountering many different alien creatures and the humans who serve them. In doing so, he discovers a world abounding in exotic cultures where humans live in the shadow of four strange races that share the planet in a sort of cold war ... and sows new ideas in its wake.
In France, an artist by the name of Philippe Caza illustrated these novels and proposed a great new vision of this setting, which you can see below. Inspired by that vision, one of the great French comics publishers (Delcourt) produced a series of comic adaptations of this work. Those comics are at the heart of the project, and have led to this licensed roleplaying adaptation of Vance's classic work.
Get a print copy of the English version of the Tschai Roleplaying Game! Backing at this level allows you to get a code to print the copy at cost from DriveThruRPG, so you can choose an affordable softcover or luxurious hardcover based on your tastes. You also get the PDF of the game as well!
If you choose the "pdf only", you get both the english and french versions if you want to !
What are the funds for?
This project, which has already surpassed its funding target by a large margin, aims to adapt this setting to work with the award-winning Dungeon World system. This game will be powered by the apocalypse, and serve to allow people to explore the planet Tchai and the cultures within. The Tchai RPG will be designed and written by the excellent French game designer and translator, Khelren.  The French game will then be translated by Jason Pitre of Genesis of Legend Publishing on behalf of the publisher, 500 nuances de geek ( " 500 shades of geek" 500NDG)
Are your excited to pick up the PDF?  Pledge at the "Kobold!" level and choose the "Tschai Roleplaying Game" as your option!
Do you want a physical copy of the beautiful book as well as a PDF? Pledge at the "Adam" level, and you will be able to order a print copy at cost from the fine folks at DriveThruRPG POD.
If you have any comments or questions about the English version of the Tschai Roleplaying Game or this campaign on a whole, please get in touch with Jason Pitre directly ! You can reach him on Twitter @genesisoflegend, or email him at genesisoflegend at gmail.com.
Welcome to a Planet of Adventure!
Stretch Goals
If you are a backer here, there are good chances that your passion for Tschai goes well beyond the roleplaying game. We feel the same, and we are called "500 Nuances de Geek" ( 500 shades of geek) for a reason.
As the basic goal is funded, we have seized the opportunity to announce a more ambitious goal; researching the fundamentals for an animated film on Tschai!
Since the beginning of this campaign, we have had the idea of creating an encyclopedia which could, at the same time, form the foundation of a potential animated film. For example, the various characters would be drawn in a variety of poses, including headshots, images of faces, illustrations in profile, and a variety of different expressions. This idea was abandoned when we decided to call on Mnemos' expertise to concentrate on roleplaying game.
A member of our team is involved in several long-term audiovisual projects dealing with pop culture and animation, especially a special version of the Fantastic Planet, the animated feature SF cult classic which brought fame to the director, René Laloux.
Naturally enough, we dreamt of creating a new animated film based on Tschai. We discussed it with Caza during the last Annecy International Animated Film Festival. Tschai is an old dream for the artist, and he is ready to support us with his artistic advice, allowing the use of his illustrations upon which the film would be based. Jack Vance's successor gave the green light to this move. We will see.
Going forward, each euro we raise will serve to finance this study !
New goals:
Main characters: 25,000 euros
We will create an artistic study of Adam Reigh, Traz, Anacho, as well as the four Races of Tschai.
Adam Reith by Caza - previously unreleased work that will be used in the RPG
Landscapes, cities and architecture: 28,000 euros.
Dadiche, Siviche, Ao Idis, etc..
Adam Reith by Caza - previously unreleased work that will be used in the RPG
Secondary Characters : 30,000 euros
The Flower of Cath, ZAP 210, the terrivle Alia Woudiver, and Dordolio.
Flora, fauna, and other creatures: 35,000 euros
Phungs, bubble-plants, berls, Leap-Horses, etc ...
Key Scenes : 38,000 euros
​Infiltration among the Chasch, war with the Chach, the glass box, the Carabas, the prisoner of the Pnumes, etc.
Colour Studies : 44, 000 euros
Vehicles and technology : 50,000 euros​
​The gliders of the Chaschs & Dirdirs, Tools of the green Chasch, Yao cars. caravans, etc..
Peoples and Clothing: 53 000 euros​
Creating a framework for adapting the plot: 55 000 euros
Storyboard : 65 000 euros
All Adam-tier pledges will also receive a pdf copy of the study.
The Team :
Philippe Caza : Artistic guidance and reference illustrator
Gregory Lê : Character Design and storyboarding
Fabrice Blin : Production and artistic direction
Maitre Sinh (your servant) : adaptation, artistic direction, executive producer.
Obviously, at this stage, nothing will guarantee that this study will really transform into a film. The road would be long and filled with challenges. That won't keep us from taking the first staps on this voyage, here and now. 
About the project owner
Khelren is a French indie game designer, translator, publisher and game journalist (Di6dent). He has translated such games as The Regiment, Swords without Master, The Climb, Ribbon Drive, Starforce, Class Warfare, Capes (demo), Quill, Thought Lords of Mars, Love in the Time of Seið, Mobile Frame Zero : Intercept Orbit, Undying, and, last but not least, The Sprawl. He has written the cyberswashbuckling Paris playset for The Sprawl and is currently working on Godsend, an epic and mythological hack for Legacy (second edition).
Berlin XVIII - March 2018. Cops in the Berlin Megacity of 2095. A reboot of a low tech euro-cyberpunk classic.
He designs storygames/RPGs on his Patreon (https://www.patreon.com/Khelren) or his Tipeee (https://www.tipeee.com/khelren) and has written several PbtA games (Dominion, Berlin XVIII alpha version, the reboot of 80s classic french RPG for 500 Nuances de geek, upcoming in march 2018). He has a fond love for game design contests and has already won several (the 2017 French Gamechef, the 2016 One Page Dungeon contest, the 2015 24-hour Geek RPG contest and the 2012 Vieux Pots Nouvelles soupes contest).

Jason Pitre is a game designer, translator, editor, and professional ecologist from the wilds of Canada.  He has designed and published a series of roleplaying games including the Spark Roleplaying Game (2013), the ENnie-award-winning Posthuman Pathways (2014), and Sig: Manual of the Primes (2017). He has also done freelance work for Pelgrane Press (Hillfolk), Dangerous Games (Becoming) and Greenhat Designs (Headspace). In his spare time, he runs a game design podcast (RPG Design Panelcast), works for the Indie Game Developer Network (IGDN), and was a proud judge for the first two years of the Indie Groundbreaker Awards.  When he isn't designing games or reading up on polar bears, he roasts 'n brews a mean cup of coffee.  
http://www.genesisoflegend.com
500 Nuances de geek ("500 shades of geek" 500NDG) is a french small publishing house focusing on storygames, while embracing fantasy culture beyond RPG, with the translations of novels like The Laundry series. Since 2011, it has been publishing many of the classics storygames in french, From Polaris to A penny for my thoughts. It's also the publisher of Fate in french language, and  the supporter of the powered by the apocalypse games in france, with a dozen of games already translated, including Dungeon World (in-a-box version in 2012), and various original ones, starting with Medieval Mayhem in 2017, Shonen World Alpha version and the upcoming Berlin XVIII