All for One and One 4L - 4L Trophy 2018
Help us take the start of this humanitarian rally!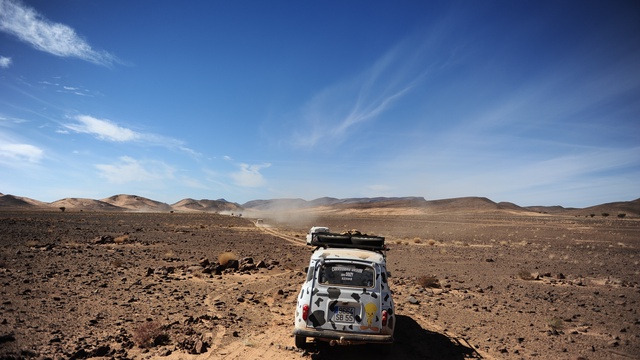 About the project
We are the team "All for one and one 4L" – Equipage 1728 of the 21st edition of the 4L Trophy in February 2018.
The 4L Trophy is the biggest student rally in the world open to student between 18 and 28 years old. It is the first sportive and humanitarian adventure in Europe. The goal is to reach Marrakech from Biarritz, South-West France. It is 10 days of driving through France, Spain and Morocco in a refurbished 4L Renault car. The 4L Trophy is a charitable adventure focusing on the sense of direction and crossing the final line together rather than on the speed. Each team consists of one pilot and one co-pilot driving in a refurbished 4L through the Moroccan desert and bringing school furniture and sports equipment for the charity "Enfants du Désert" ("Children of the desert").
http://enfantsdudesert.org/ 
For the 2017 edition no less than 1450 teams participated in this charitable and challenging experience. 2900 students coming from 1460 universities and schools aiming to Marrakesh with thousands of kilos of school furniture, sports equipment and donations.
http://www.4ltrophy.com/edition

The spirit
Using motivation, solidarity, team-spirit and mutual aid to reach Marrakech and be part of this rewarding adventure; while contributing to the local communities through education and sport.
10 days of rally to cross 6000km in refurbished old Renault 4L? We are up for the challenge!
What are the funds for?
The funds will help us to finance a part of our estimated overall budget of 6000€ and allow us to take part in this charitable adventure. The rest of the budget will come from partnerships with companies. 
About the project owner
We are two students in Master in Business Administration in Hospitality Management at the Hotelschool The Hague in Amsterdam looking for a new challenge and to give back to the world. We are two curious and adventurous globetrotters looking forward to discover Morocco.
This adventure started with a friendship and the desire to achieve something together during our MBA. This rally is the perfect combination of generosity, challenge and fun. A chance to do something unique while contributing to the communities.