Dome - Volume 1
Financement du format papier des 5 premiers chapitres du manga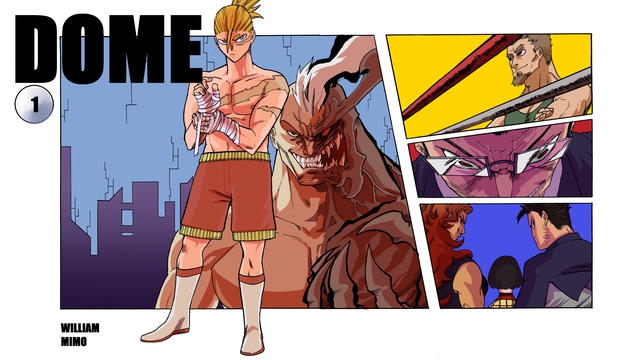 About the project
Bonjour, je m'appelle Mimo. Avec mon ami William, nous dessinons et écrivons le manga Dome. Ce projet de financement a pour but de porter le manga au format papier ! On vous explique tout en détails en dessous.
Dome est un manga dans un futur lointain, après un phénomène inexpliqué, qui arrêta la rotation de la terre. L'humanité, plongée à moitié dans une nuit et à moitié dans un jour sans fin, décide de se construire des dômes protégeant les grandes villes de ce monde. L'univers de ce manga est parsemé de questions, de mystère, que le récit dévoilera au fil du temps. L'univers a pris du temps à se développer, pour que nous ne laissions rien au hasard.
Synopsis : An X, 200 ans après l'arrêt de rotation de la Terre, l'humanité s'est retranchée dans des dômes pour survivre. Rico, un jeune boxeur en devenir vivant à Toronto, se voit mêlé dans une histoire de drogue et de mafia après une terrible tragédie.
Le manga fera au moins 180 pages, en format A5 (14,8 x 21 cm)
Les pages du 1er chapitre sont susceptibles d'être modifiées et les fautes de français corrigées pour en améliorer la lecture.
What are the funds for?
Voici les contreparties de chaque palier :
Et après ?
About the project owner
Mimo et William, un dessinateur et un scénariste
Nous sommes deux artistes, en collab depuis longtemps sur de nombreux projets, et Dome est le 1er que nous essayons de mener à bien.
Tous les 2 de Montreuil (93), nous nous sommes rencontrés au collège. Après de longues années d'essais jamais concrétisés, en 2017, nous lançons la production du manga Dome.
Malgré la distance qui nous sépare, nous continuons ce projet plus que sérieux, et c'est aujourd'hui, après 180 pages et 5 chapitres, que nous lançons avec espoir ce financement participatif.