TIPTOE: Rethinking furniture
An elegant set of legs to create a unique piece of furniture within seconds ! Order now on www.tiptoe.fr (see link below)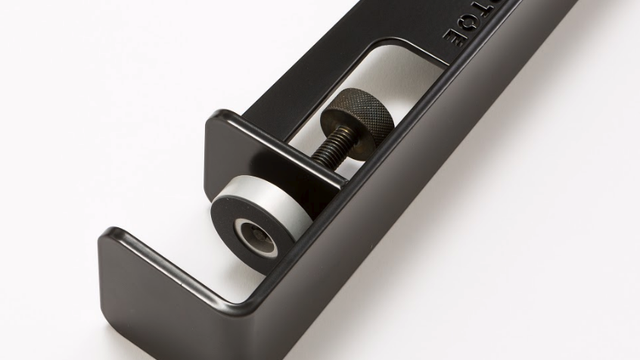 About the project
                THANKS A LOT FOR THIS GREAT SUCCESS! YOU CAN NOW ORDER ON:
WHAT IS TIPTOE ?
TipToe is a simple and elegant set of legs that enables you to create with any flat surface a unique piece of furniture within seconds. You can create a table, a coffee table, a bench, a TV stand, a bedside table, a console table, everything you have got in mind!
With TipToe, customization has no limit, except your imagination!
TipToe is born from a problem we have all met: it is hard to find a piece of furniture that is unique, that matches with the size of our home, at a good price. We are talking about a piece of furniture that is not standard and fits perfectly your needs, while giving you the opportunity to transform it from time to time without spending a lot of money.
That's why after several months making prototypes and collecting feedbacks, we introduce you today TipToe: elegant, simple, convenient and customizable.
Elegant: TipToe respects the « less is more » design philosophy, with an industrial style. It fits as well in a loft, a classical style apartment, or a countryside style house.
Convenient: our tables can be easily carried, dismantled, and can be stored in a cupboard.       
High-quality: TipToe is made from 4mm cold-rolled steel, a careful finish, you will keep it all your life;
Extremely customizable: you create your own piece of furniture from scratch by choosing the size and color of the legs, but also the material, the size, and the color of the table top you want to use. It will be YOUR OWN piece of furniture.
An online customisation platform
Our platform will enable anyone to create a unique piece of furniture that you can custom according to your needs, your wishes and the season, without spending a lot of money. Just imagine a light grey table top on pastel colors legs during the summer, that you can easily turn into a solid wood tray on white legs for the winter.
SPECIFICATIONS
TipToe is a table leg made of 4mm powder-coated cold-rolled steel. It exists in two sizes:
75cm to create a table, a desk, a console table, a garden table or a side-table;
40cm to create a coffee table, a bench, a bed-side table or a TV stand.
For all these pieces of furniture, all sizes and shapes are possible!
We offer the TipToe legs in the 5 following colors:
So far, we offer pine tree planks in two sizes: 100cmX30cm and 80cmX50cm.
You are free to be creative and use your TipToe with a door, a window, a grid, a plank, or any flat surface. The thickness of your material must be between 20mm and 45mm
We recommend the 75cm (the biggest one) TipToe set for a light use, which means you can use it for your lunch or diner, for working, or use it as a side-table. But not to seat or to put heavy stuff on top of it. Also, for an ideal use we recommend not to use planks longer than 1,20m.
TipToe can be used inside as well as outside.
HELP US MAKE IT HAPPENS: PRE-ORDER YOUR TIPTOE!
We are ready, we worked hard and we now have the perfect product we dreamed of. Our supplier is ready to launch the production line too. The only thing that is missing now is to pay the first production fees.
Without you nothing will be possible. Your pre-order is the green light that will allow us to make TipToe become real!
You can either donate in exchange of a little reward, or pred-order our product, with or without plank!
You will be the very first TipToe owner worldwide!
N.B: All businesses and companies (restaurants, bars, design agencies, furniture resellers, etc) that want to order bigger quantities can reach us at [email protected] 
WE NEED YOUR HELP!
Since the beginning of this adventure, we have been very cautious. Our supplier has been recommended by friends who are experts in the steel industry. They are well-known for their reliability and for the quality of their work. We have prepared everything in order to deliver your TipToe in the best conditions possible, and at the right time.
We now need your help to put our legs in every house and every flat! We need you to be TipToe's ambassadors!
What are the funds for?
100% of the funds collected will be used to finance the very first industrial production of TipToe. Stronger the support of the crowd, bigger will be the production! It will help us to begin the activity with a bigger stock, and will enable TipToe to be distributed by retailers and to grow faster!
About the project owner
If you landed here, you must have learned a lot of things about TipToe and us. If you want to know even more, you can follow us on www.tiptoe.fr, Facebook and Instagram.
You can also contact us at: [email protected]
FREQUENT ASKED QUESTIONS (FAQ):
How much does a TipToe leg weigh? It is around 800gr for the small one, and 1kg for the big one.
Can we choose other colors? We offer 5 colors so far, you can choose either four legs of the same colors or different colors for each one. We plan to offer new colors and limited editions in the coming months.
How is the stability of TipToe pieces of furniture? The stability is very good for a standard use because we have worked hard on the clamping system during months. We have made many tests and improvements to reach this result.
Can I use a glass with my TipToe legs? We prefer not to recommend this use, even if it could work with a small sized tray. We are working on a solution really adapted to this use.
Can I use a material that is not perfectly flat with my TipToe? The clamping system of TipToe has been designed to adapt to every surface, including the ones that are not perfectly flat. However, we recommend using materials that are as flat as possible in order to have a better stability.