The House We Live In
A musical journey through ecology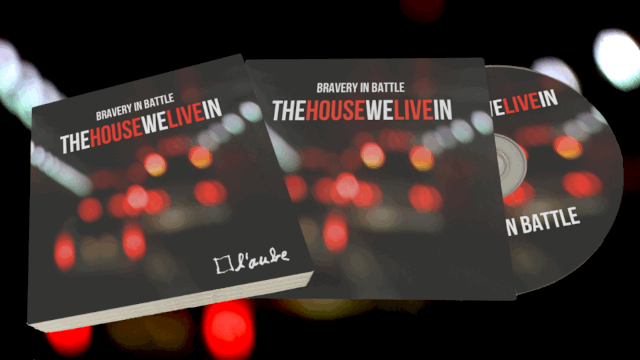 About the project
How can a music band talk about environmental issues ? By offering the first scenic, musical and visual experience that thinks of the world of tomorrow. Our project The House We Live In is show, photo book, disc and DVD.
Faced with the scale of the ecological crisis, we often feel very small and powerless. But deep down, a little voice told us that we could "play our part" in our own way, by inventing a new way of making music. What if we created a kind of electric opera, a post-rock odyssey that makes people want to build another world ?
And What if we asked people committed to the planet to participate in the project ??
Bill McKibben ? Paul Hawken ? Hubert Reeves ?? Vandana Shiva ?? Mélanie Laurent ??? …
"No, but, forget it, they will never want to meet you, they must be inaccessible and their schedule overloaded ! We were told.
And if they all accepted ? Ideas would be carried higher and louder. This is the bet we made.
At the beginning in 2015, as we were neither journalists nor videographers, we didn't have all the cards to set up such a project...But we had faith in this idea, a huge desire and a lot of determination. Mark Twain said, "They didn't know it was impossible, so they did it." NEARLY. We are...almost there and we now need your help to finalize the show, publish a book with interviews and photos of the film, and release a CD album.
And what if the remaining funding was provided by citizens concerned about building a new world, more humane and more in harmony with nature ? We would form a new link in this chain that invents, each day, a new common future.
We'd like to share this adventure with you and we would like you to take part in !
---
IN A FEW WORDS
THE HOUSE WE LIVE IN is a musical and documentary show that addresses environmental issues in a new, poetic way. Based on original and "musicalized" interviews with personalities committed to the planet, The House We Live In combines scientific, economic, philosophical and political points of view to propose a new vision of our future on Earth. All this made from A to Z by a music group? Yes, it's unprecedented.
Already played in concert on several occasions as a work-in-progress (Nuit Blanche Paris, China Tour 2016, Climax Festival...), we now wish to finalize the show and extend it with a book with photos (including a CD and DVD) and a disc.
>>> To give you an overview, here is a video teaser:
---
At the start of the project, the desire to talk about ecology in a different way
How else can we inhabit the Earth ? This was the question that came to Paul, the founder of our music collective, Bravery in Battle, when his daughter was born. A question he proposed as a starting point for a new creation. As we reflected on this, we felt that as musicians we could offer something different, more emotional and immersive. We wanted to use the magic of music, the energy of the concert and the suggestive side of the images to touch people differently and invite them to rethink our relationship to the world.
From 2015 to 2019, we met, interviewed and filmed 8 leading personalities committed to the planet. We made some "songs" and a film out of it.
---
A show designed as a 3-step dive into the heart of life :
1- Webs explores and celebrates the ancestral links that unite us to our environment. It also questions the conception of Nature as a simple resource to be exploited.
2- Wars presents the imbalances caused by our way of life and the threat we pose to our own species.
3- Worlds evokes other possibilities, more generous, more fair, more in harmony with our environment.

---
What does it look like in practice ?
Here is the first excerpt from The House We Live In, based on an interview with the eco-feminist activist, Dr. Vandana SHIVA
---
How is that original ?

A musical innovation: transforming voices into music (or how to compose music from voices)
When we speak, when you speak, our voices draw a melody. We used and extended the process invented by the composer STEVE REICH, and we translated into musical notes the voices of those we met. Then we played them on musical instruments. This process gives spoken speech a new emotional dimension.
A handmade approach : a music group puts ecology into music
We were not journalists, directors or editors. Our approach was 100% artisanal and we learned everything on the job. We have read a lot of books, watched hundreds of documentaries, watched thousands of tutorials on filming, shooting and editing techniques... This DIY aspect has allowed us to follow our convictions to the end and keep our artistic freedom intact. This participatory funding is a continuation of this desire for freedom and independence.
Building bridges between universes
When you think about environmental issues, you quickly realize that they are all intertwined. Therefore, it is no longer enough to talk about the economy or agriculture separately. Everything must be included: biology, energy, education, history, social justice and the mechanisms of democracy. And thus politics too. All through music, video and poetry.
By analogy, we wanted to create music that also forges links and builds bridges between universes, music that is both serious and joyful, solemn and soothing. We have therefore invited many classical orchestra instruments - bells, vibraphone, glockenspiel, strings and trumpets - to join our usual "post-rock" instruments (guitars, bass, keyboard, drums). They are here as symbols of the community that our world must create to face the future.
What are the funds for?
The funding will be used to :
Finalize the film of the show and the DVD
Edit a photo book, with CD and DVD
Produce a CD album
Financing the commission of the Ulule platform and the shipping costs of the rewards
But we're telling you more:
By contributing to the financing of this work, you allow it to see the light of day in its final form. Financing the production of music, film and performance as an independent band is a balancing act. You as contributor play a new, active role, with its share of risk. This creates a direct link between creators and those who "receive", between you and us, but above all a relationship of mutual commitment (which corresponds well to the idea we have of the functioning of a society). The more people there are, the more it will help the project, the more the media will talk about it, the more the show will be played, the more the book and the CD will be distributed. And the more the ideas developed in this project will circulate and have a chance to have an impact.
After 4 years of filming and video editing, music writing and "preview" concerts, the funding will be used to:
1 - Finalize the film : 2000 € (buy some images that we can't shoot, homogenize and calibrate the editing)
2 - Publish a nice book, currently being prepared with Les Editions de l'Aube, which will be available in bookshops at in April 2020*. It will contain the text of the show, photos from the film but also many unpublished and really interesting parts of the interviews. Film (with French & English subtitles) and music will also be provided in digital format.
>>> Photo Book + CD + DVD - 150 pages. Recycled paper, printed in France.

>>> CD: 4200 € (mixing, mastering, pressing, Sacem fee)

>>> DVD: 1500 € (pressing and Sacem fee)
​
NB : For the moment, we have no English language publisher. The book will be written in French. We'll do our best to offer you a digital format of the interviews in English language.
3 - Produce a CD album, in self-released form. 15 tracks, 14 musicians, 80mn of music. Also provided in digital format.

>>> A neat pocket made of recycled cardboard, with a text booklet. 300 copies.

>>> Design, manufacture of sleeves & booklets: 900 €
4 - Finance the Ulule platform commission (700€) and the shipping costs of the rewards (about 500€)
We'll reach the following levels if you REALLY like the project :
125%: You help us to organize "Music & Ecology" workshops in middle and high schools**
150%: We'll organize a release concert in Paris and you are all invited!
* The publisher (http://editionsdelaube.fr/) will be responsible for translation, proofreading, editing, formatting and printing as well as marketing in bookshops and cultural shops with its distributor Harmonia Mundi (distributor of a large number of independent publishers).
Our non profit organization is responsible for publishing the music and video part, and has already paid for the cost of recording the music (wages and studio).
** Several projects for 2020 in France. Workshops with students on speaking out on environmental issues and their setting to music and images.
---
They already support us :
: "The House We Live In is a totally atypical project, a kind of post-rock opera, video-concert, where the voices are like a musical framework [...]". Article available here: bit.ly/2yWHSkM
About the project owner
Founded in 2010 by composer Paul Malinowski, Bravery in Battle produces music full of energy and melancholy, very cinematographic, which evolves between post-rock, ambient and orchestral music. As comfortable with very saturated sounds as acoustic instruments (strings, brass, bells...), the group collaborates with prestigious ensembles such as the Orchestre Philharmonique and the Maîtrise de Radio France, and draws its political concerns there (commissioned "Principles of politics" for France Musique, 2012).
Their first EP "The Bells [muted]" already bodes well for the future: in 2015, they launched the creation of The House We Live In, a kind of modern opera that combines music, video and human sciences, in order to offer a reflection on our relationship with the world and nature.
Bravery in Battle played at the Festival Métis, at the Nuit Blanche and was broadcast on France Musique. The group writes all the orchestral and choral parts itself.
Bravery in Battle is - in order - composed of Paul (guitar), Eric (guitar), Greg (drums), Maksim (bass), Maxime (keyboards) and Romain (guitar - and sometimes he takes pictures:)).
Article in Libération about the song "Stay Hungry, Stay Foolish", our first work to musicalize the spoken voice, based on a speech by Steve Jobs: bit.ly/2hwaQ3N