The Fish Giver
Contribute to the launch of a whole new concept: Aquaponics in every home!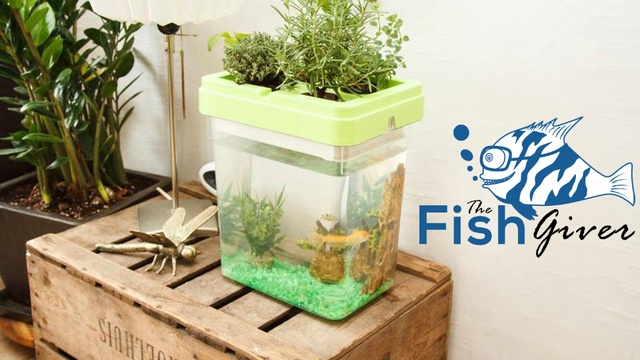 About the project
We wish you a warm welcome to the "Fish" crowdfunding campaign!
The Fish Giveris a love story and we invite you to become our accomplices and do something that feels good... To help us launch the project and put this first aquaponic aquarium on Quebec & Canada's market (and of course to move forward with our mission to help families in need :), follow the arrow=============================>>
You can either participate solely to give with nothing in return (blue rectangle above on the right side, then choose the option "I do not want any reward"), either you participate as to receive a reward from the list on the right side.
Did you know that Aquaponics is the futur? Aqua...WHAT? Aquaponics! In short, it has to do with growing plants from fish pooh! :) It is the symbiosis between fish farming (aquaculture) and growing plants, fruits and vegetables without soil (hydroponics). We use water filled with fish waste to feed plants which, in turn, filter the water for the use of the fish. Knowing how much water is a precious and scarce commodity in many countries, it is reassuring to know that aquaponics uses very little water and that it actually saves 90% of the water used in traditional agriculture. But who wouldn't want a fish gardener at home!?!
What is the Ozarium? It is a self-sustaining ecosystem, a small self-cleaning aquarium that works on the principle of aquaponics. It is very easy to use and maintain, and in addition it grows plants without any effort!
What is included in the Ozarium?
-Fun aquarium
-Culture tank
-Culture lid
-Pump
-Culture Pots
-Clay beads for culture pots
-Gravel for the bottom of the aquarium
-Seeds (herbs mixture)
All components are plastic, so it is very safe for homes and schools filled with children bursting with energy!
The Fish Give's mission is to help families in need to become self-reliant and eat better by equipping them with an aquaponic system. The Fish Giver also has the objective to raise awareness and inform the population about aquaponics, as well as introducing children to aquaponics in schools, in order to raise awareness from an early age.
Phase One: Introduce children to aquaponics
This campaign will enable us to be equipped with small aquaponic aquariums (Ozarium) shipped from France and used for presentations in elementary schools to introduce children to aquaponics, in order to raise awareness from an early age. We will lead teachers to do a project with their students, and provide a training manual to help them in this task. Your contribution will also help us supply the Ozarium in Canada!
Ozarium
Phase Two: Help families in need to achieve self-reliance through aquaponics
A second campaign will enable us to supply families in need with small to medium size aquaponics systems that can be installed in a house or apartment, and teach them the basics of its operation and maintenance. We also plan to start a production of insects that can be used to feed the fish.
Phase Three: A community farm for the benefit of families in need
A third campaign will enable us to develop a community farm in which we will build a greenhouse with a aquaponics system which, among other things, will help us provide training to families in need. We will also have a large garden, crops of mushrooms, and a hen house, all of which will be in accordance with the principles of permaculture.
What are the funds for?
This fundraising will allow us:
1. To cover the expenses to bring a first shipment of Ozariums from Citizenfarm (Toulouse, France). "Made in France" is still much better than "Made in China"! ;)
2. Introduce the Ozarium on the Quebec/Canadian market at an affordable price, and to be the only product of its kind available locally.
3. To use this revolutionary and educative product in elementary schools to introduce children to aquaponics and its promising future.
We will then make this marvel of aquaponics available to all households and schools in Canada.
The income generated will also help the expenses for the preparation and implementation of our next phase, which is: Helping families in need to achieve food self-sufficiency through aquaponics... What's better than being able to eat fish, plants, fruits and vegetables homegrown!
***IMPORTANT***
If our goal is not reached at the end of the campaign, the funding is dropped... We will receive no money, and your donation will be reimbursed!
That's one more reason not to hesitate to participate in the fundraising and invite your relatives, friends and acquaintances to do likewise.
About the project owner
Allow us to take the time to explain what motivated Sébastien, the "Fish Thinker", wanting to launch this project.
Everything has quietly started three years ago when Sébastien discovered aquaponics through a report. He was charmed on the spot, and from that moment he had the desire to practice it. Lacking time, resources and knowledge, he had to resign himself to put aquaponics on hold. Time passed and Sébastien felt a great desire to do from his daily work something more meaningful, which could have a greater impact in his personal life and in the lives of others ...
Photo taken at the Esplanade, courtesy of Mikael Theimer - Portraits of Montreal
He then began taking some MOOCs related to innovation and entrepreneurship. The months went by and the more he learned, the more he had the desire to found an innovative company. Sébastien finally fell on the MOOC that would change everything: "Becoming an entrepreneur of change" from HEC Paris & Ticket for Change. From the very beginning of the course, he was overthrown by its concept and its effectiveness. It was during the "introspection phase" that everything he loves and his ideas got together and were set on fire. He then had create a project and it is at that moment that was born "The Fish Giver". His project has led him to be the recipient of one of seven 'Coup de Coeur' Awards among 350 projects submitted. The Coup de Coeur Award was handed by danone.communities, a division of Danone who is dedicated to Social Entrepreneurship. Thereafter, he continued to work on his project and eventually set up an organization (NPO) called The Fish Giver; he has since freed his schedule to dedicate himself completely to the mission of the "Fish". Sébastien counsels with all the members of his family in many decisions he takes. Consequently, his 14 year old son, Joshua, is the one who drew the sketch that led to create the logo of the "Fish". In all aspects this project is truly a family venture since the mission of the organization is to help families in need.
Sébastien receiving the Coup de Coeur Award from danone.communities
The "Fish" sketched by Joshua Levert
Sébastien and his 4 kids
A big thank you to the following businesses and organizations that have helped The Fish Giver since its beginnings: Ticket for Change, Danone (danone.communities), Aquaponie Pratique (Perma Local ASBL) and Citizenfarm :)
For more information on The Fish Giver, visit the following websites:
http://www.novae.ca/2015/11/ozarium-un-aquarium-pour-cultiver-des-vegetaux-a-la-maison/
http://portraitsdemontreal.com
https://www.facebook.com/danone.communities