theActivist.eu platform
Meet like-minded people, make change happen!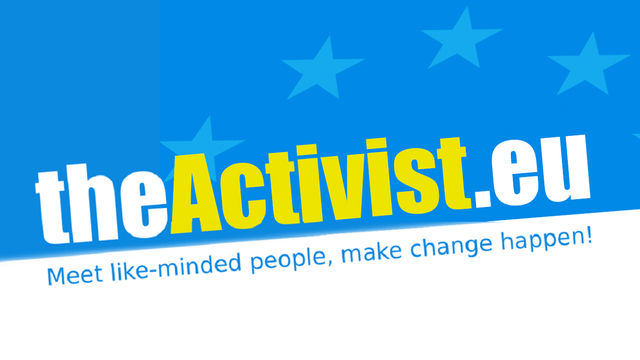 About the project
The place to meet, debate and act together for a better Europe !
Everyday we see things we wish were different in our city, country or at European level. Sometimes we sign a petition or share something on social media but often we don't take further action because we lack a team of people sharing our views and ready to act.
From here stems the idea of a platform giving power to people and fostering citizens participation by allowing like-minded people to meet and act in order to build a better Europe, starting from our own neighbourhoods up to the national and European level. The platform will empower you and all European citizens!
This is where theActivist.eucomes in to build cross-border community of pro-European local change-makers by bringing together people on the basis of their location and interests.You will be able to:
find like-minded people around you who share your vision and interest for the European project and who you can be mobilised to work together;
engage with active citizens across borders to act locally but impact internationally;
build a community of pro-European change-makers based in every city and town;
join an existing project or launch a new one, with skilled people around you (e.g. organise a street action, a workshop or a convention in your city or in several cities). 
TheActivist.eu will allow creating links with like-minded people in your own city and town but also connecting with like-minded activists across Europe (and beyond). Activists will be able to connect on the basis of their location and on the basis of their specific European interests. 
Overall this platform contributes building a shared understanding of our challenges and interests, enables citizens' participation and enhances our collective ability to shape our common future.
The objectives of theActivist.eu are :
Reinforce citizen's participation and impact on European civic affairs;
Allow citizens (and organisations) to connect with other activists at local and European levels;
Reconnect the European project to the citizens allowing them to shape the future of Europe and of its policies;
Empower individuals to launch and coordinate pro-European initiatives at the local and European levels;
Develop a platform (and mobile app) that could be used by other entities to engage with their members (e.g. NGOs, associations, parties).
Design and developement processes:
We want to develop a platform that will be user-friendly and easy-to-use while keeping a professional and task-oriented workfolw. 
Here is a preliminary rendering of what the platform could look like online and on a dedicated mobile app (in English then in many languages, see "The Budget" section below). It still needs considerable improvements and additional key features to make it the best pan-European activist tool out there... This is why we need YOU !
If you want to contact us directly in order to give ideas or suggestions on the functioning of the platform, please write directly to Pietro De Matteis, Vice-President of Stand Up for Europe, on Facebook or Twitter: @PietroDeMatteis
Join a large network of pro-European movements !
We can already count on a growing network of local activist through existing Stand Up City-Teams  and through intense collaboration with various pro-European movements in many cities. Once we have the platform up and ready, the map, forum and related app will be interactive and you will be able meet, debate and act together for a better Europe...
To that end, this platform will be based on proximity and centred on the creation of city teams and university societies across Europe and empower these local teams to run activities and organize events at local and European level.
What are the funds for?
The Budget and Funding
We have estimated the overall cost of the platform to be around 15.000 €. With your help and contributions, we are hoping to cover at least 1/2 of the development of the online platform and mobile app, the rest will be covered by our internal funds.
In more details, this total amount would include the following elements:
Architecture design;
Website and mobile app design;
Responsive website features (user profile, Google Map integration and map filter, polls and votes);
Interactive pages for projects, cities, themes;
Deployment and severs configuration.​
What if we go beyong our initial target ?
Since we are willing to reach a large number of citizens in cities from a wide variety of countries, our goal is to allow them to exchange in their own language. If this campaign is a big success, thanks to you, our next step will be to use the funds collected beyond our 7500 € target to translate the plaform in a variety of languages. 
In order to keep our platform up-to-date and to bring additional features after this crowdfunding campaign, we have also established a fund with the King Baudoin Fundation and Transnational Giving Europe which will allow for individual and group donations after the campaign.
About the project owner
theActivist.eu will be a free tool open to all citizens and all organisations !
At a time when the European project is at risk, many organisations are working independently to reach out to citizens. However, only by working together Europeans can make a real difference and face today's challenges. Therefore, by supporting this platform Stand Up for Europe wishes to facilitate cooperation of Europeans across borders and organisations!
Stand Up for Europe's mission 
Stand Up for Europe's mission, together with other similar movements, is to unite citizens and organisations sharing our vision by reconnecting the European project with the citizens at the local level and unite like-minded citizens to achieve a critical mass capable of positively influence the political agenda.
Stand Up for Europe informs and mobilises Europeans through social media reaching out to more than 1.5 million people weekly. Check out our Facebook page and Facebook group, Twitter and of course our website for more information : www.standupforeurope.eu