Spring of the Artful Renaissance: Special Benefit Reception
Spring of the Artful Renaissance
About the project
THANK YOU, EVERYONE, FOR ATTENDING THIS EVENT AND MAKING IT SO SPECIAL.
For the last two summer (2009/2010) the Akosia team has been in Accra, Ghana working with the students from a school called Street Academy. This month long filmmaking program brings storytelling to life by having the kids write, direct and produce their own two short films. It has been a roaring success!
For the 2011 summer project, the TKAFoundation will be joining the cause to provide an engaging and safe environment where underprivileged children's natural abilities can be expressed and nurtured.
Support a great cause!
Spring of the Artful Renaissance
Date : May 13th 2011
Location : 80 Hanson Place, NY 11217-1506
Time of Event : 6pm-9pm
Admission Fee : Free Admission with $5 suggested donations.
Check out the video promo we have above.
It was a lovely evening and we all had such a great time. I got to meet a lot of very interesting people: many supporters as well as believers in our cause. I can't wait to start catching up with you all soon.
I am so appreciative of you all coming and I especially want to thank everyone who helped us put together this event; the kind people at MoCADA, all the designers and models, VISIONS Entertainment & Publicity/Global Fusion Productions Inc, Shadow & Act, YAV, Face2Face Africa, Sunlight Radio, M3NSA and his brilliant band, Iyadede and her awesome band, Frank and Martina for your invaluable help, Aretha, Sharmilee, Missy; Mike and Yaier from Norm's Music in Brooklyn, my friends and loved ones for the kind words and push, AKOSIA and last but not least, everyone who donated towards/at the event. I know I am missing others and I am so sorry if I have not mentioned you (there's been sooo much love,) but thank you, thank you, thank you all from the bottom of my heart!!!
We are still a bit away from our goal and so we are planning one last big whooohaaa (well not as dramatic lol), just a small get together for a one-day informational session & 10-part short film series, with films (10 mins or less) from the team members who are going to Ghana, as well as two past shorts from the kids of the Street Academy. The event will be sometime late June or early July, so stay tuned for more information on that. Hope to see most of you there again!
You can still donate here to help us get closer to our goal.
Meanwhile enjoy this little video we have from the event on the 13th of May, which is a short promo but be on the lookout for the longer version soon.
We'll be updating the site really soon with information concerning our trip to Ghana. First on the agenda, we will finally be introducing our team of 8 super volunteers.
Thank you all for your continuing support!
This event will help us raise funds and awareness for our 2011 summer arts project trip to Ghana.
2010 Akosia Street Academy Short Film
2009 Akosia Street Academy Short Film
For more information about our cause please visit one of our sites
Or join our Facebook group and follow us on Twitter @TKAFoundation
What are the funds for?
At the event, our goal is to raise $5,000 to $10,000 which will go towards our 2011 Summer program in Accra, Ghana with AKOSIA. Please help us reach our goals to make this event and the summer project a success. :)
THE BREAKDOWN OF DONATIONS FROM THE EVENT:
$20/day per child for the AKOSIA 2011 project. This includes
- 2 meals a day
- Approximately 6 hours of film/video teaching & activities
- School supplies - Uniform (2 T-shirts)
- Sneakers for technical crew for the kids (Teaching the kids the importance of safety on set)
Program runs for 5 weeks, 5 days a week from 8:30am - 1:30pm For a child to complete this program it would cost $500.
The summer program accommodates for 40-45 children.
We currently are seeking any assistance you can offer to help us put together our next fundraiser. This event will help use raise funds and awareness for our 2011 summer arts project trip to Ghana.
About the project owner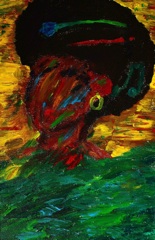 The TKAFoundation or (Tomorrow's Kaleidoscope of Artists) is a huge supporter of the arts and embarks on contributing back to charities that encourage arts education. One of the front runners of the charities we support is AKOSIA, a non-profit organization that develops, facilitates and funds summer creative projects for underprivileged children all over the world. Check out www.akosia.org for more details.
This summer the students will be apart of a creative filmmaking journey, involving writing, set-design, costume making, acting and shooting. The aim is to let the children produce the films as independently as possible, providing them with tools and technical skills where necessary. This way, we hope that the children will get the chance to see themselves in a different light and that this will inspire them to become more confident in their creative abilities. At the end of the summer, a mini film festival will be held in order to bring the community together!
We need your help to make this a reality!
TKAFoundation is a youth education and eco-friendly lifestyle non-profit organization currently applying for 501(c)(3) status. All donations made will be rendered tax-exempt upon government approval of TKAFoundation's 501(c)(3) application.
AKOSIA is a small charity (Registered Chairty Number 1136140) that facilitates creative projects for underprivileged children and women all over the world.
FAQ
If you still have an unanswered question, feel free to ask the project owner directly.