TEMPUS FUGIT
A 60th birthday portrait concert of Gerard Pape with a presentation of his new CD and book/CD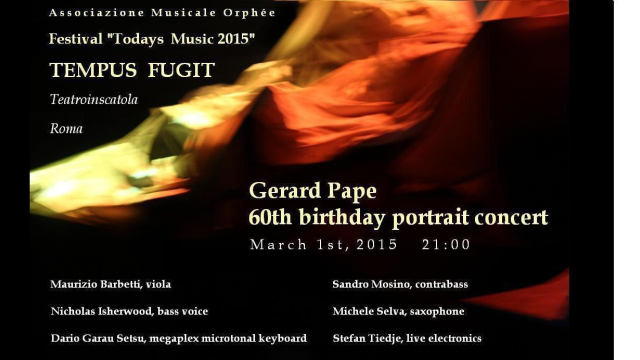 About the project
Thanks to all supporters for your help, your time and care!
For futher contacts please write to: [email protected]
Francesco Cuoghi, Music Association Orphee
The project
The Association Musicale Orphée in the context of its annual festival "Todays Music" presents a special 60th birthday portrait concert of Gerard Pape, March 1st, 2015 in Rome at the concert hall Teatroinscatola at 21.00.
Chamber music of Gerard Pape will be performed by such contemporary music virtuosos as Maurizio Barbetti (viola), Nicholas Isherwood (bass voice), Dario Garau Setzu (Megaplex microtonal keyboard), Michele Selva (saxophone) and Sandro Mosino (contrabass) together with live electronics by Stefan Tiedje and sound projection by the composer. Besides several of Gerard Pape's previous works, many of which are already references in contemporary music's international repertoire, there will be two important world premieres of Pape at this concert - a work for contrabass solo called "Trois Etudes Quantiques", originally commissioned by the great contrabassist Stefano Scodanibbio, and a new solo composition for one of the most complex microtonal keyboards, the Megaplex, including a "live electronics" program which was specially developed for Gerard's piece.
Besides the concert itself, there will be a presentation of the composer's new bi-lingual book "MusiPoéSci" (French and English) by the French publisher Editions Michel de Maule (Paris). This book includes musicological texts by Leopoldo Siano and Lissa Meridan analyzing Gerard Pape's music, 15 theoretical articles by the composer, a full length interview of the composer by Siano, and a new monographic CD produced by Mode Records which includes some of the composer's most recent ensemble and orchestral music compositions. The English text was edited by Leopoldo Siano and translated into French by Jean de Reydellet.
The Italian record label Stradivarius will also present a new monographic CD of Gerard's chamber and ensemble works, "LUX FUGIT", with works that were composed between 2005 and 2012, including two of the works that will be played on this birthday concert.
Composer Gerard Pape
American composer, born in New York City in 1955, has lived in France since 1991. He studied composition privately with George Cacioppo and William Albright and electronic music with George Wilson at the University of Michigan. He has composed more than 80 works for orchestra, chamber ensemble, vocal and instrumental soloists, and electroacoustic works. His works have been played through out the world, including by such reknown performers as Arditti String Quartet, Voxnova, Ensemble 2e2m (conducted by Paul Mefano), Nicholas Isherwood, Erik Drescher, Irvine Arditti, Rohan de Saram, Maurizio Barbetti, Roland Auzet, Neue Vocalsolisten, Orchestre Nationale de Lille (conducted by Jean Claude Casadesus), the Orchestre de Flûtes Français, Estonian National Symphony Orchestra (conducted by Risto Joost) and the Ensemble "U".
Formerly director of the Ateliers UPIC/CCMIX from 1991 to 2007, Gerard Pape founded the C.L.S.I. ("Cercle pour la Liberation du Son et de l'Image"), an ensemble consisting of 8 performers playing instruments and laptop computers "live" in 2007. In 2010, Pape founded along with his wife, the Russian composer, Olga Krashenko, the D.L.S.I., a duo wherein each composer participates in the performance of the other's works. A bi-lingual book of 15 of his music texts called "MusiPoéSci", with contributions by the musicologist Leopoldo Siano and the musicologist/composer Lissa Meridan, will also include a CD by Mode Records of his recent compositions.This "Book/CD" will be published in France by Editions Michel de Maule in co-production with Mode Records in March 2015. Recent musical compositions included on the Mode CD are HARMONIES OF TIME AND TIMBRE (2010-2012) for solo flute, 4 violins, 4 cellos and 8 channel tape and HARMONIES OF FORM AND TIME (2011-2012) for six soloists and six orchestras.
Concert program
Examples to listen:
What are the funds for?
This fundraising project will help to cover some event costs as there is no government funding available. The production of Gerard Pape's 60th birthday concert ,which involves performances of six of his works including two world premieres, requires as a minimum to pay for the six musicians' transportation, lodging and performance fees. No money will be paid to the composer himself. 2000 euros is a minimum goal, but we hope to reach 4000 euros. Thanks to your support the budget of the event will be attained, and this will allow the concert to occur. This musical encounter includes many performers who love Pape's music and who have worked with him for many years.
Your participation in this important event will be rewarded with a large variety of unique objects : autographed programs, special artistic photo portraits of the composer, CDs, books, scores, concert invitations, the possibility of attending a general rehearsal (in Rome or in Paris), having dinner together with the composer and his musicians after the concert, and even a private composition lesson with Gerard Pape.
About the project owner
MUSIC ASSOCIATION ORPHEE (official website)
Concert hall Teatroinscatola (official website)
R E F E R E N C E S
- Stradivarius  (official website, wikipedia)
- Mode Records (official website, wikipedia)
- Michel de Maule (official website, bibliomonde)
- Tonal Plexus keyboards (h-pi.com)
P E R F O R M E R S:
Maurizio Barbetti
https://www.linkedin.com/profile/view?id=208944558&trk=nav_responsive_tab_profile
http://www.youtube.com/watch?v=jcWN_Ey0jDY
Nicholas Ishewood
http://www.nicholasisherwood.com/
http://www.youtube.com/watch?v=6IBdz1je0ps
Michele Selva
biography
https://www.youtube.com/channel/UCyOa6bjZbSnDx0Ra6a_HRjA
Sandro Mosino
biography (it)
https://www.youtube.com/watch?v=_73mHxMXl1s
Dario Garau Setzu
Stefan Tiedje
http://clsimusic.free.fr/spip.php?article14
http://tjshredder.wordpress.com
M U S I C O L O G I S T S
Leopoldo Siano
some biographical information
about his book on Stockhausen
Lissa Meridan
ACTIVITY ' MUSIC ASSOCIATION ORPHEE (1986/2014)
PESARO
The Orpheus Music Association was founded in Pesaro in 1986 upon the suggestion of some professors of the Conservatory G. Rossini. The starting point was the dual quest for early music and contemporary music. On the one hand, the use of older instruments such as the harpsichord, lute, Baroque guitar, recorder, in order to refind the authentic sounds and styles of early music, or the same early instruments now used in contemporary works. On the other hand, a careful production in the field of contemporary repertoire for harp, guitar and chamber ensembles with a progressive focus on new technologies in combination with interactive tools and live electronics. The period 1986-1990 in Pesaro was full of concerts which featured many Italian soloists. From 1991 to to 1994, research meetings were added, especially  Summer Seminars in Gradara (Pesaro). Among the soloists who participated, there should certainly be mentioned: Andrea Damiani, Bruno Battisti D' Amario, Fragnito - Matarazzo, Anna Maria Palombini, Maria Letizia Pastures, Maurizio Barbetti. Among the composers who participated were Edu Haubensak and Aldo Brizzi. During the celebrations of Rossini, for the 110th anniversary of the Liceo Musicale Rossini (1992), the first modern performance was produced of Giuseppe Malerbi's (the master of Rossini in Lugo di Romagna) "Concerto for guitar and orchestra", using the reconstruction of the manuscript that is kept at the library of Lugo di Romagna (edition curated by Francesco Cuoghi and Maria Chiara Mazzi) .
URBINO
The association has worked with a number of important institutions of the city of Urbino as well as the Choir of the Blessed Sacrament and the International Center for Semiotics. In parallel with the programming of concerts with the Choir, a seminar on the relationship between music and semiotics was held, including important musical performances by Gino Stefani and Luca Marconi. The collaboration with the city of Urbino and with the International Center for Semiotics, studying the relationship between language and music, culminated in a Music Convention in 1994. On this occasion, Jean-Jacques Nattiez presented his semiological study of Wagner's Tristan which was later published in the editions of the University of Urbino. Among the concerts that were presented was a performance of music by Giacinto Scelsi in collaboration with the International Center for Semiotics.
ROME
The activity in Rome has had several collaborations: Centro Romano Semiotics,  the Institut Français - Centre Saint-Louis, Fondazione Isabella Scelsi, MACRO (Museum of Contemporary Art). Workshops and concerts have been developed on the subject of "Roland Barthes and Music" (1996) and the visual poet Giovanna Sandri (1923-2002). The meetings were attended by musicians, writers, composers, artists, music critics and scholars from different backgrounds. Among them we find: Pine Paioni, Franca Mariani, Enrico Cocco, Luciano Martinis, Giuseppe Chiari, Alfredo Giuliani. Since 2013, the association has started a new project: "Todays Music" at the Teatroinscatola (Rome), which brings together various fields of action: chamber music, electronic, visual arts, lectures, installations. The artistic project, directed by Francesco Cuoghi and Maurizio Barbetti, has embarked on a full production of musical events, including composers from Europe, America and Japan. So, in the first edition two composers, one from Dublin (Raymond Deane), and one from Tokyo (Haruyuki Suzuki), had the opportunity to participate in a panel discussion on the subject of composition in the present time together with the execution of their works. "Todays Music" uses a new international network of diffusion and presentation: Internet radio, videos, documents online.
ORTA SAN GIULIO (NOVARA)
From 1996 until 2014 the association has continuously promoted Musical Seminars in one of the most fascinating cities of the Cusio, Orta San Giulio, located on the shores of Lake Orta, in the province of Novara. Activities include concerts, seminars, music courses involve the participation of musicians, students and scholars. In the various seminars of Orta San Gulio and its Noontime Concerts, we find a rather full range of musical personalities: Roberto Leydi, Angelo Gilardino, Laura Pariani, Caesar Bermani, Luigi Pestalozza, Francis Degrades, Roberto Noferini, Maurizio Barbetti, Floraleda Sacchi, Carlo Lazzari, Phoebus Guizzi...
FAQ
If you still have an unanswered question, feel free to ask the project owner directly.