TDN Creations - Knotted Rings with Gems
Get our new rings exclusively on Ulule at a nice discounted price!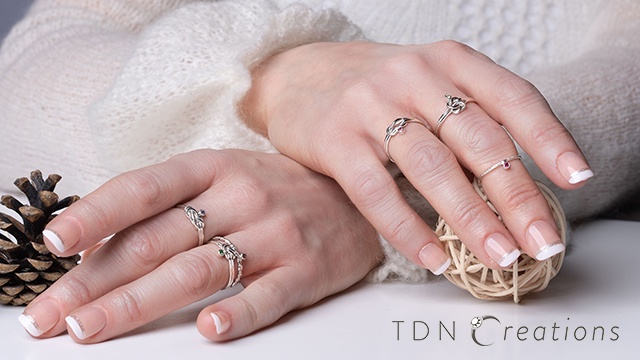 About the project
Dynamic, adventurous, romantic... Is that you? We've got the perfect rings for you! We're so excited about our 6 new ring designs that combine our popular knot rings, a splash of color and a touch of eccentricity, that we couldn't wait to share them with you!
These new rings are exclusively pre-sold here at a discounted price. Get them now before everyone else!
We need your contribution to start the first batch of rings. Thank you for your support!
Knots have been the symbol of love, friendship and affection since the antiquity and they hold a special meaning for us at TDN Creations (read our blog post to learn more).
All our rings are made by hand in our workshop on the South Shore of Montreal. We use traditional metalsmithing techniques like sawing, filing, soldering, polishing... to transform sterling silver and solid gold into beauitful pieces of jewelry you can treasure for generations.
Our prices include taxes and shipping within Canada and to the USA. Shipping to other international destinations is $10.
*** Pictures shown below are enlarged to show details of the rings. Please refer to the specifications and measurements in the descriptions ***
Our rings are stackable! Here, we have the Knot and Mni Stack combo for you, in the ring size and stone colors of your choice!
A few days after the end of the campaign, you'll receive an email to select a ring size and a stone color.
We're more than happy to ship worldwide. Regular shipping is free within Canada and to the United States. There's a $10 flat rate to other international destinations.
If you require expedited or express shipping, please contact us before ordering.
We accept exchanges within 10 days following delivery. Buyers are responsible for return shipping costs. 
​

What are the funds for?
We're testing the market for this new design. Our first prototypes are made of sterling silver and sterling silver + 14k solid gold with CZ gemstones. If we get a positive response, we'll be able to develop and launch this line in 14k gold with precious gemstones.
Let's reach these objectives together! At each stage, we'll be able to add the following rings in 14k solid gold with a Canadian diamond for you! Thank you for your participation and your support!
About the project owner
We believe it's the little things that matter the most.
We believe every woman is a gem. 
Most of all, we believe in love!
Because love creates miracles. It can change the world to make it a better place for everyone to live in.
We create sustainable jewelry pieces inspired by love.  They are little tokens given to you to make you feel and look wonderful inside and out so you too can positively change your world!
TDN Creations is a proud supporter of Kiva (and here's why). For every order, we add US$1.00 to our Kiva account to create opportunities for female entrepreneurs around the world. Thank you for your support. See who we've helped so far.
Well, hello there! I'm Trang Dai, founder of TDN Creations. 
I've always been a creative person, trying out all kind of crafts from an early age (painting on silk, sewing cute felt creatures, sculpting polymer clay...). and I love to experiment with different materials and techniques.
After completing a Master's Degree in management and foreign languages, I was going to settle for an office job in the corporate world. However, my creative side never left me. And after a while, I just couldn't see myself working at a desk for the next 35 years.
One day, a friend asked me to make her a pendant out of polymer clay. That's how I started making jewelry and I loved it! I also saw a great opportunity to start my own business, doing what I loved to do!
I researched the internet to see how I could take my technical skills to the next level and found EMSOM, a school in Montreal that had a full time jewelry making program of more than 1800 hours. That was perfect for me!
I quit my day job when I began the jewelry courses, and by the time I graduated, I had opened an Etsy shop to sell my first creations.
TDN Creations added 2 new members in 2017. Elodie is my workshop assistant. She works in production, takes care of inventory, helps with photography and other administrative tasks. Fun facts: Elodie loves pasta and likes to try all kinds of drinks.
Michelle works in Marketing and Communication. She's in charge of our blog, helps with social media and product listings. Fun facts: Michelle works remotely from the Philippines. 
At TDN Creations, we love to delight our customers with new and interesting designs that will help them show the world who they really are!