Super Street Fire : Turbo Championship Edition
Another fire arts collaboration by Site 3.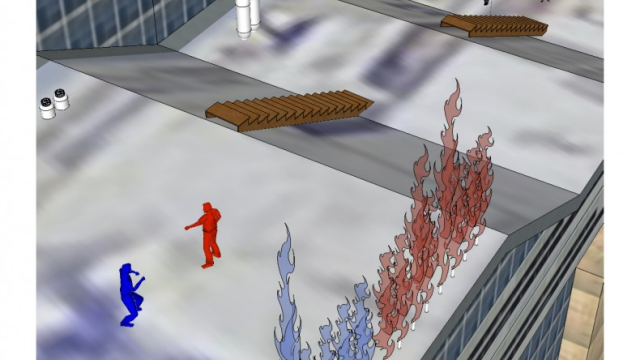 About the project
SUPER STREET FIRE: TURBO CHAMPIONSHIP EDITION is a simulated fighting game in the style of Street Fighter. However, instead of playing a traditional video game, the participants interact with the game with motions and thoughts. Instead of an actual fight, the participants face off by controlling a two dimensional ring of fire, creating flames of their own color to attack and defend.
Each participant wears a pair of gloves that reacts to specific gestures, and a headset that reads their brain activity. A punch or throwing motion will send a single wave of fire towards the other player's side; raising a hand in a blocking gesture will create a stationary pillar of fire that will block the oncoming wave; a consistent focused thought will send a rapid pattern of flame across the entire ring. The participants get to fight in the ring for one minute, while observers watch the patterns of colored fire they create. The playing field is a full circular ring where attacks can come from either side. Players can try to win by making simple moves, or looking for moves inspired by video games they played long ago…
SUPER STREET FIRE will be exhibited at Maker Faire Detroit, as well as future events where we can show off projects involving fire!
What are the funds for?
The funds will partially fund this project; our total expenses will be between $5000 and $7000 (not including fuel, that's extra). Some of the things we get to spend money on:
The flame effect system -- inspectable to NFPA 160 and TSSA (Ontario) standards
The flame coloring system: tanks, hoses, pumps, spray heads
The hardware control system: custom manufactured PCBs, electronic components
The hardware peripherals: inertial measurement units, XBee radios, LiPo batteries, MindFlex toys
The game look-and-feel: lighting, fight platforms, scoreboard
Wearables for the peripherals: gloves and headbands with the electronics built-in
Safety gear: fire extinguishers, duvytene blankets, first aid kits
Fuel and consumables: propane, gasoline, copper sulfate, more propane
The rest of the funding will be through two fundraising events (a Street Fighter 2 tournament, and demo night where people get to play with SSF:TCE minus the fire) as well as private funding.
Here are some pictures of our prototypes!
The prototype glove, electronics only: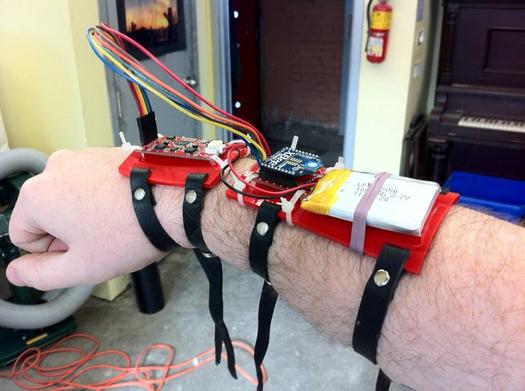 Prototype glove, headset, and the fire control system. The green boards are wifire 16 boards, which are included in the rewards.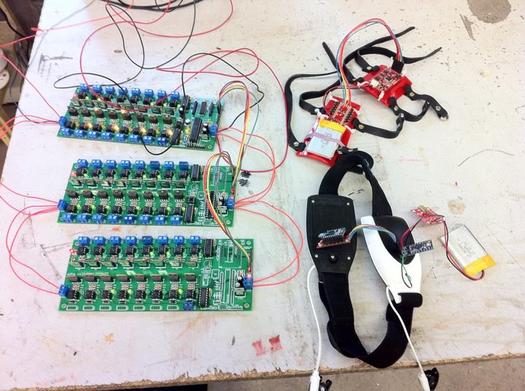 Here's another picture of the wifire 16 boards that we're using for fire control: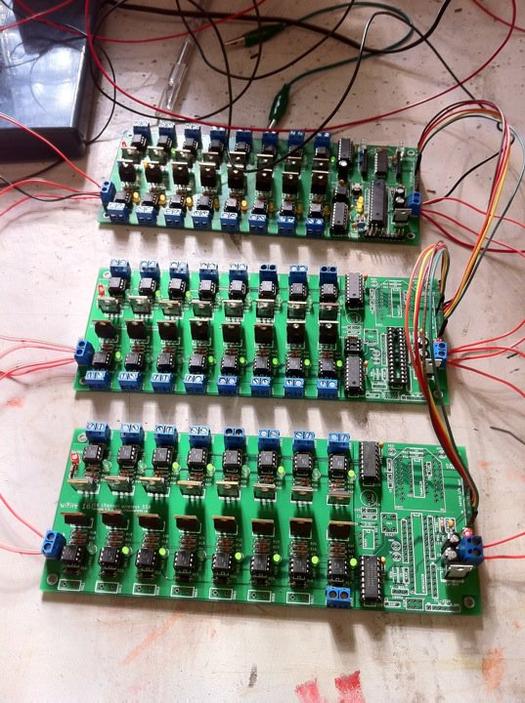 About the project owner
I work on fire art projects with Site 3 coLaboratory, a non-profit art and technology workshop in Toronto.
Last year's fire art projects included PK4A, a pyrokinesis device; The Heart Machine, a large interactive fire art sculpture, which was one of the honorarium installations at Burning Man; and Flux and Fire, a reinterpretation of Interpretive Arson's 2PiR, which won the People's Choice award at Toronto's Nuit Blanche.