Studio Embody
Fitness and wellness studio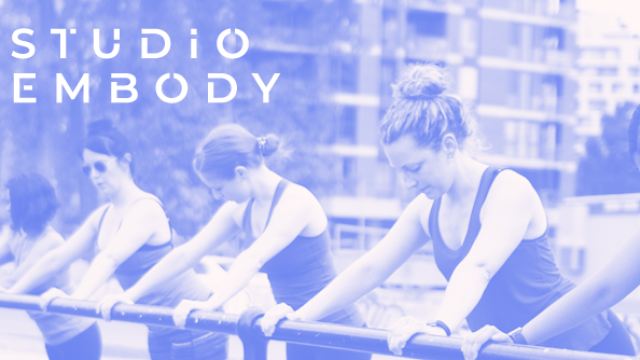 About the project
Studio Embody will soon become your wellness haven in the heart of the city! The new one-stop shop to be active, to socialize and to take time for yourself!
The ultimate goal of this project is to settle in a warm and light studio that promotes an healthy lifestyle. A space that is easy to access for everyone. There will be a classroom, a quiet space to relax, a shop, changing rooms and a room dedicated to wellness treatments like massage therapy and skincare.
Starting a new business can bring a load of new challenges. One of them is the funding. But you can help us reach our goals!
By investing in our project through this crowdfunding platform, you will receive the gift of your choice as described further below. You will be included in the creative process of this new local business from the very beginning all the way to the opening!
Many types of classes will be offered:
Barre
Pilates
Boxing
HIIT bootcamps
Yoga
Meditation
Reservation for classes will be an easy process online. Classes will be offered mornings, lunch, evenings and weekend mornings.
We want to create a calm, warm and peaceful space inspired by these images. We like the combination of rough and natural materials like wood and concrete, bohemian accent pieces and the creative use of lighting.
The ideal location has not been found yet, but we are aiming for the south west of Montreal. From Griffintown to St-Henri. A booming area.
What are the funds for?
The first 5000$ will allow us to build the brand and buy workout material to offer workshops in temporary spaces and in offices spaces. Your contribution as well as other sources of financing will help us acheive our final goal of a permanent studio space, hopefully in the spring of 2019.
September first 2018 - November 30th 2018 : Crowdfunding campaign
December 2018 - February 2019: Temporary space and building the brand
December 2018 - February 2019: Quest for the perfect permanent studio
February 2019: Construction of the permanent studio
April 2019 : Opening of Studio Embody!
*Peliminary schedule, as many surprises could occur during the process!
Invest in our project, and become part of this adventure with us! We offer amazing rewards to thank you!
Every donation counts and we are forever grateful for your help!

Different rewards are available, for different budgets and interests! Treat yourself to a fun moment with your friends or a treatment to relax! You will be able to enjoy your rewards as soon as we introduce classes in temporary studios all the way to six months after the opening of the permanent studio! If you would like to try a barre class or plan a private event, now is the best time to invest since our prices are reduced during the crowdfunding period!
Here are the rewards to choose from:
About the project owner
My name is Corine and this is my project!
I am at the very beginning of my entrepreneur's journey, but my dream to create a space that brings people together has been there for a long time! I am a creative who swims in many fields. I like to experiment and rally talents. Sometimes I'm a designer, sometimes I'm a fitness coach, but my interest for humans and wellness has been a reccurent theme in my projects.
I am launching this project in hopes of creating a space where the atmosphere is filled with joy, where everyone loves to move and practice self-care and where all planes of life are taken into consideration, mind, body and soul. Without stress, without jugement.
My good friend Thomas has joined me in the project. Partner at a successful business from Montreal, he brings a lot of skills to the project!
Follow my journey!
Share the project!