Our 1st EP: Spatio Tempo
Emotions get in the way !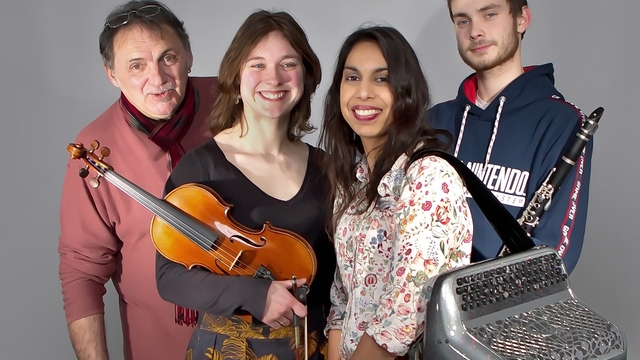 About the project
Hi dear friends,
Nadèje Graviere accordionist, Loïc Hamard clarinetist, Nolwenn Hamard violonist. and Jimmy Feuardent percusionist - drumer.

We offer an instrumental universe where emotions intertwine, intertwine and let your mind wander. A real letting go to let yourself be guided by these.
Finally we embark on this wonderful adventure 1st EP : SPATIO TEMPO
What are the funds for?

It is above all a project on a human scale, we have creativity, desire and sharing. A financial boost seems essential to reach the end of this project.
We therefore ask you to try to obtain a minimum of € 3000.00:
Recording studio
Post-production with mixing and mastering Pressing,
CD production cost
Remuneration of musicians

About the project owner

Nadèje & her accordion goes forward. Emotions follows her, her steps, her actions. She is optimistic person, smiling and inally she lets express themselves and put them to music.
N&A fell into music any pitchoune 5 years in private lessons and musical group.
Loïc Hamard X years old musical course
Name violinist X years musical course