Sound Central Festival
Graphic Journalism on special developments in Afghanistan
About the project
Very soon, in Kabul, Afghanistan, for the third time the Sound Central Festival will be held. Unfortunately I can't give exact date and place, until 24 hours prior to the festival to prevent any incidents. This began in 2011 as a rockfestival and grew out the following year to become a festival providing stages for different art forms. From rock, blues, singer songwriter, indie, death- and doom metal, electronics, artists and other forms of free expression. Very particularly for a country burdened by the violence of the Taliban, where music was banned for years.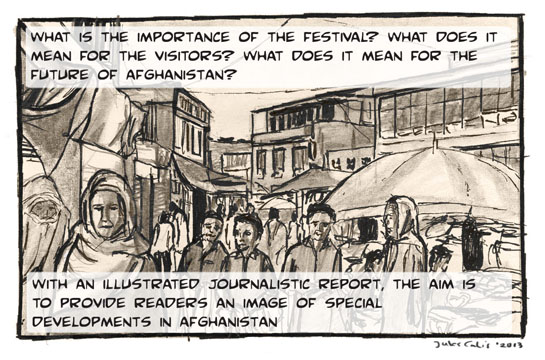 I'll visit the festival as a reporter and make a reportage about it in the form of a journalistic comic (Dutch and English), from the perspective of the festival organizers, the artists and the public.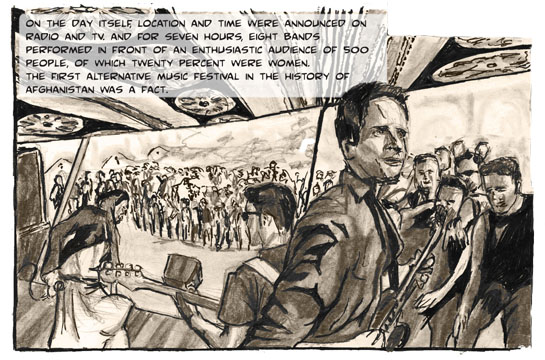 With the story, facts and information will be presented about this particular development in Kabul. About how it inspires the Afghan youth and gives them the opportunity to express themselves freely. It's fascinating how people deal with intense situations and how some are trying to make a difference. Premise of the report is people oriented and I'll ask questions for example: What motivates people to organize this festival? What does it mean for visitors? What is the importance of the festival? And more importantly: What does it mean for the future of Afghanistan?
It is an extension of the view that there is not only war and misery, and that there are people and initiatives that despite difficulties continue to do the things they believe in. Also in this form, a journalistic comic, it's entertainment as well. It is a way news and topics can be presented in an alternative form, which is very impressive on the reader and viewer. The comic can be presented in a national newspaper, weekly and / or digital magazines.
A newspaper has the first publication rights at all times!
Journalistic comics are an emerging medium and are getting published regularly in newspapers, magazines and books in several countries. The Netherlands is still behind in this area and to my knowledge, no Dutch newspapers or magazines have ever before deployed comics as a means of journalism.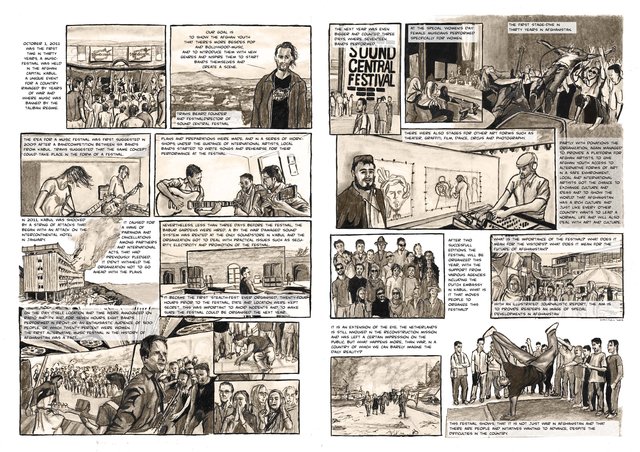 I'll be leaving for Kabul in a few weeks and the crowdfunding will be in progress during my stay in Kabul. During my stay I'll be able to post videos, photo's and information about the process.
YOU! 'The Public' can follow this and can also make suggestions or ask questions about the festival or related to the festival, you would like to have me researched. This way you can really participate in the project! Check the facebook-page for updates:
http://www.facebook.com/SoundCentralFestival2013AGraphicReport
Risks
Afghanistan is a country with a specific threat. At various places in the country, including in the provinces around Kabul and in Kabul itself, incidents, kidnappings and attacks still take place now and then. The organization I stay with has more than five years experience in the field and have their own reliable network of interpreters, fixers and security. The Dutch embassy in Kabul, who also supports the festival, maintains a close relationship with this organization, and has great trust in them.
As for my project, from the beginning of this project they support my visit. I've been preparing this visit for months and have myself constantly informed about the situation.
What are the funds for?
The funds will be spent on expenses for this trip. Interpreters, fixers, paying local staff in Kabul, accommodation and food and travel. All that remains will be spent on print costs.
Any more questions you have about the project, feel free to leave a comment and I'll get back to you. 
About the project owner