SOLIDAR'MEUBLES pour eux
L'atelier d'insertion qui rénove vos meubles à Tarbes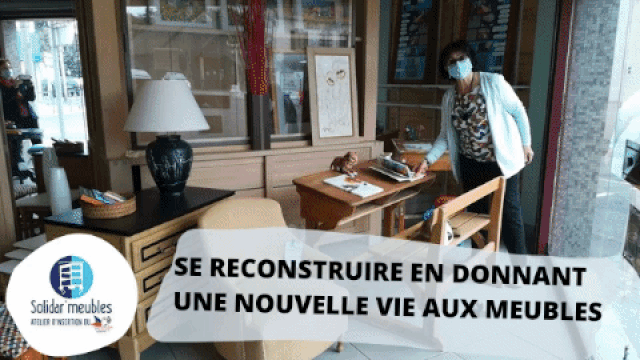 About the project
Aidez-nous à améliorer les conditions de travail de nos 16 salariés en insertion ! 
What are the funds for?
About the project owner
SOLIDAR'MEUBLES, c'est un projet d'atelier d'insertion :
Solidarité, utilité sociale et développement durable dans les buts statutaires
Une finalité socioprofessionnelle définie
Quatre activités et un objectif, leviers de l'insertion
L'accueil de personnes volontaires pour accéder à l'emploi
Une équipe d'encadrants professionnels et de bénévoles motivés
SOLIDAR'MEUBLES, c'est une gamme de prestations sur-mesure :
La nature de la pièce à restaurer, son apparence, son style, son usage, sa destination conditionnent son traitement et la tâche adéquate : décapage manuel, sablage, confection de la pièce cassée, peinture, vernis...
La rénovation des sièges et fauteuils est assurée « à l'ancienne » dans les règles de l'art.
Les apprentissages techniques pour réaliser ces prestations sont enseignés ou consolidés à l'atelier.
Le Grenier, notre magasin, un espace de promotion de la solidarité :
Ici, SOLIDAR'MEUBLES et le Secours populaire cohabitent. Les meubles restaurés par l'atelier et les objets de brocante du "Secours" sont proposés à la vente à des prix accessibles. Cette participation à la solidarité améliore les recettes.