Solidar'IT in Haiti (Live Report)
A journey among the unheard voices of Haiti's reconstruction
About the project
Solidar'IT is an independent media project reporting from Haiti. Our goal is to provide a live account of the post-earthquake reconstruction, in direct contact with the local communities, individuals and aid organisations on the ground. Solidar'IT will be delivered through two complementary formats: a multimedia blog (www.solidar-it.net ), to give a participative and immediate report of what is happening in Haiti today, and a web-documentary focusing on specific issues and perspectives arising from our experience on the ground. Solidar'IT originated in order to keep Haiti's reconstruction and development on the radar of international news coverage. We are giving a voice to the Haitians and Haitian organisations, as well as small NGOs and volunteers who are trying to change things for the better. Local perspectives and positive actions are the key elements and a common thread to all our work.

We will publish content regularly on the blog (interviews, photos, videos) and will encourage a discussion on how Haitians can drive reconstruction of their country, how they are involved in it, and how development projects address their local needs.
What are the funds for?
Solidar'IT needs your contribution to allow this crucial initial shooting phase in Haiti, and the launch of the participative multimedia blog. This in turn will allow a large audience to closely follow and keep a live link with reconstruction. We will be on the ground for the first filming and reporting phase from the 3rd August. The amount indicated represents 40% of the budget of this phase in Haiti. You are welcome to follow all our updates and stories through the Solidar'IT in Haiti blog, as well as through our Facebook and Twitter pages.
About the project owner
Solidar'IT is an independent project promoted by "A Contre Courant", a non-profit organisation whose mission is to support the filming and production of multimedia content on worldwide social issues.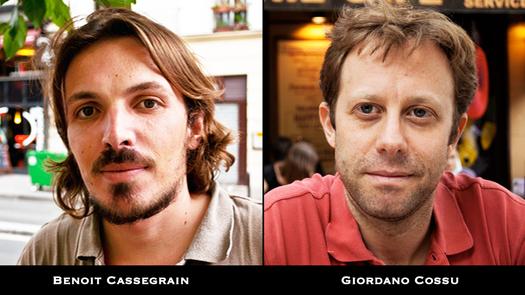 Benoit Cassegrain is a French "web-reporter" who has recently returned after two and a half years filming documentary movies across Asia (www.web-reporter.net). He launched in 2010 a participative and collaborative project to create a web-documentary based on his experiences (webdoc.web-reporter.net), and set up a working group of over 10 volunteers, all versed in the multimedia domain. He is interested in world cultures and social issues, with a passion for new media. Over the last ten years he has lived in Germany, Sweden, India, Pakistan, Bangladesh, Iran and other Asian countries.Giordano Cossu is a consultant in media, IT and telecoms. Italian, he has also lived in the UK and Spain and is currently based in France. He has worked on several telecoms and media projects in Europe, Asia and the Middle East. Fond of nature, travelling, journalism and photography, he has explored these interests in several countries across Asia, Africa and Latin America. Based on his professional experience, he aims to further the deployment of new technologies to support emergencies, reconstruction and development.