Sleeping Forest
Tome 1 : The Blood Pact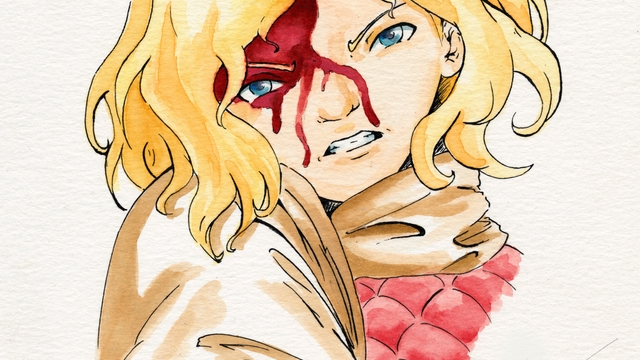 About the project
Wellcome to the Sleeping forest page,
I drawn only with traditional techniques, Sleeping forest is a comic book made in the old-fashioned way, using ink, watercolours and sweat, among other things. This will give this work a different feeling that I hope will touch you...
This is a fantastic medieval comic book project. The comic will be declined in about sixty pages entirely in color.
Once upon a time, there was a world where the forest was queen, as feared as respected for its fauna composed of singular creatures. No man dared disturb them for fear of being devoured by one of its terrible guardian monsters.

In the kingdom of Galagan the lord Inor Erikson, famous monster killer, finds himself having to come to the rescue of villagers in a dark case, indeed It's been several weeks now that children are victims of a mysterious kidnapping ...
In this universe Kelan, the young son of Lord Inor, finds himself obliged to prove his worth in order to stay close to his loved ones. Even if it means violating his father's prohibition.
Plunge with them in a slow and winding descent to the confines of a fairy-tale hell. A world ruled by a nameless monster.
Volume one: The blood pact... is there anything you want?
Kelan
lord Inor Erikson
Marianne (Master)
Preview
T-shirt
What are the funds for?
Ulule?.
Like many young people who dreamt of creating their own comic book, I tried the classic path. Despite very good feedback and a plan of action, there was always a part of me that wanted to know MORE.

I wanted MORE independence and love to share directly with you.
What does ulule really have more than an editor? It's you! Nothing would be possible without you and your trust.
Sharing the progress of a project when you know you have my support is priceless. This independence that you grant me allows me to tackle themes and subjects that some editors would be reluctant to tackle.
We are here together to create the first stone of a saga...Wonderful.
What's all the money for?
A Disneyland Pass ( no )
Joking aside, the money raised will be used mainly for the creation of the first volume of "Sleeping forest" and this in two languages (French/English), followed by the other compensations, the material and the costs of ulule.
Basically, this money will be the doorway from the project to the finished product.
As you can see, the shipping costs have not been calculated. The reason is that you are a lot to live in different countries. So I have done my best to offer a fair price to all of you. Thank you again for your trust in me and my project.
About the project owner
Who's behind it?
I'm a freelance illustrator and self-taught comic book author. I followed a secondary artistic education in Belgium.
I started my love of comics thanks to my mother. She gave me her favourite books and I fell in love with "YOKO TSUNO". Television has also been a great friend in the development of my imagination. Finally my love for the 9th art has diversified with manga, comics, and many other narratives ...
After my studies in plastic art, I tried like many a school of Comics and art. Unfortunately my opinions with the teaching staff were never in tune with art and styles.
Accounting studies in parallel! (yes, it's the opposite of everything).
Chess has given me the strength to hold on to my dreams and offer what I believe is my reason for living.
Unlike many young people today, I use only traditional techniques. I fell in love with pen and ink, as well as watercolour. It is also paradoxically the only techniques that none of my teachers ever taught me.
For the past year, I have been going to festivals and conventions in Belgium and France to meet as many of you as possible to share a moment together and show you my work and get your feedback. I hope to see more and more of you to share even more moments of joy!