SleepBot
Manage your sleep debt one hour at a time.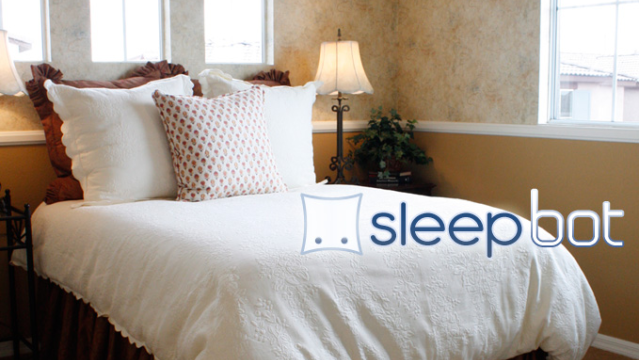 About the project
Stressed out college students, overwhelmed interns, and exhausted employees who just don't have enough time - falling asleep in class, at work, in front of the computer, and even in front of the wheel.
You know them, maybe you're even one of them.

The SleepBot project is an initiative to help time-strapped individuals manage their sleep cycles and debt while spreading awareness of sleep deprivation risks.

What is this about?
Every year, countless work accidents and over 100,000 car accidents caused by sleep deprivation.
Recently more and more health studies have emerged exposing the dangers of getting consistent lack of sleep.
Sleep deprivation is linked not only to temporary health risks such as impaired judgment and motor skills, but to serious long term effects such as ability to heal, weakened immune system, growth impairment, obesity, heart problems, and even premature death.
What is Sleep Bot?
SleepBot is a resource tool for users to manage their sleep schedules over mobile applications connecting to a web-based platform.

Unlike other sleep tracking applications, SleepBot charts nightly amounts and evaluates them to calculate and graph the use sleep debt and benchmark the amount with potential threats they could encounter established by research from medical institutions and clinical studies, and will be provided completely free of charge.
Users will also be able to access this information and extensive resources on sleep health from any device through a web platform which allows them to log into personal accounts.
Researching online and in bookstores, we found many resources and support provided for those with insomnia, sleep apnea, and other clinical disorders, but nearly none on sleep debt, its risks, and how to manage or cope with work/stress related lack of sleep.
What are the funds for?
All of the resources we provide has been compiled from research found in articles, books, available medical journals, and recently published works.

We need funding to help obtain materials that we cannot find or purchase for public use online or in bookstores in order to provide the most up to date and accurate information on sleep hygiene and health.
We also need equipment to run our mobile applications and mysleepbot.com. 
Right now, we've been developing and running these applications on emulators in our standard, personal laptops, and desperately need proper devices to run and test them on all platforms. In addition, the online platform we're developing needs a decent server so we can provide reliable service to the users who access it (which we're hoping will be a lot!).
- For us, this project has truly been a labor of love. 

We have been working on this project day and night, on weekends, basically during any time we can spare, and would appreciate any help we can get towards achieving our goal!
About the project owner
The SleepBot team was formed by HappyBot and PillowBot, a programmer and designer who bonded over their severe lack of sleep and desire to do something about it.

We are a few very-much sleep deprived kids from New York City (the city that never ...) who want to find a solution for people wanting to find a way to manage their hectic life and sleep cycles.
You can follow our development progress at blog.mysleepbot.com!
FAQ
If you still have an unanswered question, feel free to ask the project owner directly.