Simon Widdowson - Erebus Plume
NEW 2019 ALBUM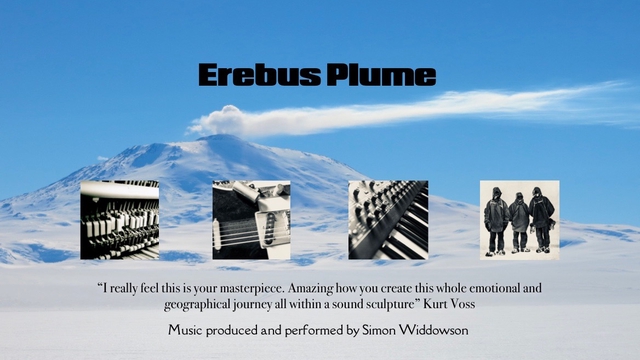 About the project
NEW 2019 ALBUM EREBUS PLUME
In between recording albums for several artists here in my recording studio in France and playing a few gigs here and there, I've spent the last 12 months recording a new album and its now ready to be released. Erebus Plume is an album inspired by the incredible adventures of Antarctica explorer Ernest Shackleton. I've always been inspired by explorers and tales of adventure and Ernest Shackletons expeditions to Antartica I find particularly inspiring so I decided to create a piece of music that could perhaps capture the mood of such an expedition. Its quite a different album and I'd love to share it with you and in order to do so I need to raise a little money to pay for the manufacturing of limited edition CD's and Vinyl.
"I really feel this is your masterpiece. Quite amazing how you create this whole emotional and geographical journey all within a sound sculpture. I used to put on the Mike Oldfield albums and headphones and be transported to another world. So it is with your new one. Can definitely see how this grew out of the previous album, which was a road movie. " Kurt Voss
What are the funds for?
I am hoping to raise a minimum of €2500 for the manufacturing and shipping costs of limited edition CD's and 12" 140gm vinyl albums. The album will be released in October 2019 but everyone who participates in this fundraising will receive their CD's and vinyl one month earlier in September 2019. If I can raise more than €2500 the extra money will be used for promotion and marketing.
About the project owner
I've been a full time musician, singer, songwriter, composer, arranger, performer and recording engineer for over 30 years and have released 10 albums of my own music and recorded and produced over 50 albums for other artists. While living in Portland Oregon I worked with artists such as Decemberists, Pete Krebs, Hindi Guns, Papillon, Little Sue and many more and more recently at my studio in France I've have worked on albums for Xtrasystol, Novox, Cha Cha and the Magic Band, Karimouche and Zenzila. For the last 5 years I have been working at my Audio Arts Studio near Saillans in the Southern France which is a beautiful remote mountainous location where I find the silence and beauty of the natural landscape a perfect inspiration for making music and it has defintely played a role in some of my recent work such as my 2016 album "Retractable Roots" which has a more cinematic feel and now the soon to be released 2019 album Erebus Plume.
Retractable Roots - 2016 / "The broodingly atmospheric opener evokes comparison with the likes of I Am Kloot, perhaps even The Durutti Column, and the remaining journey – often instrumental – is one of the most cinematic experiences your ears will hear in a very long time. This is one truly gorgeous album. Luckily, Mr Widdowson himself was at hand to give us the lowdown on his multi-faceted existence and not inconsiderable genius behind both guitar and production booth" Loz Etheridge, God is in the TV, November 2016