Help Create The Sierra School of Todos Santos
an International Baccalaureate model scholarship school in the developing world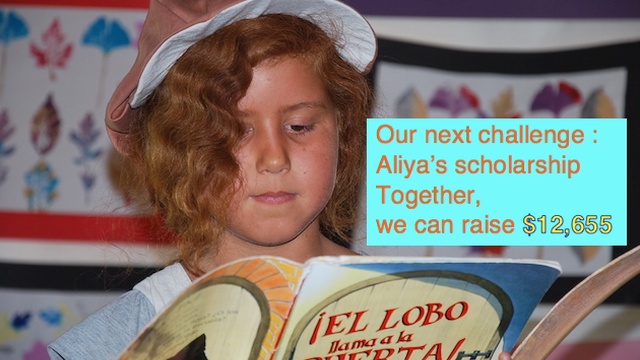 About the project
We are creating The Sierra School of Todos Santos to nurture the dreams and aspirations of academically motivated, Mexican and international youth who seek to benefit from a college preparatory education to access university study and professional careers in Mexico and beyond. The Sierra School of Todos Santos is a grassroots, educational project (of The French non profit organization, Les Ponts de la Sierra) to open in 2015-16 a secondary school program for college-bound Mexican and international youth in Todos Santos, Baja California Sur, Mexico. The Sierra School learning program will be modeled on the IB, International Baccalaureate. We will seek accreditation by the IB as well as The Mexican government (SEP).
Just as important as our standards of academic excellence is our  commitment to equal access, social inclusion and diversity. Scholarships are integral to our mission. We offer scholarships--tuition fee wavers for Mexican students who are unable to pay our first year fee of $5,000 US Dollars / $77,000 Mexican Pesos for our program. Approximately half of our students will benefit from full or partial scholarships. We promote an IB education that fosters knowledge, inquiry, multilingualism and citizenship in over 4,600 public and private schools in the Americas, Europe, Africa, Asia and Australia. The Sierra School of Todos Santos may be the smallest school in the world following the International Baccalaureate model! 
A unique private school with a public purpose, The Sierra School of Todos Santos offers a rigorous and challenging, humanities, great books, math, and ecology-focused course of study in English and Spanish. Our students develop as thinkers, readers, speakers, writers and ecologists who learn in order to solve problems, for the joy of intellectual understanding, and to meaningfully contribute to a sustainable world. The Sierra School intends to meet current Mexican national educational policy initiatives by promoting educational opportunities for all social groups, by ensuring equitable access to secondary school, by promoting higher Mexican national educational standards and by working toward compulsory education in secondary school. Our educational project will meet the needs of local and international youth who deserve to dream their futures in Todos Santos, Mexico! 
Our project will fill a market niche and  meet a critical need in Todos Santos. Without us, local and international secondary school students are obliged to leave their families in Todos Santos for La Paz, the neighboring city and administrative capital of the southern Baja; they are obliged to move to mainland Mexico or are obliged to leave Mexico altogether. At worst, students follow limited offering correspondence courses which are not legal in Mexico. At least two primary schools in Todos Santos, including this one (featured below), are seeking a local, international high school alternative for their students.
Beautiful, safe, and international, Todos Santos is perfect place to raise children. Todos Santos is a Peublo Magico, recognized by the Mexican government for its rich history and culture as well its promising future as it faces development and change. With a population of approximately 5,000, Todos Santos is a select, international tourist destination thanks to its stunning desert, oasis and mountain landscapes and its gentle, tropical microclimate.  Urban development projections predict that the Todos Santos population will triple in the next ten years. The Sierra School is the educational future of this beautiful small town in the changing Mexican west!
What are the funds for?
You can help us get started! Your donation of up to $7,015 (6450 €) and beyond will pay for our creation expenses and fund our scholarship mission.
Your donations of up to $7015 will pay for our learning materials and equipment
1. You can help us acquire teaching and learning resources and create a library:
$1130     for English literature trade books and reference books.
$1130     for Spanish books, literature trade books, text and reference books.
$650       for books and learning materials for our environmental studies program
$300       for math materials (*)
(*) We are more than grateful to Eureka, an amazingly brilliant, U.S. educational non-profit that promotes Common Core Standards and that has provided us with the Greats Minds math curriculum. We need to pay for copying 13 learning packets: 1 teacher + 12 student copies.
2. Your donations will also allow us to purchase the following operational equipment to open our doors on September 21, 2015, our first day of school.
$1200:   3 high-powered electric ceiling fans and installation 
$675:     3 large dry erase whiteboards
$565:     25 chairs
$340:     3 large bookshelves for our library and learning materials
$260:     a black and white computer printer
$115:     2 long seminar tables (we already have one)
$650:     watertight storage unit to protect teaching materials from dust, insects, rain
If your donations equal more than $7,015, all funds up to $ 23,965, will finance our first year scholarships (the three scholarships identified as of mid-May 2015).
We have, in fact, numerous additional operating costs. These costs are partially financed by the contribution of lead teachers / founders, Molly Lou and Fabrice. Some costs are also financed, in part, by our tuition fees. If the Aztec Gods shine their ever-loving light on our crowd funding campaign, then we will be able to operate our school without debt in our 2015-16 school year; and we will continue to open our doors for the 2016-17 school year.
With total donations up to $12, 655, we will be able to finance a scholarship to pay for Aliya's tuition waver.These funds invested in our school will cover operating costs of our program and pay for our potable drinking water, water utilites (for our sinks, toilet and garden), electricity, internet and telephone. These funds will also pay for additional accounting and legal fees. If we do not raise these funds, the founders will assume these costs.
With total donations up to $18 315, we will be able to finance a scholarship to pay for Diego's tuition waver. These funds invested in our school will cover operating costs of our program and will go toward the salary of our Spanish teacher, Nataly Muñoz Talavera ($5000). If we do not raise these funds, the founders will assume these costs. 
If your total donations equal $23 965, we will be able to finance a scholarship to pay for Ana Sofia's tuition waver. These funds will cover costs of art materials and pay for the salary of our art teacher, Cheri Streimikes. If we do not raise these funds, the founders will assume these costs.
If your total donations equal $30 065, we will be able to finance obligatory International Baccalaureate program development fees. We will be able to pay for professional development, IB training courses for Molly Lou (IB Diploma Program Coordination, Heading an IB School), Fabrice (IB Diploma Program Math) and for Nataly (IB Diploma Program Spanish). 
And if you're feeling especially generous and your donations equal or surpass $100,000
We will be able to finance more scholarships and pay additional, obligatory International Baccaulaureate development and accreditation fees. We will be able to pay for obligatory IB training courses for Fabrice (CAS-Community Action Service Coordinator training), and for Cheri (IB Diploma Program Art Teacher).
We will be able to hire a full time IB Diploma Program trained Science-Environmental Studies Teacher.
We will be able to significantly develop our learning library and teaching resources.
We will be able to purchase 5 apple laptop computers.
And why not invest in the purchase of a permanent building and school site in Todos Santos, Mexico...
SHARE THE WEALTH & DREAM WITH US! 
About the project owner
For the past six months, my husband, Fabrice, and I have been researching, outreaching, troubleshooting, team-building, curriculum planning and working double time to create our dream school. As we create The Sierra School, we'll work as unpaid volunteers.
When we lived in Todos Santos, Mexico, on a teaching sabbatical year in 2014, Mexican and international families, kids and professionals alike sollicited us as experienced teachers to create a secondary school. As multi-lingual, international teachers with long term family ties to Mexico, we will build bridges between the multicultural populations in Todos Santos by providing educational resources, setting learning standards and contributing our professional skills and vision to the future of developing Mexico.
We've begun by building bridges where we live, in France, and have established a French non-profit organization (association de loi 1901), Les Ponts de la Sierra to begin fundraising and bridge-building between Europe, the U.S. and Mexico to support The Sierra School of Todos Santos. With the guidance of Mexican financial and legal counsel, we are in the process of becoming a Mexican corporation and Mexican non-profit /civic association. Following our long term strategic plan, The Sierra School of Todos Santos will become an English-Spanish bilingual program, and teach French too, the language we speak at home! The Sierra School will seek SEP (Mexican national education system) accreditation as a first step toward accreditation by the IBO, the International Baccalaureate Organization.
Molly Lou Freeman, 20 year humanities teacher, grew up in rural Alaska and spends her time being a mom, reading books, writing and riding while also teaching for a living in The United States, France and now in Mexico. French, English and Spanish trilingual, Molly lou has lifelong ties to the Baja. An impassioned believer in equal access to education, Molly Lou received full ride, academic award scholarships, to Phillips Academy, Andover, cum laude, and Brown University, B.A., cum laude in English and American literature with honors in Creative Writing. She received a teaching fellowship to The University of Iowa Writers' Workshop where she received an M.F.A in English Poetry, and won an Academy of American Poets Award. Molly Lou also studied French language and literature at The Sorbonne, with a B.A. equivalent. She taught Rhetoric and Advanced Rhetoric for 4 years at the University of Iowa, and was an English  teacher at one of the first charter schools founded by teachers in the United States, The City on a Hill Charter School in Boston. For the past 12 years, she has taught English / Literature, ESL and creative writing in the Primary Years, Middle Years and Diploma Programs of The International School of Paris, an IB World School where she also organized and participated in a teaching poetry exchange with New York University and Columbia University Departments of Creative Writing. Molly Lou is a published writer, was founding editor of the French and American award-winning literary journal, carnet de route, andhas twice won awards from French national literary endowment (CNL). With a passion for wilderness, horsemanship and education, Molly Lou seeks to contribute her skills and vision as lead teacher of The Sierra School, where she'll teach English / comparitive literature, creative writing, philosphy and will team-teach our ecology class.
Fabrice Serrière is passionate about inquiry, numbers, figures, problemsolving, equations and solutions! His big questions include environmental preservation, social justice and how to inspire a desire to learn in young minds by playing board games, sports and mental maths with our abundantly curious five year old son, Roman, who wants to know why a person can't count to a million. French-English bilingual and learning Spanish, Fabrice joyfully hit the books and reconnected with his lifelong love of math when he embarked on the Sierra School creation with his go-getter, nonstop doer-dreamer, wife in action with an educational mission. Fabrice brings to The Sierra School a robust math educational background as well as international professional experience in advanced math applications. After working as a senior software engineer and project leader in the French private sector for over 12 years, Fabrice will share with the Sierra School his math skills and rigor, as well as his vision for a sustainable world. He has dynamic experience responding to individual learning needs and challenges, having taught private advanced math courses at the high school and college level in Paris for 6 years. For 2 years Fabrice also taught advanced applied math optimization and linear programming, with numerous industrial applications, at Université Paris, Dauphine. Fabrice has Bachelor of Arts Degrees in both mathematics and computer science, (Université Paris VI, Pierre and Marie Curie), as well as M.A. and Ph.D. degrees in math-computer applications (Paris IX, Dauphine). Fabrice was a volunteer youth volleyball coach at the Todos Santos Montessori School in 2014. At The Sierra School, Fabrice will teach all levels of maths and team-teach our ecology class. Fabrice also looks forward teaching computer science and sharing his love of sports and French.
We're going to Mexico, and our son, Roman, is going to grow up and go to The Sierra School of Todos Santos!