Shoot-Up Hill Vol 2
A graphic novel about war and peace and pigeons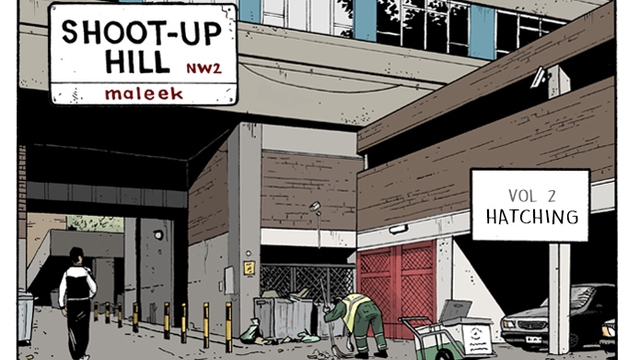 About the project
Shoot-Up-Hill is the first graphic novel by Berlin based artist Maleek. It is a compelling story about pigeons and humans, pacifism, passivism and about life in an ever-changing city called London. "Hatching" is the second of three volumes.
Copies of Volume One next to some of my other artwork
The Story
Some of you might already have read the first volume of Shoot-Up-Hill. Thank you for your continued interest. For those who haven't, here is a brief summary:
Pavel has just arrived in London and tries to make a living as a rikshaw driver, earning the rent for his rather modest room in the suburbs.
But soon he is being pulled into a series of unsettling events when he notices some strange behaviour among the local pigeons.
At a tower block in his neighbourhood two colonies of street pigeons are engaged in a violent conflict. Pavel starts out to investigate the affair. But it soon becomes evident that pigeon society is far beyond his understanding and all his efforts for brokering peace are doomed to fail.

Watching an unstoppable spiral of violence go down towards a looming catastrophy, he begins to ponder about the fabric of urban society and what is necessary to make peaceful coexistence possible in a global metropolis...
Peaceful coexistence in a global metropolis
What are the funds for?
I started writing Shoot-Up-Hill about four years ago, while working on other projects. Finally, in late 2017, I had the script ready and started production. The first volume "Nesting" was brought to life by support through a crowdfunding campaign and has found many readers since. You can still order it on my website.
Now work on volume two is almost finished and I need your help to get it funded and into print.
Volume One in good company in a Berlin bookstore
As the artwork is mostly finished, this campaign is simply to help me with printing costs. I have set the goal at 30 units/450 Euro (you may see the amount in your local currency). This would cover for 100 copies. This is the minimum we need to reach to make this campaign succesful. But of course, the more we raise, the more I can print...
I work with a local printer in Berlin to assure the best quality in both paper and printing.
Once the campaign expires, production and shipping will start. So, depending on your location, you should be able to get your book sometime in January.
Over 70 pages have been drawn and inked so far..
Mockup of volume 2 and fine art print
The bank of England. Fully inked and colored and waiting for funding...
Please get the word out and share this campaign on social media. If you're a fan of comic books, I'm sure you know one or two people who would just love to read Shoot-Up-Hill.
Stay in touch with maleek illustration. Once volume two is in distribution, work on volume three will begin. Follow me on facebook or instagram to see the progress.
Thank you for your support!
maleek
About the project owner
My name is Maleek and I am a comic book artist and illustrator from Berlin. I regurlarly contribute to a variety of publications and sell my zines and prints at comic festivals.Shoot-Up-Hill is my first Graphic Novel.
Pavel, the book's hero facing a battered symbol of peace...