Shake Shake Shake tes vanilles - the book
Your children are born to succeed, Aïcha & Debora will show them how!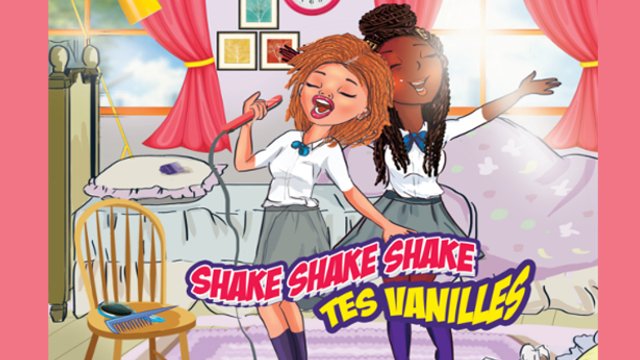 About the project
Shake Shake Shake tes vanilles a youth book for 8-12 year olds talking about Empowerment of our little girls.
Aïcha, a 12-year-old mixed-race girl, sees her first day of school turn into a nightmare. The whole class makes fun of her because of the 'bird's nest' on her head and her dark skin colour. She loses her confidence and doubts about having friends one day.
Debora, the new African girl of her class, who has everything to be ridiculed according to Aïcha (kinkier hair and darker skin colour), exudes the joy of living and immediately made new friends on her first day of school!
She gives Aicha some strategies by teaching her how to face obstacles; develop self-esteem and self-confidence; accept the beauty of being different and unique; recongnise the importance of patience as well as the proper techniques to take care of her curly/kinky hair.
The story is filled with adventures mixed with emotions & situations that reflect in one way or another the reality of many of our girls! Aïcha and Debora, two heroines will show your girls how to succeed by taking examples from daily life situations accompanied by biblical verses.
It is never too early to build the character of our children!
This 21cm x 21cm book is filled with beautiful illustrations for our girls to identify themselves with our heroines!
This is an example of how the book could look like :)

Why did I create this children's book?
After having experienced challenges in accepting my dark skin color and my thick curly hair, I understood that it was crucial, since young age, to encourage and make our girls understand the beauty of their curly and kinky hair by giving them 2 heroines to whom they can relate.
I decided to create the book Shake Shake Shake tes vanilles after encountering too many adults as well as young girls who have been trapped by the clichés of society's beauty. They just couldn't enjoy their curly/kinky hair and their appearance. The aim of this book is to inspire our girls to love their hair and build their self-esteem so that they can focus on their potential.
The book Shake Shake Shake tes vanilles is a youth book with 2 heroines; Aïcha, mixed-race who was bullied on the first day of her new school because of her failed hairstyle and Débora, an African girl, who will teach her the techniques to take care of her hair type as well as inspire her to develop her self-esteem based on some bible verses which can be applied in daily life, thus making it a better world.
We all have a daughter, a sister, a cousin, a little niece, the daughter of a girlfriend, the little sister of a neighbor of her uncle's girlfriend to whom to give this book.
From the chapter: Plants hear us


Here is the opinion of those who have already read the model to give me some ideas:
"I liked this little story, which could apply so well and help all the girls of today, who are too worried about their appearance. Very nice teaching, well done! "- biancan_ch, reviewed the book
"The story has depth and many moving parts. 1.) about love of oneself (how you were born and how you are unique) 2.) about confidence ( that people will treat you based on how you show yourself to the world) 3.) moral lessons of patience and practice 4.) bible lessons into our daily lives 5.) the beauty of the Afro hair. I mean many more!! I love how the story progressed. I agree with the lady who reviewed the book that everyone needs to read it from little girls to us adults. From daughters to mothers and parents in general." - Hedwig consultant at Deloitte
What are the funds for?

I am convinced that my book is indispensable today to give the appropriate tools to our children allowing them to learn to listen, respect and build their identity!
To make the minimum order of 500 copies, I need you! I hope not only that we reach the minimum amount, but that we will exceed it. To do this, I ask you to help me empower our future generation by supporting my project.

The funding will be used to:
-Illustration, layout and design of books (book cover, various forms of books including E-book)
- Layout of books
-Get ISBN numbers, registration fees
-Production of books
-Delivery
-The Ulule commission
-Full of useful gifts that will make you travel through the book!
-Translation (German and English, depending on the funding) * * If I reach 200% of the amount indicated (Yes, I am aiming very big and you can help me to make this world better)

About the project owner
My name is Valérie Hackbarth, 28, married, of Mauritian origin and I live in Germany.

I was born and raised in Mauritius, a beautiful island full of prejudices, unfortunately. I left my country at the age of 19, subject of racial discrimination, to come to Germany hoping to have a better life. I soon understood that only when you accept yourself as God has created you and can be confident in who you are, this will enable you to succeed in life - regardless of your origin.
I went from relaxed hair since the age of 10, to a Big Chop in 2012 and today, my hair has reached the length of 60+ cm in 6 years. I always say, "when we love something, we take care of it," that's what I teach to my ladies.
After my Bachelor in International Business Management, I decided to become a Hair Coach and YouTuber of the channel ValsNaturalJourney with more than 30,000 subscribers today :)
I teach My Ladies the proper techniques to facilitate their hair journey while falling in love with their hair, they are at the same time building their self esteem and self-confidence to achieve their dreams.
My goal is to help them overcome these invisible barriers to develop their incredible potential! But it all starts with our little girls!